Protecting & Prolonging Hair System Life
Protecting & Prolonging Hair System Life
In order to make your hair system last its expected lifespan, it will need to be cared for correctly, and effort taken to ensure that it is protected from undue wear and tear or damage.
Most men who have just started wearing hair systems will find that their toupee hair system will last the expected lifespan when they care for it right. Some men who have worn hair systems for several years have learnt the tricks that work for them, to help extend hair system lifespan.
Check out our podcast chat with Russell, a long-time wearer of hair systems, who gets up to 8 months in his thin skin hair system.
In this guide, we will break down how to get the longest use out of your hair system, so you can save $$$'s.
Checklist Before Buying a Hair System
1. Pick The Right Base
When you purchase your hair system, before even fitting it, you should know how long it is likely to last before you need to switch it out. Hair systems do not last for life. Especially hair systems that are glued and taped on. In general, whichever supplier you choose for your men's hair systems, they will last 1 month to 1 year, on average. Women's toppers have a similar lifespan, and clip-on women's wigs can last for up to 1.5-2 years as they are clipped on.
How long do different toupee hair system bases last?
Check out our mini guide below to see how long your men's wig base will last.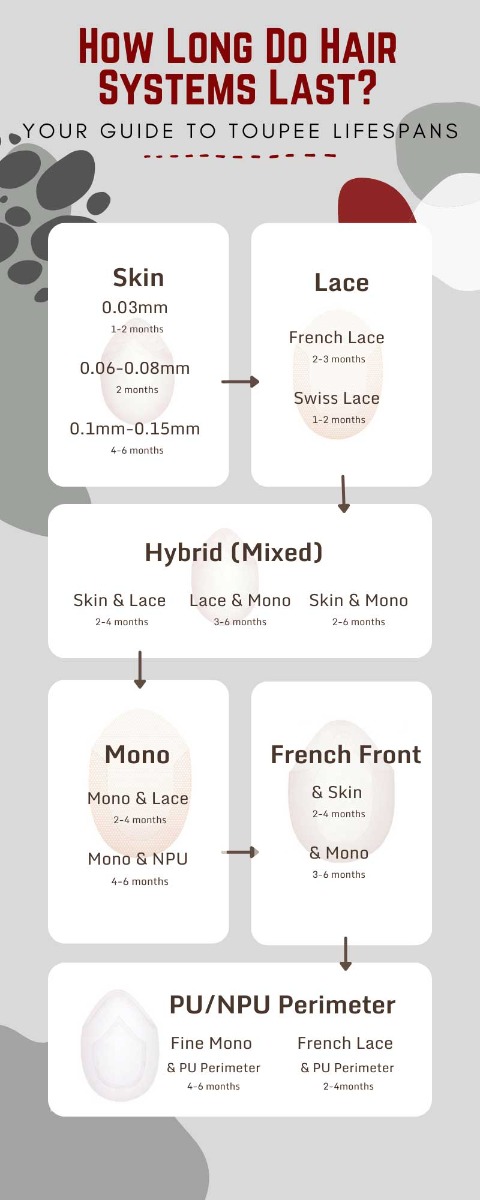 2. Get It Done Professionally
If you need to get your hair customized and fitted, the best hands it can be in are professionals. With years of experience in styling hair, Lordhair or a salon can make amendments to your hair system that have no risk of damaging your system.
You don't want to start cutting or perming your system if you are new to hair systems. If you do want to start learning to do this, we recommend doing this on your old, discarded hair toupee, so you practice on an old piece before you start to do it yourself.
A stylist will ensure that your scalp is fully prepped before fitting a hair system. If you have any dirt or oil present when you apply, it will likely not stay stuck on your head as the oil doesn't allow for sufficient bonding to your scalp. You may even find your toupee becomes itchy, which will make you have the constant urge to scratch it. That will simply make your hair system hair shed quicker.
How we recommend you customize your hair system:
Get it colored by Lordhair or at the salon

Get it cut & permed by Lordhair

Get it fitted at a salon (even better, a Lordhair salon partner)
Preventing Common Problems
Preventing Hair Shedding
You can prolong the life of your hair system by avoiding things that cause it to shed. Naturally, hair systems do not last a lifetime, so shedding is a natural phenomena that occurs with the normal course of activities each day. You cannot 'fix' hair back onto a toupee hairpiece, so the only way to help prolong the life of a hair system and avoid hair system shedding is by taking measures to stop the speed of it.
Here are the best tips to avoid hair system shedding.
Use a silk pillowcase

Use a Tangle Teezer

Use good quality shampoo & conditioner

Using a silk pillowcase is a tip many men overlook, since many people think "silk pillowcases are for princesses". Well, over the years, we have recommended this little trick to many hair system wearers, and they have never looked back.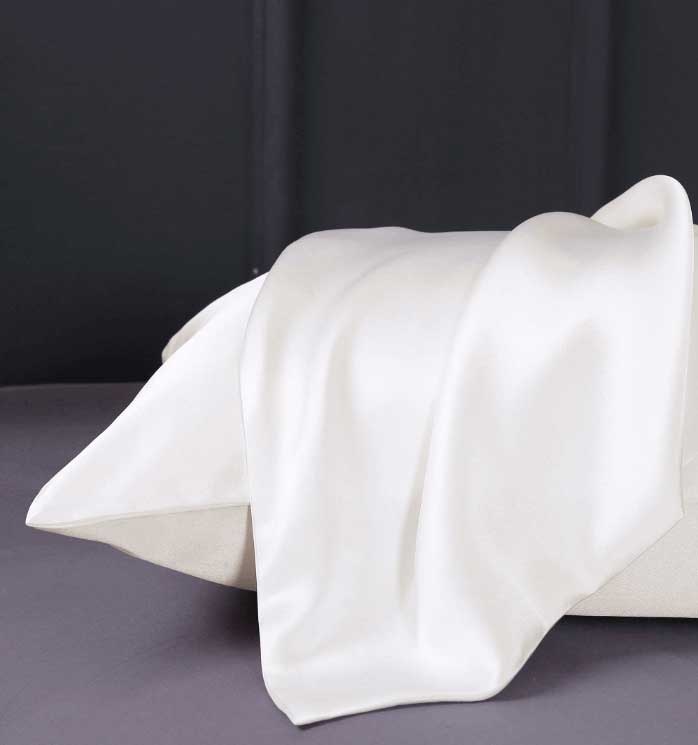 So how does a silk pillowcase work? Since silk is buttery smooth, it does not create friction between the material and hair, so hair glides along it. In effect, this means the hair on the hair system is not pulled, therefore will not shed as easily. With fewer hairs shedding, your hair will last longer.
Tangle Teezer brushes are miracle products when it comes to brushing hair. They work equally as well for hair system hair. By what technology these magical brushes work to reduce pull on the hair, we don't know, but we know they are a must-buy with your toupee or wig. They will help to keep it tangle-free, without excess pull on hair. Of course, hairs will come out in the brush, yet tangles come out very easily, unlike conventional hair brushes, with which you often pull out several strands when a knot occurs.
Good quality shampoo and conditioner are paramount when it comes to cleaning your hair system. Cheap shampoo can be harsh on the hair system or wig, and cause it to go frizzy, which can lead to knotting, which in turn causes more hairs to fall out.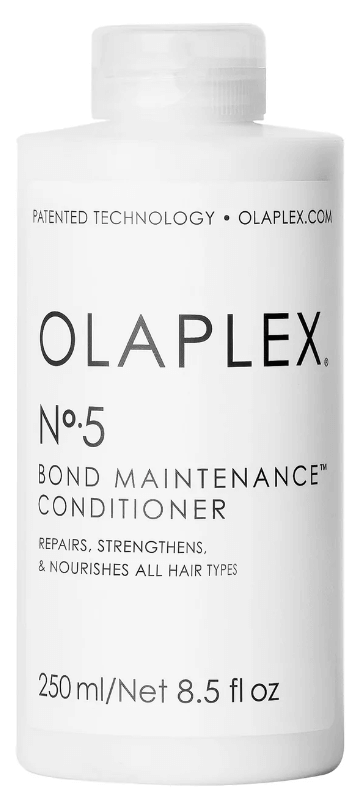 Preventing Base Tearing
Tears on a hair system usually occur when you remove your hair system, because you are lifting the material that has been stuck onto another surface off. If the base is stuck down really well (which you hope it will be in fact!), then removing it without assistance will be very difficult.
Use a Debonder
If you simply rip your toupee off your head it will most likely rip. A hair system won't even fall off in 60 mph winds! A toupee doesn't even come off at a waterpark either. So if you want to remove it, it'll take a little more than pulling it off.

In order to remove a toupee correctly, you will need to firstly use a debonding agent and spray it over your hair system, particularly at the roots where the system is most attached. This type of hair system solvent remover can be citrus-oil-based or alcohol-based. When it comes to removing a hair system, solvent is almost as important as glue is when attaching.
Wait Until Your Toupee is Ready
Wait for a few weeks of decent toupee usage before you try to take off your hairpiece. Let the glue dissipate to a point where removing the toupee will not cause it to tear. If you try to remove a men's wig or toupee when glue is still very sturdy and solid, it won't budge easily and you may risk it tearing.
How to Remove a Hair System (Without Tearing It)
Spray a citrus-oil-based or alcohol-based hair system solvent remover all over the system at the roots

Wait 2-5 minutes for the solvent to do it's magic

Slowly pull the hair system up, a little at a time, from the front hairline

Use a hair dryer to assist with the debonding (heat helps the solvent to work better)

Continue to pull the hair system up until it has been totally removed from your head
What To Do If Your Base Has Torn
If your base has torn you don't need to chuck it away. It can be fixed!
Follow these steps if your hair system base has ripped.
You essentially have three options:
Send the hair toupee in for repair (can take up to 2 months)

Use a hair system repair kit (aka liquid poly repair kit)

Use makeshift repair tools that you have at home
We recommend your first step if you experience a tear, is to contact our customer service team who can advise on what best to do. We are available anytime at support@lordhair.com.

Has your hair system ripped or torn? Get the full guide on how to fix a ripped hair system here now!

Prevent Color Fading on a Toupee
Hair fades naturally over time and is a reason why hair must be replaced, or revived periodically. In order to avoid hair fade before you need to replace your hairpiece, you can try the following tips.
What to DO to avoid toupee fading:
Use soft, non-clarifying, or natural shampoo and conditioner:

they do not strip hair with harsh chemicals and thus help preserve color for longer. Always check the ingredients listed on the back of your shampoo and choose shampoos that have been formulated for colored hair. Opt for a hair system shampoo that states it has UV protection to further avoid the effects of the sun.
Use hats when possible to avoid direct sunlight:

the sun's rays don't only do damage to your skin. They also have their drying effect on hair. We all love to be out in the sun, but the reality when wearing a hair system is that you need to be even more careful than with your own hair (that being said, everyone that retains their natural hair should also protect it!).
Go synthetic with gray:

If you have a gray toupee, choose synthetic, Yak hair WILL fade quickly, there is no way around this. Gray on men's wigs tends to take on a green-ish tint over time. If you dye over it, you'd simply dye over the gray, and then you would have no gray anymore. Therefore it is not advisable to pick human gray hair if it constitutes less than 30% of your toupee. Synthetic is the perfect answer as you still get the softness with majority human hair, but no green-ish tint.
Accept the fade

will happen after a certain period of time, and dye it/give it a TLC treatment (see below - how to revive toupee hair color).
Avoid damaging activities:

If you swim often, wear a hair cap - bleach will cause the color to fade very quickly. Don't over shampoo your hair system, wash it once every 1-3 days.
What NOT TO DO to avoid hair system hair fading:
Do not use shampoo or conditioner with harsh chemicals

(ones that are labeled 'clarifying'), they strip the hair of color and cause toupee color to fade faster.
Do not spend all day in the sun:

the sun dries out your hair system. The drying takes its toll on your hair cuticles and makes color fade.
Avoid swimming in bleached pools:

bleach is an extremely harsh chemical that essentially fries hair. When you put bleach on normal hair, it often ends up frizzy and dry. Aside from making your hair dry thus causing hair system color fade, it also makes the hair itself lifeless and dry, meaning to achieve soft and luscious hair, you need to replace your hair system faster.

Reduce usage of heat styling tools:

heat on your hair system can dry the hair, leading to the hair cuticles fracturing, which leads to hair system color fade. When you do use heat, use it on the lowest setting, and try to let the hair air dry to at least 80% before blasting it to set the style.


Be aware: Although there are certain ingredients that can help preserve color, some of them will have no shortage of oil, which on your scalp can loosen the bond.
How To Revive a Toupee After the Hair System Hair Color Has Faded
If your hair system has already experienced color fade, you can still save it at home.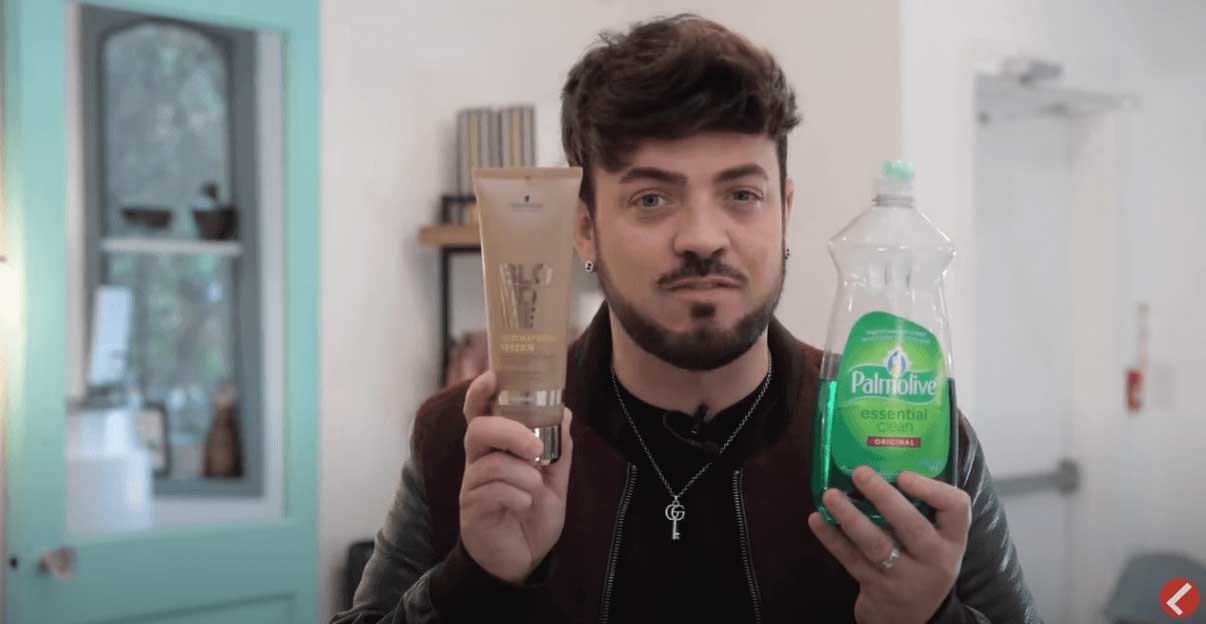 What you need to recolor a faded hair system at home:
Washing up liquid

Color conditioner (if you need a temporary color fix that will wash out after a couple of washes)

Semi-permanent hair dye (mixed with water in a 1:1 ratio)

For blonde hair systems - purple shampoo
Daily Activities That Ruin Your Hair System (and How To Avoid Them)
Your hair system is delicate. Your daily wear acts as wear and tear on your system in itself, but of course, no one buys a hair system to let it sit perfectly preserved on a wig stand, do they?
Your hair system has a natural lifespan as identified above, which was calculated from the average use of length of the majority of men that undertake 'normal' daily activities. If you slightly adjust your daily routine to be extra mindful and cautious when wearing a toupee, you can learn to make your hair system last even longer than the recommended lifespans.
You have to think about whether the extra care is worth the extension to your toupee lifespan. Let's take the example of swimming. You may be an avid swimmer - you may even be professional. At Lordhair we'd advise avoiding swimming in bleach pools to prolong hair system life. However as a swimmer, that is totally unrealistic to do! Therefore you will find that your hair system life may not be able to be prolonged that much. But that's okay! It simply means you need a couple of extra hair systems per year.
So there is a balance between doing all of your daily activities and toupee lifespan. Take on a few or all of these tips to help make your hair system last longer.
Washing and cleaning a toupee
In this article, when we talk about washing and cleaning a toupee, we mean two different things.
What is the difference between washing a toupee and cleaning a toupee?
Washing = the hair system is on your head, attached with glue or tape, and you are washing your head

Cleaning = lifting up the piece and cleaning glue, then refreshing with new glue
How to care for your hair system:
Clean the front hairline every week

Wash the hairpiece every 1-3 days depending on how sweaty you are

Deep clean every 3-6 weeks

Replace the hair system every 1-6 months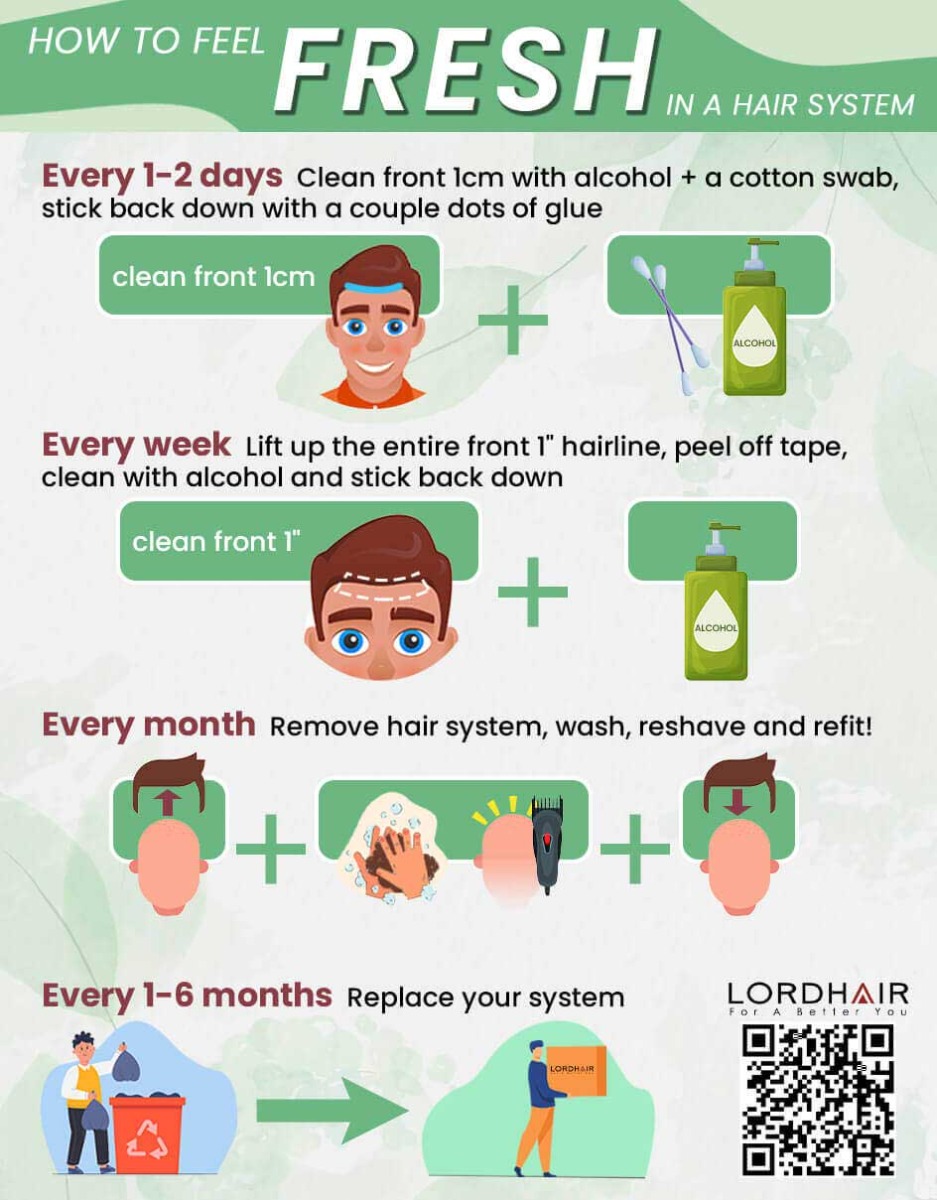 As oil on the head, aka sebum, works to break down glue, it is important to periodically wash the oil away and make the area dry again. That way glue will do its magic for longer. If you never washed your toupee on your head, it wouldn't last very long at all, because the sweat on your scalp would break the glue down very fast. Additionally, even though you take the correct measures to clean and wash your toupee each day, week and month, it will inevitably need to be replaced, because hairs will fall out over time and the base will become weak, through the act of gluing, removing and rubbing. Each toupee base type has a different lifespan. Check out more about hair system lifespans here.
Using Heat and Styling Products
Heat on a hair system dries it out. Styling tools make the hair dry, which damages cuticles and causes hair to look frizzy and 'dead'.
What heat tools damage hair systems?
Straighteners:

if you want straight hair, stock hair systems come with a 30mm wave, which, whilst not DEAD straight, mimics the natural-looking 'straightness' of most men's hair that have what is considered straight hair.

Curlers:

curlers are similar to straighteners in how they damage the hair cuticles, so you want to avoid using too much heat also. You can choose the

Lordhair Perm Service

to create curls in your hair that are permanent, meaning every time you wash your toupee hair system, the curls will bounce right back into place. You can also create ultra-curly locks or Afro hair with this service too. If you've ever wondered how we

perm Lordhair wigs

, then watch our video.

Hair dryers:

hair dryers help blow hair into a style and add volume, in addition to turning a men's wig from wet into dry. You may fear if you don't use a hair dryer your hair will be flat and lifeless. It's not untrue that blow drying gives hair an extra 'edge'. However you can do much to reduce the negative effect of blow drying.

How To Blow Dry a Toupee? A Few Tips
Air dry to 70-95% and blast your hair system dry at the very end

On days you do not go out, try to let it air dry completely and add in a leave-in conditioner at the roots
Swimming in a Hair System
Swimming with a toupee IS something you can do, and no, it won't fall off. Swimming occasionally will not majorly affect the life of your hair system, however if you are a professional swimmer, in the pool everyday, you will not be able to prolong your hair system life. You may even shorten the lifespan of your hairpiece dramatically. This is because bleach has a similar effect to heat styling tools - it also dries out the hair dramatically.
Hair systems are designed with your lifestyle in mind. Of course, what's the point in wearing a hair system if, to protect it from wear and tear, you don't leave the house? So you won't stop doing your daily activities in a hair system. However you will want to reduce damaging activities to the extent that you can, whilst still living your life. If you have some damaging activities that you do 'to the extreme', you may need to simply change up your hair system more often, or you could pick a clip-on men's wig.
If you are an avid swimmer, a clip-on hairpiece may be better for you and when swimming you can wear a swimming cap.
With a clip-on hairpiece you can massively prolong hair system life, because:
You do not need to shower in it;

There is no glue that will be broken down by sebum;

You don't sleep in it, so hair is not pulled by the friction on your pillow.
How can you extend hair system life when swimming?
In brief, you can do the following to extend toupee life when swimming
Add-clips so you never take your toupee into the pool

Wear a swimming cap over the piece to avoid water contact

Avoid hair contact with the water when in the pool

Reduce the amount you go swimming

Wash all bleach thoroughly after swimming so there is NO residue left on your hair system (any residue will linger on your toupee and damage it even after you swim)
Going to the gym/doing sport in a toupee (sweating in a toupee)
You can go to the gym and do all sports you can do without a hair system. It will never fall off, despite what you see in the movies.
Sports you can do in a toupee:
Swimming in a toupee

Going to the gym in a toupee

Running in a men's hair system

Jogging in a men's toupee

Playing basketball in a men's toupee
Men's toupee hair systems are attached with glue or tape.
It is true that your scalp will get sweaty when doing strenuous exercise.
However, it doesn't mean that you can't do sport. You may need to do a bit of extra clean up after sport, and pick a base appropriate if you do a lot of sport.
Check out Juha going to the gym in his hair system
Best hair system base for sports
If you do a lot of sport you will want to wear a breathable lace based hair system. The holes in the hair system allow air to escape through.
The Lordhair Champion is a full lace men's hair system and is attached using tape. It is breathable and airy and most men who do a lot of sport find that it is more comfortable than thin skin hair systems as the entire surface area is covered. The air pockets on a lace system make it feel less sweaty.
When working out, you are bound to build up a sweat. Sweating is an important part of controlling body temperature. However oils also work to break down bonding on a hair system, so you wouldn't want to leave sweat particles in your head for too long as they will cause your hair system to wear out quicker.
Lace front hair systems also allow for a graded front hairline, which looks incredibly natural. Because hairs on the hair system are not knotted uniformly, they are knotted in more of a zig-zag shape along the front hairline, they mimic real hairlines. Even from up close, men's lace front hair systems appear to have hair coming directly from the scalp.
How to minimize damage when doing sport
When doing sports in a men's hair system, you will want to take some precautions, so as not to cause excess strain and damage, as the nature of sports will already cause slight wear and tear to the system.
How much damage doing sports causes to a hair system also depends on the type of sport you do.
The most damaging sports to a hair system:
Swimming

Watersports

Cardio
Less damaging sports to do in a hair system
Weight training

Yoga

Jogging
Sports that cause your hair system to come into contact with damaging elements, and sports that cause you to sweat are amongst the most damaging of sports that you can do in a toupee.
If you want to prolong hair system life, you can try any of the following:
Reduce the frequency of doing sport activity

Choose less 'sweaty' activities

Wear swimming caps to avoid water contact

Wash immediately to get rid of sweat build up

Wear sweat bands to soak up excess sweat whilst working out
Touching/Pulling the Toupee
Any kind of touching on the top of the head will create tension and pull on the hair. The best way to avoid any damage is by not touching the hair at all once you have set your hairstyle in the morning. This is not entirely realistic of course as throughout the day we all want to fix hairs that have blown out of place, or scratch a slight itch.
Pull on a men's toupee may come from the following:
Scratching the hair system

Running the hands through the toupee hair

Wearing a cap with a men's hair system

Pulling the hairs
Scratching your hair system will cause friction and cause hairs to fall out of the hair piece. Many people subconsciously scratch their system when they are itchy. You should try to be conscious of this.
What can you do if you are really itchy? You can put cold water on your hair system if you are feeling really itchy. It will provide some instant relief and mean that you do not have to scratch your hair system. This will help prolong the life of your toupee hair system.
Some men with trichimonmania have the persistent urge to pull out their hair, and this may not stop with a toupee on the head. Subconscious pulling of the hairs will shorten the lifespan of the toupee.
When you have a fresh new hair system you will likely have the desire to run your hands through your new, soft silky hair, however doing this may in fact shorten hair system lifespan.
Being conscious of these activities is important in keeping toupee lifespan longer, so get into the habit from when you first start to wear hair systems.
Going outside in a men's hair system
When going outside in a men's hair system, it will face the following elements:
Each of these in turn will create damage to your hair system. Hair systems are designed with this in mind, and is why hair systems don't last a lifetime. The daily usage gradually takes a toll, until it is time to buy a new hairpiece.
How to prolong hair system life against the elements
In the wind:

Cover your head with a jacket hood. If hair is long, tie it up.

In the rain:

Use an umbrella. Avoid going out due to the change in humidity which can cause frizz. Add moisture back in with a leave-in conditioner.

In the sun:

Wear a cap to cover the hair when out at peak heat, or when running errands and don't need to look on top form.
Wearing a hat in a toupee and creating friction on a toupee
Although in the last section, a cap or hat was highly recommended for avoiding the sun. The act of putting on and pulling off a cap will also create tension. There is often a fine balancing act. As in the fine balancing act between living a carefree life, and taking preventative measures to care for your hair system. Wearing hats with your hair system is not recommended often for fashion purposes, and is recommended in the case of going out in the sun. When sitting at home, it is advisable to let the hair system sit naturally on the head and avoid touching it.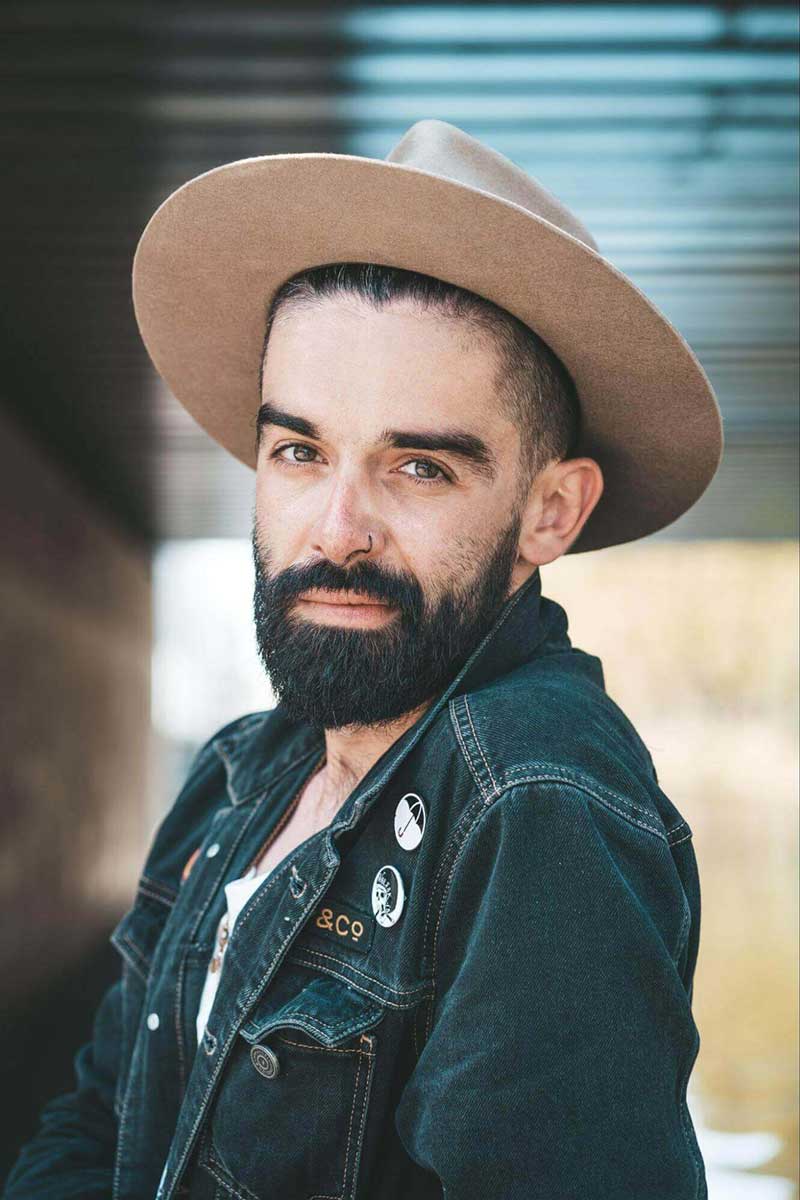 To recap:
Wear caps only to avoid the sun

Avoid touching/running the hands through the toupee
Sleeping in a Hair System
Without a doubt, the number one tip that is highly rated by Lordhair customers as soon as they try it is to use a silk pillowcase. Not a satin, but a genuine silk pillowcase.
When hair comes into contact with other materials and rubs against it, it creates friction. Some materials create more friction than others, and hence there is more 'pull' on the hair. Silk is a miracle material that creates very little friction, and lets hair simply slide along the material.
When you sleep you will also experience sweat. Using a bandana whilst you sleep can help soak up some of the excess oils that come from your scalp at bedtime. As oils break down bonding, a bandana can help to soak them up immediately.
You will also want to dry your hair completely before you go to sleep as wet hair can create more pull, as well as brushing out any knots from your hair before bed. So as to avoid tossing and turning (and creating further pull) it is advisable to create the perfect sleep environment, i.e. noise-free and comfortable.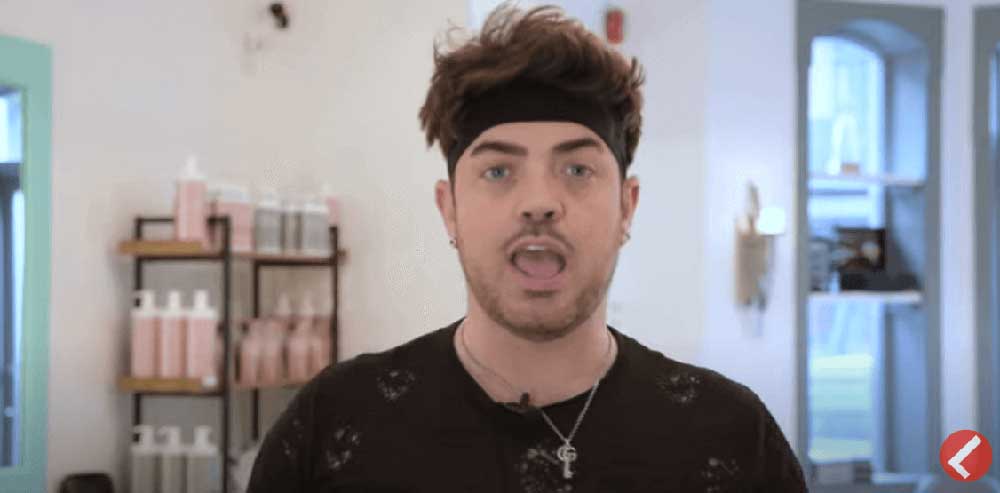 Wearing a bandana with a Lordhair toupee
How to prolong hair system life when sleeping in a toupee:
Use a silk pillowcase

Sleep in a bandana (to soak up excess sweat)

Brush the hair before bed

Create a sleep friendly room

Dry hair completely before bed
If you have more questions on how to prolong hair system life, don't hesitate to get in touch with us at support@lordhair.com