Aftersales Services
Experiencing Problems with Your Hair System?
Once you have purchased your men's hair system, we are still here to offer full support in your journey transitioning to hair systems. After purchasing, there may be a number of reasons you will want to contact us. Let us talk through how we can help you after your purchase.
1. My product is still not here
2. I am having quality problems
Hair breakage

Hair fallout

Color fade

Base tearing
3. I bought the wrong product
4. I just don't want my hair system anymore
5. How can I get in touch about my product issue?
Try these help pages:
Our Guarantee
When you purchase a Lordhair men's hair system, or a Lordhair women's wig, we guarantee top notch quality and are confident in the quality of our toupees and wigs. When cared for correctly, Lordhair hair systems help restore confidence to men and women the world over who have experienced any type of hair loss.
When you buy a Lordhair hairpiece, we guarantee:
We will ship your product timely, on the condition that the hairpiece is in stock.

Your product matches the description on the product webpage. When you purchase, make sure to check this to ensure the specifications meet your requirements.

Your hairpiece is of top quality and if treated correctly and as advised, it will last the recommended lifespan.

Your hairpiece will look fabulous and you will be able to do your daily activities without it falling off.
What to do if you encounter a problem upon receipt?
First things first, do NOT attempt to alter the hairpiece, contact us as soon as possible! Any alterations made by you to the product may affect the warranty that we guarantee you.
Quality Control
Lordhair hair systems go through various stages of testing before they get to your door.

Quality checks don't start when we are about to ship your hair system. There are consistent checks throughout its journey. All toupees and wigs are examined closely by the factory during production and when they leave. Our experienced quality assurance hair system assistants, many of whom have been in the hair industry for 20+ years. Vigorously examine them AGAIN when checking them into the warehouse. If any faults are found, they are sent back to the factory and rejected. Meaning only the hair toupees that pass our tests make their way into your hands.

Our experienced customer service staff check the details of your order to ensure you have ordered a hairpiece that can be created (if custom), and that is in stock (if it's a stock piece).




What if it's not in stock?

In such a rare case, we will contact you directly and keep you updated!





Our logistics experts handle our hair systems to ensure the correct hair systems are picked and shipped to you.

If you choose to have your hairpiece cut, styled or permed, your hairpiece goes through additional processing on-site. At Lordhair HQ, we have professional barbers and hair stylists with 15+ years experience in hairdressing.Our experienced stylists examine your hairpiece for quality before commencing cutting, and examine the hairpiece again to ensure it matches your requirements.

Once your hair system has finished its final stage, it is packed and shipped by our professional logistics team. If you have a preference as per the courier, our team will accommodate this.




If you have special requirements or wish to see how your hair system looks before shipping, it is at this stage that your hair system will make its way back to your customer account holder, where they will communicate with you directly and provide you with pictures of your new hair.
Quality Assurance When Placing Your Order
When you place an order on the Lordhair website, you naturally are unable to touch or feel the physical products. You may be wondering how on earth you really are going to get the perfect fit? Well, don't worry, we have factored this in when designing our ordering process, to make it easy for you to find the hair system that best fits you.
How do we ensure you get the best fit?
Provide a

palette of hair colors

that has been tested on dozens of monitors and mobile phones, to ensure that you can get an accurate idea of the correct hair color for you, whichever type of device you use to view our website.

Provide extra services on stock hair systems, to

help you customize

your hairpiece and make an off-the-shelf toupee fit perfectly.

Provide

extensive pictures and detailed information

on hair system product pages, including materials used and knotting methods.

Create dozens upon dozens of

in-depth tutorials

on how to choose a hair system, with

detailed product videos and comparisons

.

Provide 30-day no-questions-asked

money-back guarantee

on unworn, and uncut/styled stock hairpieces, in case the hairpiece isn't as expected.
Problems
If you are experiencing problems with your hairpiece, they usually fall under the following categories:
Issues with the hair

My hair system is dry

My hair system is shedding

The hair system hair gets tangled

The hair color is fading

Issues with the base

The hair system base ripped

Issues with logistics

My order hasn't shipped

I placed an order but want to amend it, can I?
In this section, we will discuss common problems, and how to troubleshoot them.
My hair system is dry
Firstly we will need to establish if the issue is due to normal wear and tear or an issue with the maintenance of the hairpiece itself.
For that you'll need to know:
How long have you been wearing your hair system? How many times have you washed it? How often do you wash it? What type of shampoo do you use?
Suitable Use

Improper Use

• Hair systems should be removed, deep cleaned & conditioned and refitted every 3-4 weeks

• Hair should be soft when you first receive it

• Hair should be washed when on your head every 1-3 days, with shampoo AND conditioner

• Use a non-clarifying shampoo

• You do not wash your hairpiece, or wash it too infrequently, making oils build up

• You wash your hair system too much without conditioning it

• You do not use a non-clarifying shampoo, or you use a hard, chemical-ridden shampoo that is drying.
How do you dry the hair system? Hair dryer with hot air or natural air dry?
Suitable Use

Improper Use

• Reduce of of hot hair to dry

• Let the hair system air dry as much as possible

• Occasionally use a hair dryer once 80-99% dry to achieve final styling

• Use a hair dryer on the lowest heat setting

• Use a hair dryer on the highest heat setting everyday for a longer than necessary period

• Do not give the hair a rest from heat by letting it dry naturally most of the time
How do you usually take care of your hair? What products do you use?
Suitable Use

Improper Use

• Minimize product use, use mainly a small bit of water to style the hair with some leave-in conditioner

• Keep it conditioned after each wash

• Wash with hard shampoo only

• Pile on gel or wax without washing it out properly
Do you spend a lot of time outdoors in your life and work?
Suitable Use

Improper Use

• Do occasional activities such as the gym, running etc. where hair is not exposed to chemicals

• Wear a swimming cap to cover the hair

• If a regular swimmer, opting for a clip-on piece, that is removed for swimming (when you wear a cap instead)

• Swim regularly without taking precautions to protect the hair from pool bleach
How to care for a dry hair system?
If you are finding the hair on your hair system is dry, you can take steps on your own to fix this issue, without needing a new system!
Let's discuss this below.
Common hair system problems
In this video, celebrity hair stylist and non-surgical hair replacement ambassador himself, Aaron O'Bryan discusses some common issues that some men may face when wearing hair systems, and how to avoid or fix them.
This video is a must-watch if you are having trouble with your hair system, but do not need a new system.
Hair System Knowledge for Beginners: How to Get the Most Out of Your Hair System | Lordhair
How to Correctly Wash a Hair System
When it comes to removing your toupee to wash it, there is a correct way, to ensure hairs don't get pulled out and damaged unnecessarily.
We break down the steps in this video so you can clean your system correctly, cleaning away oils without pulling at hairs or damaging hair system hairs.
How to Wash Your Hair System Correctly

You can read more about how to shampoo and condition a hair system here.
How to Restore a 'Dead' Hair System
What if your hair system has gone frizzy, dry and looks like it can't be saved. Well… we will show you how to rescue your dry hair system. If you have used too much heat, used too many styling tools, or have found the system is getting very dry, you can use this technique to bring frizzy hair back to soft, luxy hair that you will not stop running your hands through.
How to deep shampoo the hair back to health
If your hair system looks like the system in the video above and you think the only solution is to return it, that is not necessarily the case.
When should you attempt to rescue the hairpiece yourself at home?
• If the frizziness and dry hair occurs after you've put on your hair system and washed your toupee hair system.

• If your hair system is feeling dry and frizzy and it is within the recommended hair system lifespan (outlined in our handy graphic below!).
When should you contact us?
• If you have received the hairpiece and BEFORE even wearing and washing it it looks frizzy and dry (these hairpieces do not pass quality assurance, so this is almost impossible!).

• Your hairpiece was purchased less than 30 days ago and you have attempted the troubleshoot procedure above.
When should you buy a new hairpiece?
• If the hair system is older than the lifespan recommendations we provide (see below).
Hair System Lifespan Guidelines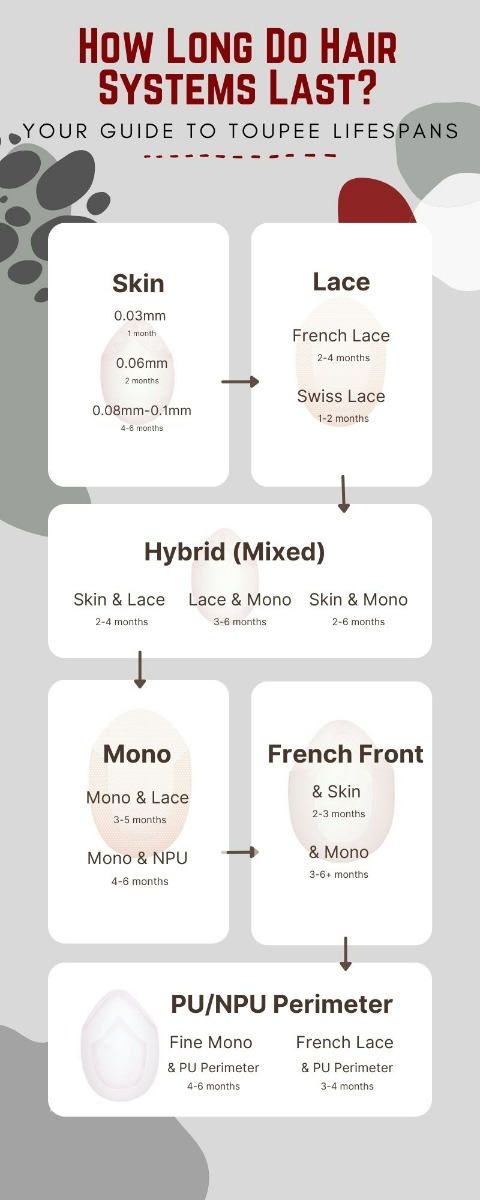 My Hair System Is Shedding
When the hair on your hair system, toupee or wig falls out, this is called shedding. It is normal that this happens with a few strands initially, and after a certain time, the base will become worn out, and hairs will fall out.
We will discuss what is normal hair fall out, what is not normal hair fallout on a hair system, how you can save a hair system that has hair shedding, and how when you should contact us about hair system hair shedding.
The first thing to do, in order to diagnose the problem, is to determine the type of shedding.
What type of shedding are you experiencing?
Hair System Hair Issue #1: Hair Shedding From The Base
This means hair falls from the base, meaning the whole hair strand falls off.
If this is the case, you should ask yourself the following questions:
What is the knotting method used on your hairpiece?
V-loop and injection method shedding is very common, as hairs are not tied. This means it looks very natural, but it shortens the lifespan. Other knotting methods that tie the hair last longer.
Durability of hair systems with different knotting methods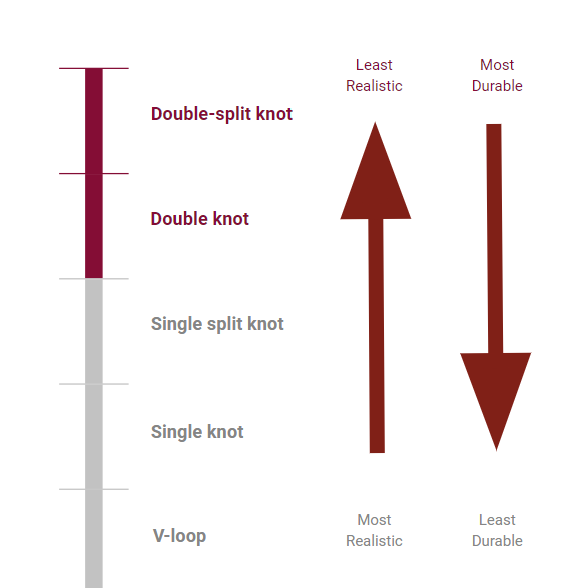 Hair systems with v-looping will last 1-2 months in general, after this time, it means it is time to replace your system.
Hair systems that are knotted will last slightly longer, 1-4 months, depending on the base type and knot method (some knots are single tied, some are double tied which makes them extra secure).
Different knotting methods and average lifespan
• V-loop = 1-2 months

• Single = 1-4 months

• Double = 1-6 months
How do you wash it?/How often do you wash it?
When washing or touching your hairpiece in general, you MUST use soft hands. You cannot scrub the hairpiece like you would your normal hair as the hair does not grow again, it can only fall out. However a soft hand will slow the process.
Excessive water contact can make your hair wigs more vulnerable to hair shedding, especially those with thin skin bases and knotless hair ventilation. If you swim in the salty sea, chlorine-filled swimming pools or use harsh shampoo, this can also cause shedding on the base. It can also cause the hair to turn brittle and dry, making it break more easily.
When you engage in water activities like swimming, take off the wig before you go, or wear a swimming cap to keep the water at bay.
How do you brush it?/How often do you brush it?
How do you brush through knots? When brushing, do you start at the bottom of the hair and slowly work your way up? You should never 'tug' at a knot if it is not coming out. Use the point on a stylist comb to 'wriggle' the knot out slowly, until it comes out. If you comb through knots hard-handedly, they will either cause the hair to come out at the base, or break the hair, or both.
Do you brush the hair everyday? We recommend you do this, to avoid knot build up, that makes your hair more prone to shedding.
Do you avoid friction and pull on the hairpiece?
Hair tends to fall out easily if it is often being 'pulled' due to friction. This can come from
• Your pillow at night

• A hat

• Scratching your head

• Playing with/twirling your hair in your fingers
To avoid friction on the hairpiece, we recommend you do the following:
• Use a SILK pillowcase at night

• NEVER twiddle with your hair once you have brushed it and styled it for the day (many people do this subconsciously, try to be conscious if you are prone to this)

• Wear a hat in the sun to avoid sun damage, but at other times, avoid wearing a hat due to the friction it endures
If the necessary maintenance steps are taken above, hair should not shed excessively before the recommended lifespan, if this occurs, it may be that the hairs were not knotted onto the base well. In this case, we will need to examine the piece.
Suitable Use

Improper Use

• You avoid chemical-ridden pools and use swimming caps/remove the hair system

• You avoid touching, scratching or playing with the hair system

• You use a silk pillowcase at night

• You limit exposure to the sun

• You have the desire to touch your hair often, play with it or scratch it (this can be involuntary. The hair system can be worn, it will simply wear out quicker)

• You often scratch your head, play with your hair or run your fingers through the hair throughout the day

• You go to bed without letting the hair dry and do not use a silk pillowcase
Hair System Hair Issue #2: Hair Breakage
This means that the hair breaks in the middle, and part of it falls off.
How often do you use heat styling tools?
Heat tools such as a hair dryer and curlers can cause the hairs to become damaged and break. Much like when you have split ends and breakage on real hair, these hairpieces are made from real hair so suffer the same issues if consistently exposed to too much heat.
Do you go out in the sun often?
Heat from the sun can also damage hair fast by damaging hair shafts through a process known as oxidation. You should avoid the sun where possible or use a hat if necessary (being mindful of the friction from the hat).
If you do not use heat or styling gels, the hair should not experience much breakage. Please get in touch if you are finding breakage occuring and have checked that you are using the hair system properly by consulting the table below.
Suitable Use

Improper Use

• Use a pre-permed hair system to avoid using heat tools

• Let the hair system air dry

• Avoid too much sun, use a hat when outside for extended periods of time

• Use heat protectant spray for the occasions when you use heat tools

• Use high heat curlers, straighteners and other heat tools every day without heat protectant (we advise buying a pre-permed toupee or wig directly from Lordhair)
If you have read through the above information and feel that you have cared well for your hairpiece, please help us identify if there may be an issue by filling in the questions below and sending it to support@lordhair.com
How long have you been wearing it? How many times have you washed it? How often do you wash it?

How do you dry the hair system? Hair dryer with hot air or natural air dry?

How do you usually take care of your hair? What products do you use?

Do you spend a lot of time outdoors in your life and work?

How do you brush it?/How often do you brush it?

Do you use a silk pillowcase?

Do you often wear hats, or pull your sweater hood up?

How often are you in the sun for long periods? What climate do you live in?
-----------------
Why Is My Hair System Shedding?
We have put together a blog discussing the reasons your toupee may be shedding, or why hair is falling out of your wig.
You can read the full post here: Why Is My Hair System Shedding?
There are lots of tips on how to prevent and stop your hair system shedding.


If you are still having problems, please read through and reply to the above questions if you believe there is an issue. Please attach as many HQ, detailed pictures of the problem areas as possible.
Send an email to support@lordhair.com and we will endeavor to help you with your issue as quickly as possible.
My Hair System Hair Is Tangling
If the hair on your hair system is becoming easily tangled, even if you have only washed it once, do not worry, there are some troubleshoot issues you can do to fix the problem
Why is my hair tangling?
There are two reasons for tangled hair:
Tangled Toupee Hair #1: Incorrect Washing
Hair systems need to be washed with a light hand, and hair should not be hard-handedly scrubbed as you may do with your own hair. It should be lightly brushed with the hand in the direction of the hair with soft soap.
Please refer to this video for how to wash hair correctly.
Hair System Maintenance Tutorial: How to Wash the Hair of Your Hair System at Home
Tangled Toupee Hair #2: Issue in Cuticle Removal
To make human hair smooth and manageable, during the processing of hair, before knotting onto a base, the cuticles are removed. If this is not done satisfactorily, this may cause evident issues with constant tangling of hair. During production hair is submerged in a cuticle removing solution, so it is very unlikely that cuticles will not have been removed. If this is the case, it is possible to diagnose this issue by careful examination.
I have tangled hair, what can I do?
STEP 1: Give your hair system a deep moisture treatment
If you have found you have tangled hair, your hair system can still be rescued! Please follow the video to loosen the tangles:
Hair System Tutorial: 4 Steps to Save Your Hair System
What to do if you've tried the above steps, but hair is still tangling?
STEP 2: (if step 1 doesn't work)
If you have tried to detangle your hair system and have deep conditioned it, but find issues persist, we will need the following to help assess your issue further:
Send the following to support@lordhair.com and we will endeavor to get back to you as soon as possible:
CLEAR and high quality us pictures of the hair system that CLEARLY show the product issue

(pictures of both sides of the hair and the base will also be helpful in diagnosing the issue)
Answer the following questions regarding maintenance of the piece
How do you clean your hair system?
Describe the process in as much detail as possible. For example:
What kind of comb was used to comb the hair during the cleaning process?

Was the cleaning effect achieved by rubbing the hair system?
Is your hair system within its recommended lifespan or purchased less than 1 month ago?
My Hair System Hair Color is Fading
Hair color fade can occur over time, but there may be some things you are doing that are hastening the process. In order to avoid this, you will want to do the following.
Five useful tips to maintain color:
Make sure you use the right products to wash and condition your hair system because they slow down oxidation. The correct products are for color protection and should be free of sulfates, those with Argan oil are great.
Don't use clarifying shampoos or conditioners because they actually strip away color.
Exposure to the sun can speed up color loss. You can't stay out of the sun or wear a hat all the time but you can use products with UV protection. It's just like using sunscreen for your skin.
Rinse your hair with cool water rather than hot water because it seals the hair, reducing the oxidation process.
Always Condition. Maybe you notice that the ends of your hair usually fade first. Try shampooing only the root area and conditioning the ends. This can help prevent oxidation and color loss.
How to Restore the Hair Color on your Hair System
If you have already found the color on your hair system has faded, have no fear! You can add color back into your toupee by following the steps in the video below, presented by celebrity hair stylist Aaron O'Bryan.
My Hair System Has Ripped
If you have used a hair system before, you will know that the base is incredibly delicate, and if you have tried a few different hair system bases, you'll have noticed the differences in durability between the different bases.
In general, thin skin is more delicate than lace and mono. Mono is the most durable type of material.
The thinnest of the skin hair systems are so thick that they are similar to food wrap (aka cling film), and can rip if they are not treated with care.
In order of most delicate to least durable, here is a list of Lordhair's different hair system materials:
Thin skin

Skin

Lace and skin combo

Lace

Mono, lace and skin combo

Mono and lace combo

Mono
Beware with ultra thin skin systems! They are just 0.03mm, meaning they are very thin. Most male hair system wearers wear the system and discard after one month, when the time comes to purchase a new one. That means most men do not remove and clean it.
If you do want to remove, clean and refit the most delicate of the thin skin hair systems, you should do the following to avoid your hair system tearing:
How To Avoid a Hair System Ripping
Wait until the system is ready

(i.e. when the glue is starting to break down already due to oils on the head). Do not try to take off a system you've just fitted as it will be incredibly secure with a tight bond. Removing it may lead to it ripping.

Use a debonder.

A debonder does what is says on the tin, it debonds. Namely, it debonds the glue that was used to attach the men's toupee or women's topper to the head. It helps glue dissipate and break down, so you do not have to tug at the hair system to remove it from your scalp.
How To Fix a Rip On Your Hair System
If you have been using your hair system and encountered unfortunate tears in the system. Do not worry! It can easily be fixed, without needing to purchase a new system, or to send it back for repair.

Send the hair toupee in for repair (can take up to 2 months)

Use a hair system repair kit (aka liquid poly repair kit)

Use makeshift repair tools that you have at home
If you have had a small tear in your hair system, you can fix it at home with minimal resources.
Read the instructions below to find out how to fix a rip on your hair system that has torn.
Fix a Hair System Tear (send it in for repair)
If your hair system can be fixed, you can send it into Lordhair for repair. The process usually takes up to 2 months, from when you initiate a repair to receiving it back.
How do you know if a hair system can be repaired?
Watch our handy video to find out if it's time to say goodbye to your old system, and hello to a new toupee or wig.
How to Tell If an Old Hair System is Repairable or Not
How to send a hair system in for repair
Below are the following steps taken when returning a hair system to Lordhair for repair:s
Determining if a system can be repaired

Prepping the toupee or wig for pick up

Pick up and shipment back to the factory

Final assessment of repair suitability (note that we asses your pictures of the hairpiece before you send it back, it is checked by our experts again to ensure it can be repaired, if it cannot be repaired, it will be sent back to you unrepaired)

Repair and quality checks

You receive your good-as-new hair system!
Read our full guide here on how to send a hair system in for repair
Fix a Hair System Tear (with an at home make-shift method)
(note this is not a long-term fix, it is a short-term, temporary fix)
Turn the hair system over so the ripped area is exposed

Clean and dry the area where there has been a rip on the hair system (use acetone or drying alcohol if necessary to ensure it is completely dry)

Take a small piece of plastic that you have cut from a plastic sandwich bag that can cover over the hair system, please it over the hole

Take some double sided tape (the Walker Ultra Hold is recommended), and put it over the plastic that is over the rip. Ensure that the poly material has been pushed into alignment so the two part of poly join up with each other, and that only the poly will be taped, and not any exposed hair underneath

Once you have the tape on, you can add your regular tape on top and attach your hair system as normal
Beware as this tape will come off when you next clean your hair system, it is not a long-term fix. In order to fix a hair system tear correctly, you should look to get it repaired with Lordhair, or get a hair system repair kit, or switch out for a new system.
My order hasn't shipped
When we receive your order, we begin to process it as soon as possible, and begin to process it the next working day. We check the details on your order to ensure we have your new hair system in stock and that we can customize it to your preferences. Our expert logistics team then begin processing your order and getting it on its way to you.
How long until my hair system arrives?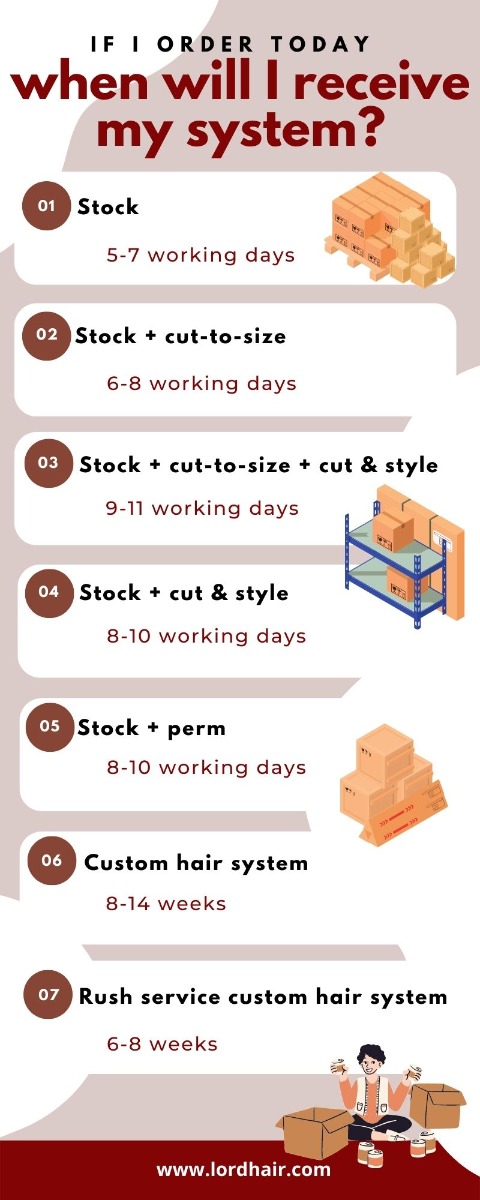 Why are there delays to my hair system?
There may be delays on your order due to the following reasons
National Holidays

Stock issues

Details on your order are incorrect and we tried to make contact to resolve them

You wished to make amendments and your order has been paused to make changes

Issues due to logistics shipping companies that occur after the product has been shipped
Can I expedite my delivery?
We already work to the quickest delivery times possible. In general we ship items the next day after your order has been placed, if there are no additional services or stock issues.
We use the fastest global courier services which can take 5-7 working days to get to you from our offices. Although we are a little further, we still bring you the best quality at the best prices, because we are located so close to our factories.
I placed an order but want to amend it, can I?
When you place an order, at Lordhair we can accommodate changes to your order if they have not passed the cut-off time. Below is a summary of when we can still make changes to your order.

| | | |
| --- | --- | --- |
| Hair System Type | | Cut-off Time |
| Ready-to-wear with no services | | Hairpiece has not been picked from the warehouse |
| Ready-to-wear with services | | Hairpiece has been picked, is not yet in the queue for extra services |
| Custom hair system | | Dependent on the stage of production. After certain stages are complete, there may be time to alter other aspects. Your personal account holder will confirm via email. |
How can I change my order?
Simply message your account holder, or contact us on your website and we will pass your request to your account holder to check the cut-off time and implement any necessary changes. The cut-off time is calculated at the time your account holder is able to process your request, and not when your request was submitted.
What if I have surpassed the cut-off time?
If you have surpassed the cut-off time for changes to your order, we will not be able to make the necessary changes. This will mean you will have to request a refund on your hairpiece. Depending on the hairpiece type and whether it is a stock or custom piece, you may only receive a partial refund.
NOTE: If you request changes, this may delay your expected delivery, whilst we make the necessary adjustments.
Free Shipping
We offer FREE shipping on all of our hair systems, including on discounted hair systems.
There is no free shipping if you have simply purchased a hair system accessory, such as wig tape, or a hair system ordering tool, such as a color ring. This is why we advise you purchase the items together .


Return & Exchange Guarantees
When you purchase a hair system, at Lordhair we hope that it will be the perfect fit. This may not always be the case, and you may want to return or exchange your men's toupee, or your women's wig. Below we outline the circumstances under which you are able to return or exchange a hair system.
Our process when you wish to return your hairpiece:
We identify the reason you wish to return, to see if we can help rectify any issues.

We suggest how an issue can be solved with expert advice from our customer account holders.

We help troubleshoot if there are issues

If you still wish to return, we help you process this quickly and pain free
Returns on non-faulty hair systems:
Stock hair systems
We have a 30-day money-back guarantee on stock hair systems purchased, even if there is no defect. The hair systems much meet the following criteria:
Return request date must be within 30-days of purchase date.

The hair system must be unused in the original packaging.

The hair system must not have had any extra services applied to it (i.e. it must not have been cut or permed with one of the Lordhair Additional Services options).
If the hair toupee or wig meet the above conditions, the hairpiece can be sent back to us and we will issue a refund for the price of purchase of the hair system.
2. Stock hair systems with extra services
For stock hair systems that have been altered, you may also request for your hairpiece to be returned. These hair systems can be returned, however as they have been altered, it may not be possible to receive a 100% refund.

Additional Service

Amount Refunded to You

Perm

50%

Haircut & base cut service:




Hair length = over 2.5" and base size = over 6"x8"

Hair length = under 2.5" or base size = under 6"x8"





Hair/base-cutting service fee and shipping fees deducted

50%

Trim excess edge service

100%
3. Custom Hair Systems
If you have ordered a custom hair system but have found there are still some things you want to change, or you decide you do not want it, we can also issue part-refunds to you. Let's discuss how much of a refund on your custom hair system you can get if you decide you don't want your hairpiece.
*Quality issues must be due to a fault with the product itself and not an issue that has occurred through improper usage. Issues that have occurred due to using the hair system in an improper manner will not be considered a quality issue, and a refund will not be issued.
When are refunds processed?
In order to ensure hair systems are in their original condition, they must be sent back to Lordhair HQ, and they must be examined before a refund can be processed. This is a necessary step for all hair system returns, even faulty hairpieces. In general you will initiate a return, we will determine whether your hairpiece can be returned, we will then either arrange a pick up, or you will ship your hairpiece back to us. Once we receive your hair system, it must be sorted and passed on to your account holder. It will then be handled and examined for quality. We will then be able to provide you with a refund accordingly.
The time span for this can be up to 2–4 weeks, depending on shipping delays. If you wish to make a return, we advise you place a new order when you initiate your return. We also always advise you to have a SPARE HAIR SYSTEM on hand at ALL TIMES, so you never get caught out without a system.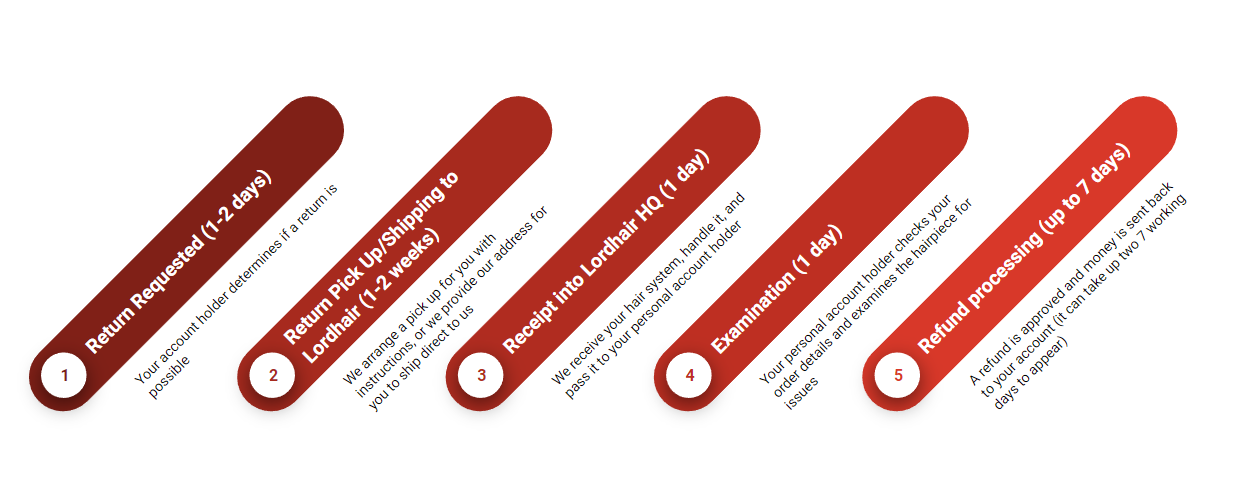 How to Contact Our Sales Representatives
At Lordhair, we pride ourselves on providing you with a 1-1 customer service experience, whereby you have one experienced account holder that helps handle all your orders, and understand your personal hair loss condition. That way, you do not need to relay your requirements to us again and again, you deal with the same person each time you contact us.We also have a 24-hour customer service team that can assist with queries through our website and social media. *
*(Customer service is available 24 hours Mon-Sat)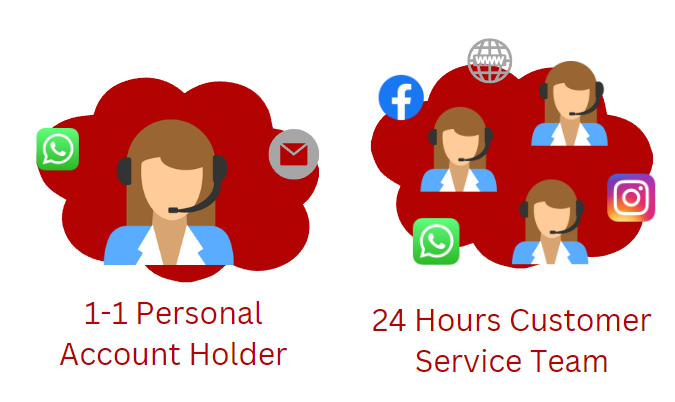 If you have after sales queries, in general we advise you to contact your personal account holder. However, you can also contact us anytime for help with your hairpiece, advice on your next hairpiece, or advice on caring for your hairpiece.