Men's Toupees and Wigs & Shop Toupee Hairpieces
Lordhair brings a full range of premium real human hair toupees for men. If you need a top quality hair toupee asap, we have a wide selection of stock available for immediate express shipment. And if you require a custom made toupee hairpiece for men, design it yourself using our intuitive online ordering system!
Hair toupees (also known as hair systems and men's hairpieces) have come a long way and we can recreate your own hair's color, curl, and wave, giving the feel of perfectly real hair. Our stock and custom hair toupees will have you looking good and feeling great. Best of all, if you choose the suitable hairpieces, no one will know that you are wearing one of our hair toupees because all of them are highest quality and designed to perfection. Scroll down and discover the best toupee hairpieces in town for men!
Men's Toupees FAQs
Our range of hair toupees can be the answer to the millions of men out there struggling with permanent hair loss and temporary shedding. We specialize in real human hair that is carefully sourced and used to create hair replacement systems that look extremely real. Our non surgical hair replacement systems can be customized to your exact requirements to give you an 100% bespoke appearance just like this: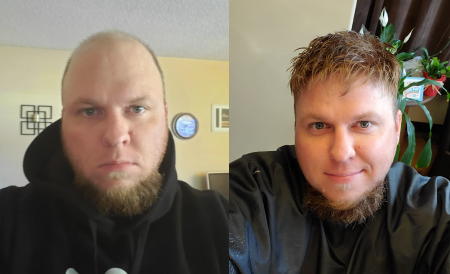 Shampoo your hair, go for a swim, play sports, or do whatever else without fear. Our hair toupees are highly breathable, durable, lightweight, and long-lasting. No wonder, we are counted amongst the top hair piece toupee suppliers in the world!
Hair toupee transformation
Before pressing the 'BUY' button, men love to see how a toupee looks after the application and hear what other customers have to say about the whole experience. That's why we encourage our customers to share pictures and videos documenting their toupee wig experience. Check out these before-after toupee photos or head over to our YouTube channel to witness hair recovery stories. Browse our collection of hair systems to discover our complete range of stock and custom hair recovery products.
A men's toupee is a solution for men throughout the world to cover balding and create the illusion of real hair, using a piece of robust but undetectable material with hair attached to it. This creates a toupee hairpiece that can be stuck or clipped onto the head and appear just like real hair.
When wearing a toupee hair wig, people are unable to tell that it is not the real hair from a mans head.
A toupee and a wig are essentially one and the same. In terms of what they actually are, a hair replacement solution is made from a base material with hairs knotted on to it, they are the same and are even sometimes called a 'toupee wig' . The difference is in the fact that a toupee is most commonly used for men's toupees. The word wig is used more commonly in referring to women's wigs and women's toupees is a term that is virtually never used. Yet, men's wigs is a popular term . Toupees for men, however, is still one of the most commonly used terms. Lordhair has many men's wigs and toupees and women's wigs for all hair loss types.
Toupess are made of a few different materials. The most common are:
● Polyurethane (aka PU, thin skin or poly);
● Lace (netting using French lace or Swiss lace);
● Mono (plastic fiber used to make netting);
In general toupees can be categorized based on the amount of head they cover.
1.Frontal toupee (covers a receding hairline at the front).
2.Mens' topper toupee (covers the very top of the head, for men who still have nape and side hair).
3.Full cap toupee (covers the entire head for completely bald men).