How Long Do Human Hair Systems Last - Lifespan Insights
By:

Lordhair

2022-07-15 12:55:00
How Long Do Human Hair Systems Last? | Lifespan Insights
Save this handy graphic for later, or share with your hair system wearer friends: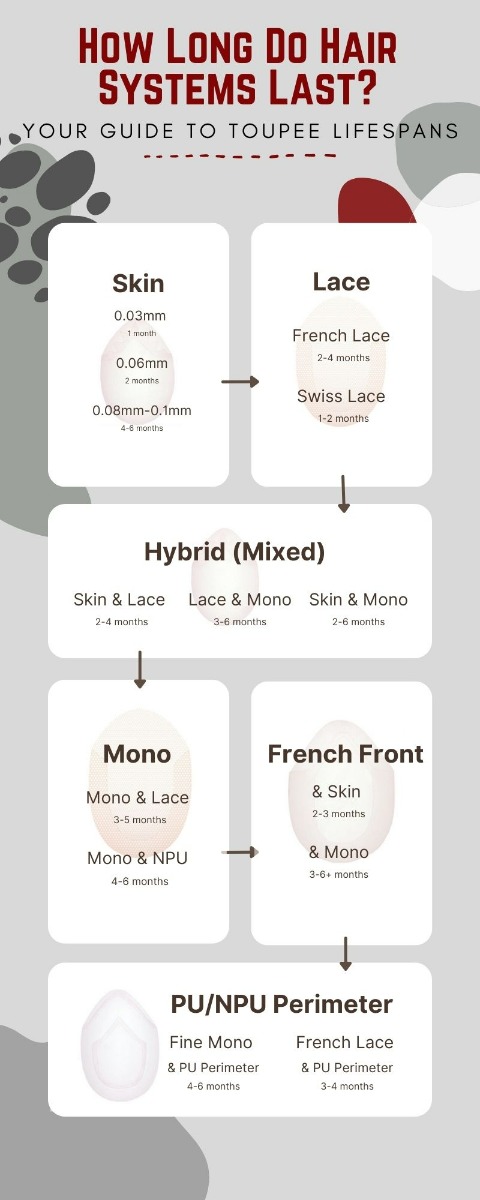 How Long Does a Hair System Last?
When considering a men's hair system as a solution to hair loss and a receding hairline, you will want to know how often when you will need to change your hairpiece toupee.
If you want to know:
How long you can wear your male hair unit before you will need to replace it, and
How many hair replacement systems you will need to purchase per year,
then read on!
Hair System Lifespan
...how long will my toupee last?
Note: This blog on lifespan of hair systems was last updated in January 2022 to include new insights, data, and product recommendations. Happy Reading!
How long does a hair system last?
You can check out the expected length of time you can wear your chosen hair system base in the table below
| | | | |
| --- | --- | --- | --- |
| Skin (aka Thin Skin or poly) | 0.03mm ultra-thin skin hair systems | 1-2 months | |
| | 0.06mm super thin skin hair systems | 2-4 months | |
| | 0.08-0.15mm thin skin hair systems | 4-6 months | |
| Lace Hair Systems | French lace hair systems | 2-4 months | |
| | Swiss lace hair systems | 1-2 months | |
| Mono (Monofilament) Hair Systems | Mono & lace hair systems | 3-5 months | |
| | Mono & NPU hair systems | 4-6 months | |
| Hybrid Hair Systems | Skin & lace hair systems | 2-4 months | |
| | Lace & mono hair systems | 3-6 months | |
| | Skin & mono hair systems | 2-6 months | |
| French Front | French Front & Skin | 2-4 months | |
| | French Front & Mono | 3-6+ months | |
| NPU (aka PU) Perimeter) | Fine Mono & PU Perimeter | 6+ months | |
| | French Lace & PU Perimeter | 4-6+ months | |
The lifespan of hair systems varies from product to product. Some human hair wigs last for few weeks and some for several months. Polyurethane, a lace-type of material, is popularly used to build the base of hair replacement system. This part rests on your scalp. At Lordhair, long-lasting hair replacement systems are made using 100% human hair. The finishing of men's hairpieces is best done by injecting or knotting the hair on the base.
Popular techniques of creating long lasting hair replacement system are weaving, fusion, cabling beading, and bonding. The wig then can be attached to your scalp by using water proof adhesive. It is best to opt for hair wigs that come with skin friendly adhesive. But the question we are trying to answer here is 'how long will a human hair wig last?'
Though depending on multiple factors, the lifespan of your hair system is greatly affected by below 4 factors: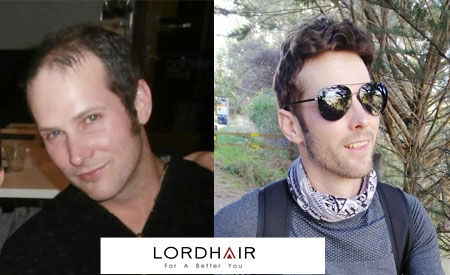 Base materials
The raw material plays a crucial role in determining the durability of any product. Hair replacement systems are also affected by the material they are built of. Different base materials have different levels of durability. The general rule is 'less detectable a hair system is, the shorter the lifespan'. If you want your hairline to look natural, then, durability will be compromised as these wigs will not last for a long time. Conversely, the more durable a hair system is, the less natural it looks.
Base materials for human hair wigs can be divided into four categories. The lifespans listed are general indications only:
Swiss Lace and Thin Skin hair systems last 4-6 weeks
French Lace hair systems last 4-6 months
Combination Mono with Poly hair systems last 6-9 months
Poly hair systems last 9-12 months
Hair quality
Hair, whether black or blonde, whether red or brown, the quality andtype of hair used in hair system production is a major factor in its life span. Lordhair ensures strict quality control when it comes to selecting the hair we use. This extends the lifespan of our hair system. Another factor is the level of processing your hair system requires.


Color of hair
Darker colors and straight styles require less processing, while lighter colors and curly hair requires more treatment. This will impact the lifespan of wigs for men. However, processed hair will still easily last 3-6 months with proper care, which is a good lifespan for a wig. It can be said that straight and dark coloured hair systems are termed as high quality hair systems.
Maintenance
The longevity of your hair system is affected by how you take care of it. Because we want you to get the most out your hair system, we provide tips and ideas on how best to take care of your hair. Learn how to maintain your hair color and maintain the natural look of your hair wig.
With a little patience and effort, you can easily take good care of your hair system. Just have a look at this infographic which will help you in maintaining your hair system: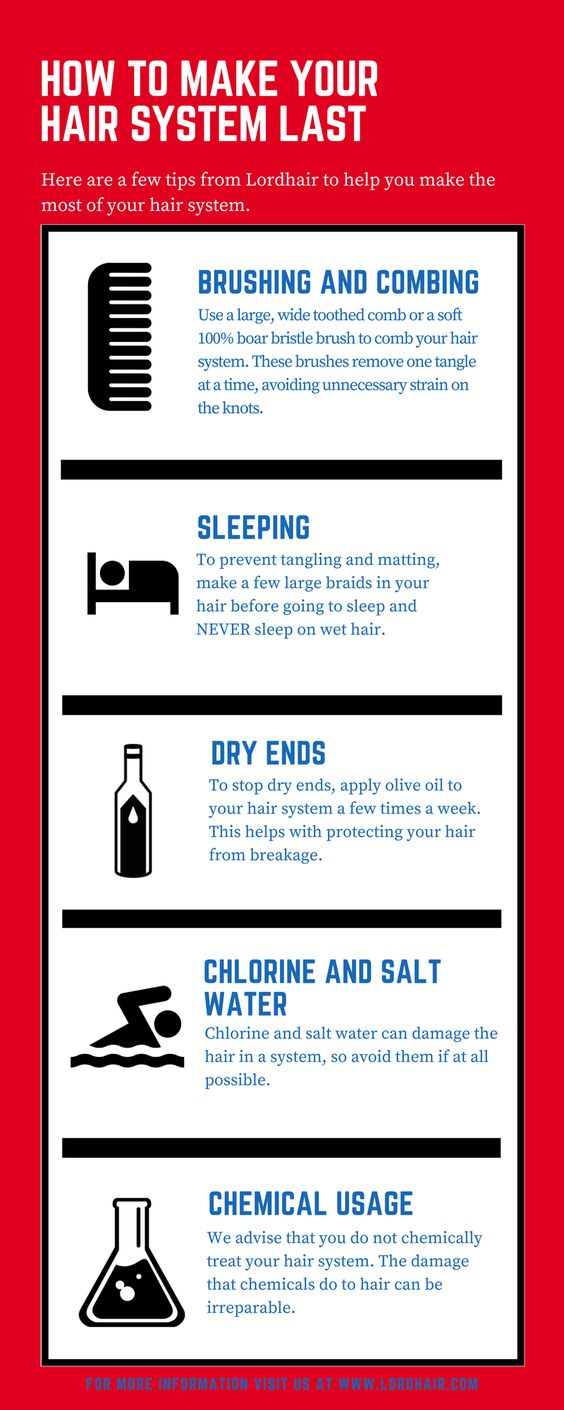 Different base systems have different average life spans. In general skin hair systems, due to their nature are extremely delicate. They are incredibly realistic and last between 2-6 months. Lace hair toupees and NPU hairpieces last even longer and sewing in clips can mean they last even longer.
Let's have a look in detail at different types of bases.
How Long Do Skin Hair Systems Last?
Skin hair systems are most of the most natural types of hair systems available. They are incredibly light weight, transparent and skin toupees are thus prized by the majority of hair system wearers. Did you know that the Lordhair UTS, a 0.03mm ultra thin skin poly hair system, is our best seller?
Different skin hair system bases has different levels of thickness, and this impacts upon how long the hair system will last. OF course things like how well the system is maintained will also impact the hair system lifespan, but as a general rule, hair systems themselves have particular lifespans.
The thinner the PU material, the shorter the lifespan.
The thinnest hair system you can puchase from Lordhair is the UTS, ultra-thin skin, a polyurethane base that is 0.03mm thin. It is super soft and feels like a thick food wrap (cling film) to the touch. It is delicate and cannot be pulled directly off the scalp once stuck down. Since this hair system base is delicate, it needs extra care. When you remove your skin hair system, it is advisable to use a DEBONDER, or citrus spray with alcohol to help dissipate the glue or tape. This will help the toupee come off without having to pull at it, which may just rip a thin skin hair system like the UTS.
Very thin hair systems can also be knotted using a V-loop method. What is a V-loop? Well, imagine that we have threaded a hair through the plastic-like material, and then thread it through again, it looks similar to a V going in and out of the plastic material. Hence we call it a V-loop. It is not tied, so it literally looks like hair coming right from the scalp.
Slightly thicker hair systems, such as the Lordhair SuperSkin, a 0.08mm skin hair system, feature hair that has been tied onto the base with a knot, although the knots are bleached so they are invisible once on the head. Since knots on this type of skin base toupee are tied, the toupee itself is much more durable than a thinner base.
The thickest type of thin skin hair system Lordhair makes is the 0.1mm thin skin. It can last substantially longer the the 0.03mm thin skin, and hair is tied on with a knot, making it longer lasting.
How Long Do Lace Hair Systems Last?
The lifespan of a lace hair system depends on what type of lace is used, and the edge material. French fully lace systems are prized for how natural they look, and have a reasonable lifespan. Swiss lace hair systems are even more natural but last 1 month.
Many hair system wearers like a combination of lace and another material, such as lace and skin hair systems, which last on average 2-4 months, depending on the base. Mono and lace hair systems last even longer as mono is extremely durable. Additionally, systems with s PU perimeter make gluing the sytem on very easy and cleanup a doddle. Most men like to opt for a French lace front hair sytem, because the lace at the front is very natural.
Can I make my Hair System Last Longer?
We advise you to take good care of it by planning activities that are taxing your hair just before you switch out your new hair toupee. You can also wash it less frequently whilst wearing a shower cap if you are not in a hot climate and do not experience excessive sweat. Finally, don't forget, sewing in clips can make your unit last even longer!
By the way! We made a full blog post on extending the life of your toupee hair replacement system that you can read here.
Taking good care of your hair toupee will extend it so far, you will still need to switch to a fresh piece periodically. Below we have tips on how to save on your non-surgical hair replacement.
When it comes to making a hair system last longer, you need to watch out for these common mistakes that mean it may not last so long:
Here is a list of reasons why your toupee may be shedding:
New toupee hairs shedding in the first few days - this is totally normal!
Toupee hair shedding due to incorrect care and maintenance - be gentle with your toupee, it is delicate
The toupee has reached its end-of-life - each toupee has a particular lifespan according to it's base and hair type
Product fault - this happens in less than 1% of cases, as all men's toupees go through rigourous testing, in most cases shedding is due to the aforementioned reasons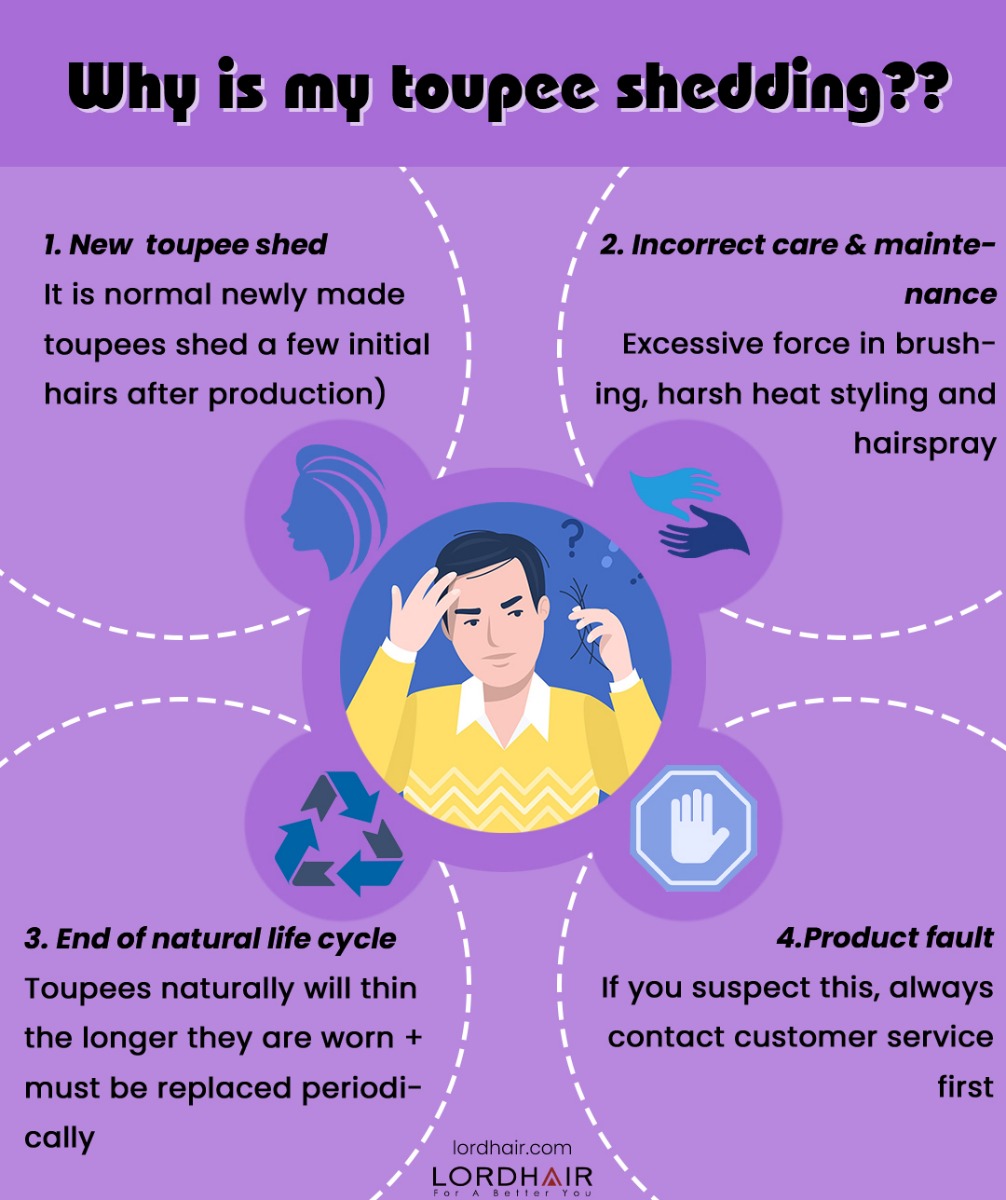 How to Make Your Toupee Last Longer
When it comes to making a toupee last longer, here is a checklist of items you should add in your basket:
Detangler spray for hair systems - keep hair in tip-top condition
Wide toothed comb OR 'tangle teazer' to reduce pull on your hair system when brushing
Silk pillow case to stop your hair system tangling at night
Alcohol in a spray bottle/debonder spray for hair systems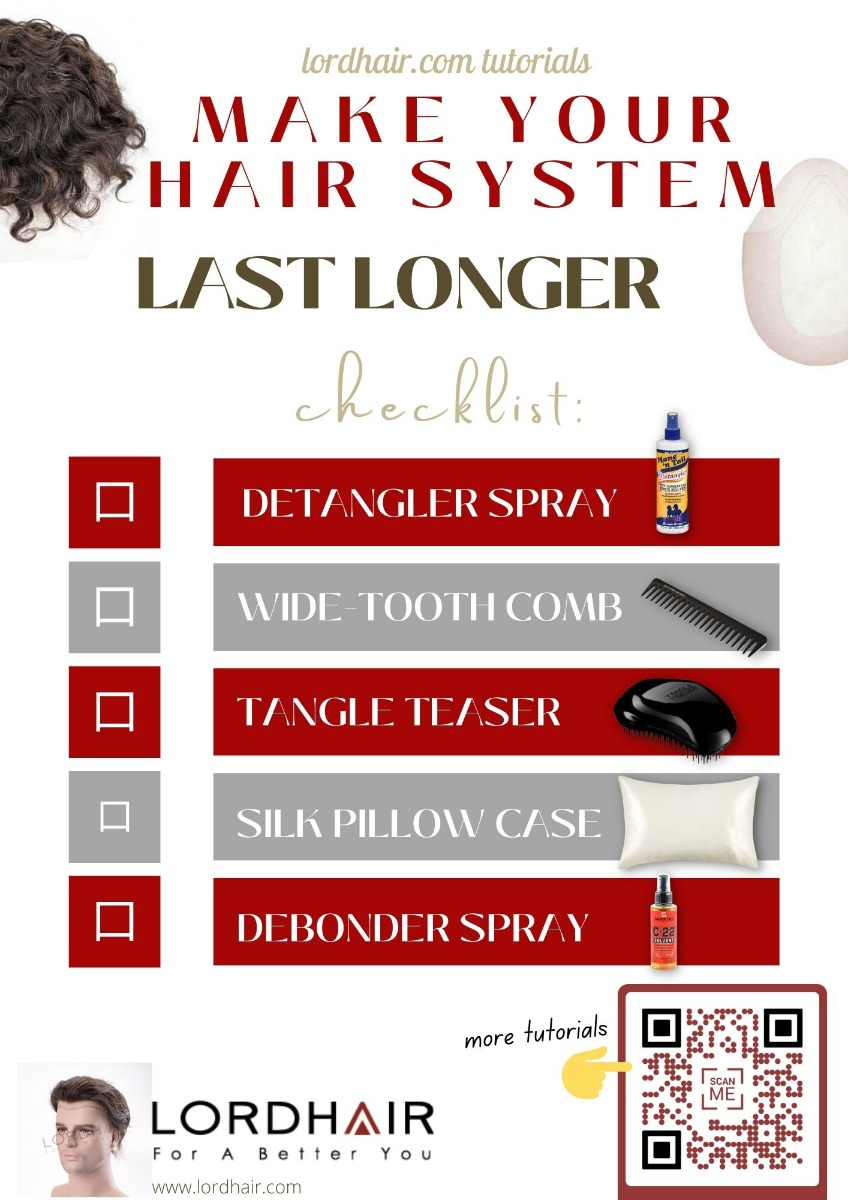 How to save on your hair system purchases

Now you know the number of hair systems you will need to buy per year, you can take advantage of buying a few hairpiece toupees at a time to save yourself some $$$. You can also take advantage of seasonal sales to bulk buy your toupee hair replacement system.
Tips to extend hair system lifespan
Even though brands like Lordhair have made modern hair systems affordable, users still should take every precaution to extend their lifespan. Below 5 essential human hair wigs maintenance tips will help you in increasing the lifespan of your hair system:
Prevent Oxidation: Sun releases harmful radiation that can damage your hair by reducing its green pigment and turning it into red or orange. As your hair replacement system is made from 100% natural human hair, it will also be vulnerable to oxidation. It will deteriorate sooner and won't last long. We strongly advise you to wear a hat or a cap when you go out for longer hours in sun.
Shampooing: Want to increase lifespan of your wig? Start shampooing it twice a week and you will get shinier and healthy hair system with an increased life span. Shampoo also eliminates the foul smell which may result due to moisture or dirt particles. This will make your human hair wig last long. Check out these toupee shampoos for your next purchase.
Want a completely natural look with your hair system? Invest in 100% human hair wigs for men
Watch the video to witness a full attachment from Michael and how he thinks about the system:
Hair System Cleaning: Whether your hair system is polyurethane based or lace based, both require cleaning as adhesive used to bind the system on your scalp may spread on your strands, affecting its natural look. Therefore, it is necessary to cleaning hair systems properly from time to time to avoid the deposit of adhesive on hair system.
Untangling hair systems: This often happens with hair systems designed using long hair. It takes time to de-tangle hair and sometimes it results in hair loss. A human hair replacement system is vulnerable to wear and tear and also irreversible damage. It is therefore beneficial to de-tangle your wig in such a way that your hair strands don't get damaged.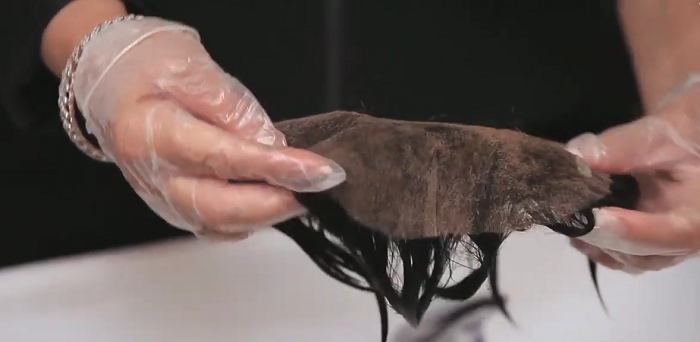 Hair Colouring: Lordhair creates 100% human hair replacement systems that gives your scalp a phenomenal look. As the hair used are natural, it is possible that exposure to heat, dirt and other factors may lead to colour loss. But don't worry, you can colour your hair system by using good quality hair colour options available in the market and make your hair system beautiful as well as durable.
Buy multiple units: One of the most useful tips to extend the hair system lifespan is to keep multiple hair toupees in your cabinet. Hair experts believe that rotating your hair systems from time to time can help avoid heavy wear and make the hairpieces last for a longer time.
Store correctly: Unlike real hair that gets nourishment from the scalp, hair systems don't produce any oil or sebum to protect the hair strands from dust or damage caused by harmful UV rays from the sun. Neither can they generate new hair strands to replace damaged ones.
That's why properly storing your hair toupees goes a long way when it comes to extending the lifespan. Consider the following tips to store your non-surgical hairpiece properly:
Store your hair systems in a cool dry place away from sunlight.
Use wig stands for your collection of hair replacement systems
If you don't want to buy a wig stand, a clean and spacious box will do.
How to save money buying a men's hair system
Even though, in the long run, men's toupees are the most cost-effective, intstant and suitable solution to men's hair loss. Here are some tips on how you can save money on buying men's toupees:
Buy in bulk during discount periods - you can get hundreds off toupees if you cbuy 2-3 at a time when there is a sale on
Take GOOD care of your toupee - how long your piece lasts depends in large part on how it is cared for
Do DIY adjustements near the toupee end-of-line - e.g. if your toupee has color fade, you may be able to simply re-dye the hair at home!

Did you know? The UTS super thin skin hair replacement system is available to buy in a six-piece bundle, at $183 per unit!
Buy the Ultra Thin Skin V-looped hair replacement system for men
How often do you switch your hair system out? Let us know in the comments below or come and join our Facebook support group to connect with other hair system wearers!
As you can see, a variety of factors impact the lifespan of yourhair system. Before deciding on your base material and hair type, you need to consider what you value more, a longer lifespan or a more natural look. With this information, we hope your choice is made a little easier. Just remember if you need some help making your decision or have any other questions, get in touch with us.
Follow Lordhair on Slideshare to discover infographics, presentations, and media on hair loss and recovery.
We create new hair care, wig maintenance, and product resources from time to time.
Check out our other posts:
We Photoshopped these Male Celebrities with a Hair System
Prolong the Life of Your Hair System: Tips & Tricks
Everything about scalp biopsy for hair loss
Best hair restoration methods for men

  Email: support@lordhair.com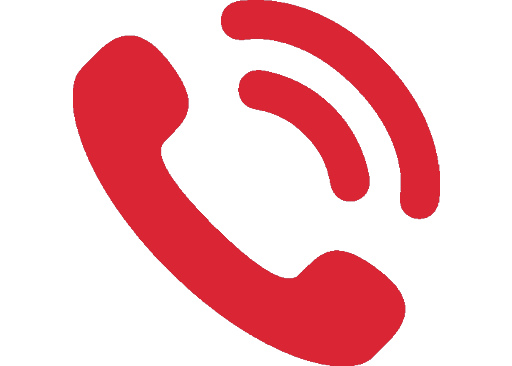 Tel: +86 532 80828255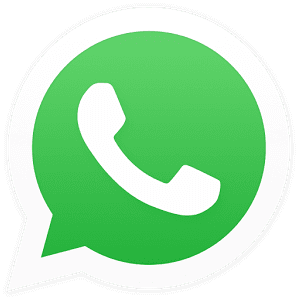 WhatsApp: +8615698163279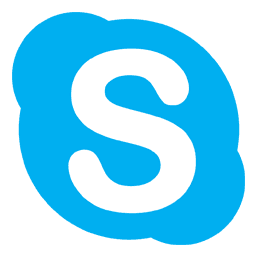 Skype: Lordhair
Find us on social media