8 Waterproof Wigs for Men to Swim In This Summer
Summers aren't complete without dips in the outdoor pools or frequent visits to the beach. However, the season makes a lot of bald men more self-conscious about their hair loss. That's precisely why the demand for waterproof wigs goes up during this time. That said, a lot of men have no idea which waterproof toupee to pick from our catalog. Honestly, we don't blame them as our catalog of hair systems for men is extensive, and picking out the right waterproof wig to swim in can be complex.
That's why Lordhair decided to prepare this list of 8 waterproof hair wigs and toupees to try this summer for swimming. All these wigs are super comfortable and deliver a strong hold even in water.
Here are the most popular men's wigs to swim in:
#1 UTS (S22) stock waterproof wig
The UTS (also known as S22) stock waterproof hair wig is a great choice for men who want a water-resistant hair replacement solution with the feel of natural hair. It has a base that is constructed using transparent ultra-thin skin (0.03mm) and is perfect for swimming.
The V-loop ventilation method used in this waterproof hair wig makes the base knotless and gives men lift to their hair, allowing men to style their hair any way they want. Easy to attach, the UTS stock hair wig for men has 5-6 inches of Indian human hair that looks ultra-realistic.
Men can buy this hair toupee for US$209.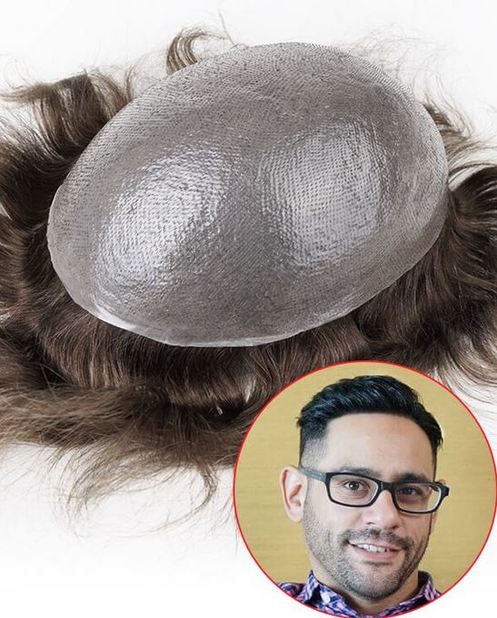 #2 SuperSkin-V V-looped waterproof toupee
SuperSkin-V has gained a lot of popularity among men looking for a perfect wig to swim in. It has 100% authentic human hair that looks nothing less than real. With a hair length of 5" and a medium-light hair density, the hair can be styled in any direction.
Since hair is implanted in the direction it normally grows, the SuperSkin-V waterproof hair wig looks natural even when wet. This hair toupee has a super-thin skin transparent base that not only repels water but is also really comfortable. SuperSkin-V is easy to wear and completely hassle-free.
Available in 12 different colors, this waterproof hair wig can be bought for US$219.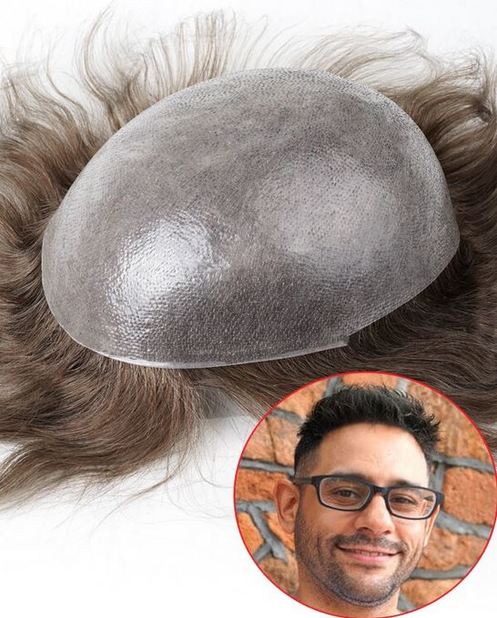 #3 Inception thin skin waterproof wig
Men looking forward to buying a waterproof wig to swim in during summers can go with this toupee. Inception is a high-quality hair wig with a transparent super thin skin base that offers realness similar to own scalp.
Indian human hair injected all over the base gives the appearance of hair coming out of the scalp. The Inception hair wig also has a natural front hairline that never looks unrealistic even after swimming in the pool for a long time.
This waterproof hair toupee for men has a hair length of 5" and is available for US$219.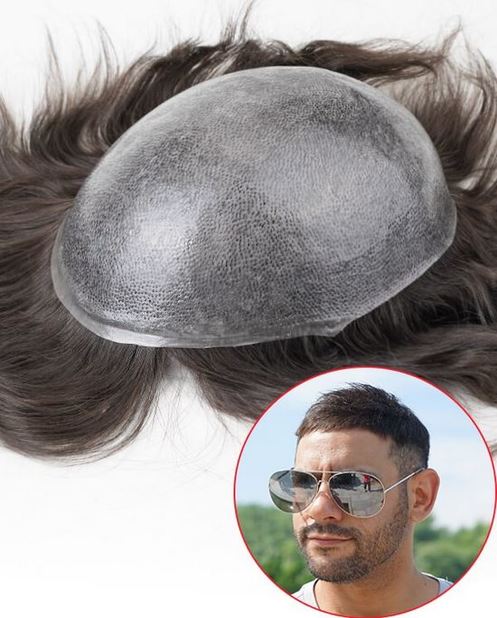 #4 Combo-V waterproof toupee for men
One of the latest additions to our growing collection of waterproof hair wigs, Combo-V is a lightweight, comfortable, and breathable toupee for all-day wear. It offers extended protection through a super thin skin base that looks and feels very natural while swimming.
Combo-V waterproof toupee has the ability to impress, thanks to its 100% natural human hair. With a hair length of 5" and medium-light hair density, you will feel confident and look awesome while swimming during summer in this hairpiece.
French lace at the front makes the Combo-V waterproof hair wig look hyper-realistic. Men can buy this hair toupee for just US$259.
Watch Mark wear his favorite hair wig at the waterpark!
#5 Champion waterproof lace wig
Champion is hands down the best waterproof hair wig present in our catalog. Its 8" x 10" base consists entirely of French lace that will make the scalp feel lightweight, comfortable, and breathable even under the water. You'll have the freedom to swim without restriction.
Thanks to the bleached knots, Champion waterproof hair toupee looks completely natural. This hair wig has human hair that looks just like real hair even when wet. The Champion hair wig has a hair length of 5-inches and is available in 35+ shades.
Buy this toupee hair replacement system for US$279 and swim deep into the water without worrying about exposing your thinning hair!
#6 Vigor-C waterproof hair wig for men
Our next hair wig for men is made specifically for swimming and outdoor activities. The Vigor base is made of fine mono with a super-thin skin perimeter and a lace front that makes it lightweight, breathable, and durable. It also has clips which makes it easy for men to attach and remove the hair wig.
Not planning to swim and get wet? The Vigor-C hair toupee is still a winner! This hair toupee has 5-inch human hair that delivers an ultra-realistic look. No one will be able to tell if you are wearing a hair wig! It can also be styled in any direction.
Men can buy the Vigor-C waterproof hair system for US$289.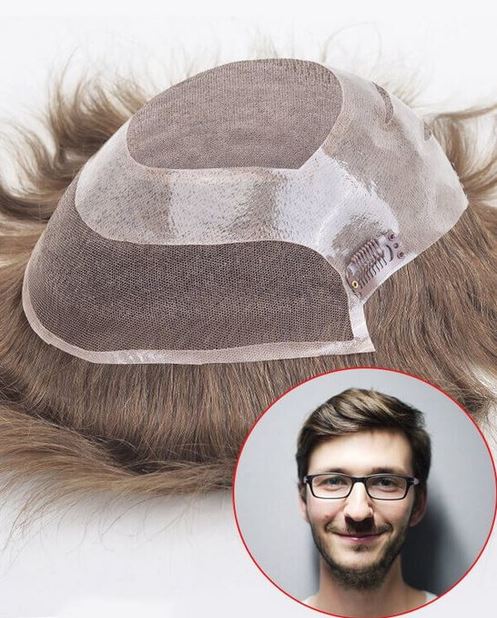 Didn't find the hair toupee you are looking for? Browse our collection of waterproof wigs for men.
#7 Inception-LC custom swimming wig
End the fear of exposing bald patches while swimming by buying an Inception-LC waterproof wig. This hairpiece differs from our regular hair wigs as all of its features can be customized. Inception-LC has a premium base that comprises three materials - thin skin layer, French lace, and diamond lace.
These materials make the waterproof hairpiece comfortable, durable, lightweight, and airy. So, customize all features of Inception-LC and have a 100% natural appearance both in and out of the water.
Try swimming in the pool with an Inception-LC custom wig on your head! You will feel the difference on your own. Prices start from $269 for this waterproof hairpiece.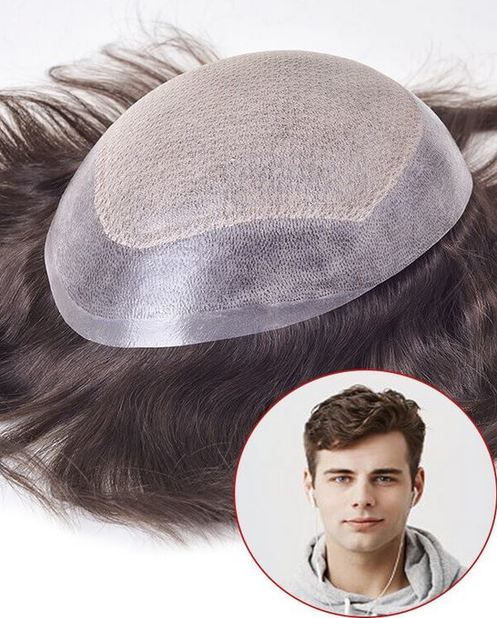 Above are the best waterproof hair wigs for men. These hair toupees are not only letting men enjoy swimming without fear of exposing their baldness or thinning hair but also allowing them to restore the confidence that hair fall took away.
If you didn't find a suitable hair toupee on this list, please check out our complete catalog of premium toupees and hair wigs. We guarantee you will find the perfect match for your head!
Got any queries to ask? Send them to support@lordhair.com and have them answered by our wig experts.
Latest news:
We recently launched some new products that are gaining popularity amongst men with thinning hair. Check out these partial hairpieces and wigs for men.

  Email: support@lordhair.com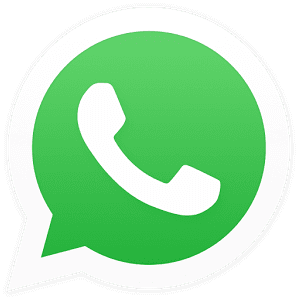 WhatsApp: +16263623127
Find us on social media