10 Toupees That Even Celebrities with Hair Loss Will Trust
By

Victor Lordhair

2022-05-11 09:43:11
817 views
When it comes to concealing bald patches at the top portion of the scalp, Lordhair's hair toupees are counted amongst the best and are trusted by celebrities as well as young actors. Also known as hair systems and wigs, they are constructed using a premium base to deliver high breathability and comfort. They look so natural that even celebrities with hair loss will trust them with temporary and permanent hair loss recovery.

Since we have a huge collection of celebrity-worthy toupees for men, it makes sense to direct men's attention toward the best hair units. Lordhair has prepared a list of 10 hair loss toupees that not only cover bald spots but also make men look no less than a rockstar.

If getting a hyper-realistic appeal and comfort is your utmost priority, then, we highly recommend considering these hair toupees:

#1 SuperSkin-F: Celebrity worthy toupee

Losing too much hair at the front of the head? Consider buying the SuperSkin-F hair toupee. It has a transparent super thin skin (0.06 - 0.08mm) base that is easy to attach and clean. With a front contour between C to CC (6" x 0.75" is CC), this celebrity hair toupee has 100% human hair that looks natural and moves freely like real hair.

We have added 6 inches of long human hair all over the thin skin base using the V-loop ventilation technique. This means that the SuperSkin-F hair toupee has no knotting within it. The hair looks like it's growing directly out of the scalp. Available in different sizes and colors, men can buy its stock model for US$125.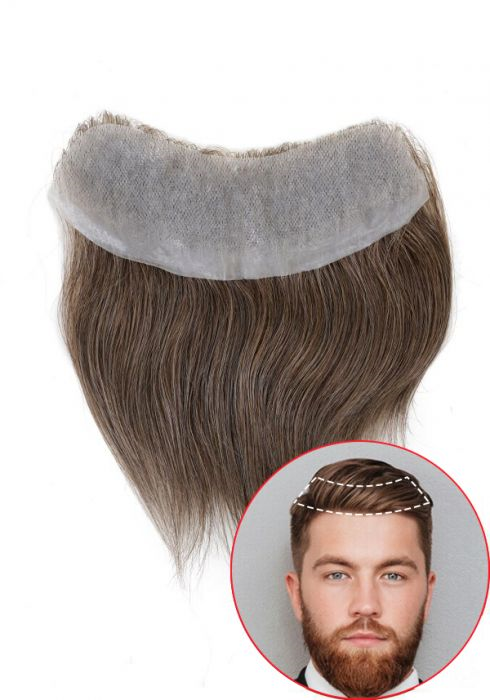 #2 UTS: Thin skin hair toupee

Yes, just like the previous hair toupee, the UTS hair unit for men also has a transparent ultra-thin skin base with V-looped Indian human hair (gray hair is synthetic) all over it. However, unlike SuperSkin-F, the base in UTS is only 0.03mm thin. This makes it feather-light and comfortable. That's why celebrities, actors, and Hollywood performers love it!

The UTS thin skin hair toupee has 5-6 inches of long human hair with medium-light hair density. Fashionable men can style this hair wig freely and attain looks like a celebrity. All features of the UTS hair toupee can be customized using Lordhair's cut-in and styling services.

#3 Champion: Celebrity hair toupee

The Champion hair toupee for men is all about its name. It has an 8" x 10" base that is completely constructed using French lace. The material makes it highly breathable, lightweight, and comfortable. Champion also has the advantage of reinforced stitching for added durability.

In terms of hair, we have used human strands that can be styled in any desirable direction. Thanks to the bleached knots at the front (not available with colors #1,#1A,#7, #7ASH, #18, #22), men get the appearance of hair growing from the scalp. The Champion hair toupee has a price of US$299.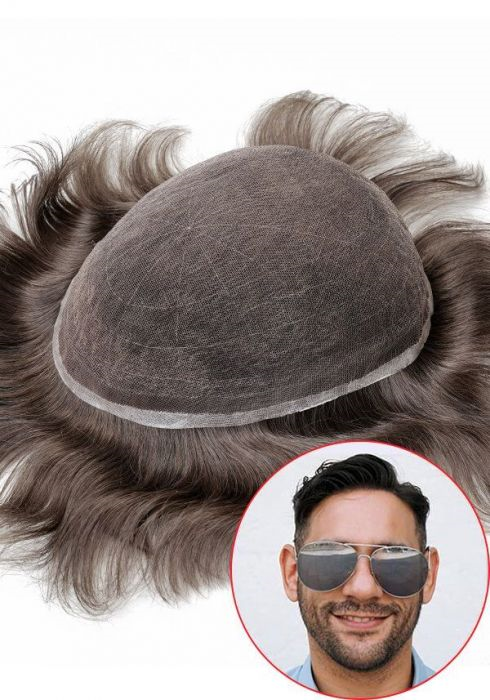 #4 SuperSkin-V: Hair toupee for men

The demand for this hair toupee has increased a lot over the last few months because it has achieved a celebrity-like status. SuperSkin-V has a transparent thin skin base with 0.06mm thickness that not only looks realistic but is also durable. It has a graduated front hairline and supernatural top view.

Thanks to the human hair V-looped all over the base, getting life-like hair appeal and celebrity look is no biggie with the SupSkin-V hair toupee for men. Easy to attach and clean, the base size of this men's hair unit can be cut smaller prior to shipment using our professional cut-in service.

Browse our collection of hair systems to deal with hair loss.

#5 SuperSkin: Celebrity Hair System

One of the best hair toupees present in our catalog that even celebrities with hair loss will trust. Just like the aforementioned thin skin units, SuperSkin also has a 0.08mm thin skin base but the crown and sides use a single-knot method (meaning they are tied once and not thread through with knotting), creating a more durable hairpiece than the SuperSkin-V.

Also, we have V-looped 5 inches of long human hair (most gray colors are synthetic. Only #1B60, #1B80, #260, #280, and #360 are gray human hair) on the front ½" that creates a very realistic appearance. The rest of the base has single-hair knots to create a natural top view with added durability.

With standard front contour and medium-light hair density, men can buy the stock unit of the SuperSkin hair toupee for US$239. The final price after customization may vary.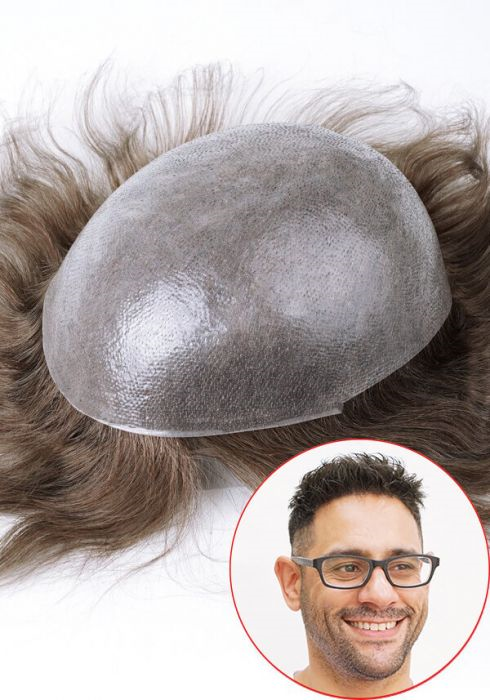 #6 Combo-V: Men's hair toupee

As the name suggests, the Combo-V celebrity hair toupee for men has an 8" x 10" base constructed by combining super thin skin with French lace at the front. The fusion of two premium materials makes the hair toupee breathable, comfortable, and natural-looking.

With transparent skin as the base material color and standard CC front contour, the Combo-V hair toupee for men comes with 100% human hair that is 5-inch long and can be styled in any direction. It is also perfect for men who love to style their hair using styling tools to look like Hollywood celebs.

The Combo-V hair toupee can be purchased for US$259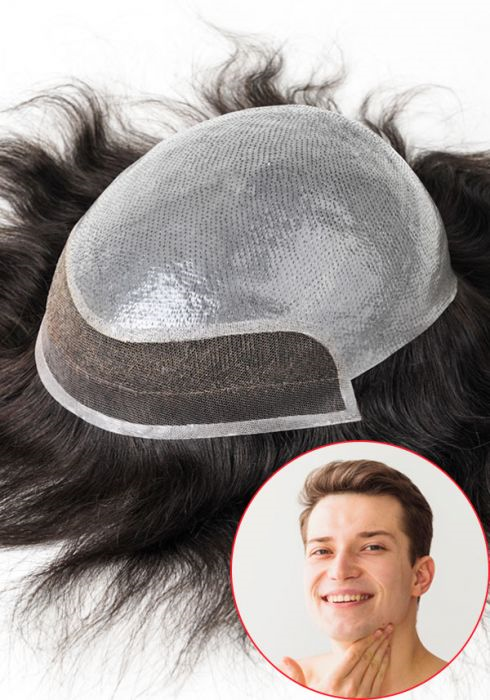 #7 Neo: Celebrity Hair Toupee

Neo is a recent addition to Lordhair men's hair toupee catalog. Just like the above male hair unit, its flesh-colored base design combines French lace and thin skin. However, instead of using French lace at the front, we have added it to the top. It makes the celebrity hair toupee very light and airy. This means hot weather or physical activity isn't going to be a problem for men.

As far as realism is concerned, the Neo hair toupee has 30mm wavy human hair that appears and behaves just like real scalp hair. Easy to attach and clean (thanks to the thin skin perimeter), this celebrity hair toupee for men has A-front contour and is available in multiple base sizes and colors.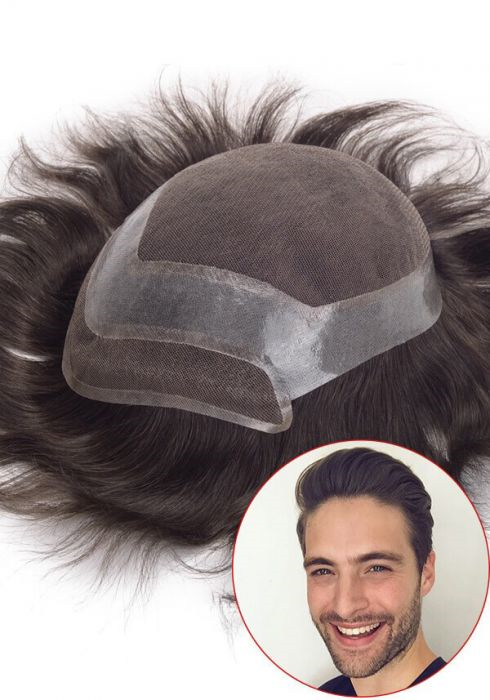 #8 Champion Remy: Men's Hair Toupee

The Champion Remy hair toupee is the identical twin of our Champion celebrity hair unit. Just like its brother, it also has an 8" x 10" flesh-colored base constructed using full French lace which makes it soft, lightweight, and breathable. It also has an undetectable front hairline that imitates men's own front hairline.

What makes Champion Remy different and better from its sibling is the presence of Remy hair (gray is synthetic). Unlike normal human hair, it is premium-quality hair that is silkier, thicker, stronger, and has a long-lasting life. The Champion Remy toupee is available in more than 35 colors and has a price of US$349.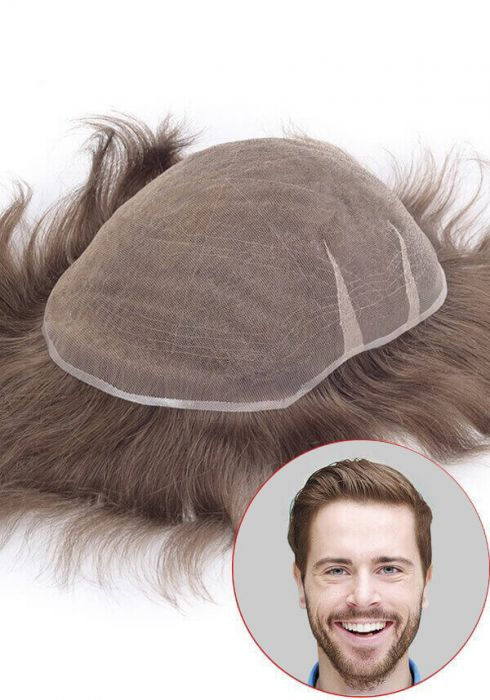 #9 Quantum: Celeb Hairpiece for Men

Another amazing hair toupee that even celebrities would think of buying in 2022. Quantum has a base designed using French lace on top and front with transparent skin on the sides and back. Moreover, it has a flesh color base which gives men the appearance of hair coming out of the scalp.

The Quantum hair toupee's soft and breathable materials help create a stunning look. Just like all the above-mentioned hair piece toupees, it also has 100% natural human hair, except gray color which is synthetic. With standard CC shape contour, the Quantum hair toupee is available for US$299.

Check out how Chris, an aspiring actor, and model, felt after wearing our hair toupee:

#10 SuperSkin Remy: Celebrity Hair Toupee

Our list would be incomplete without talking about this premium celebrity hair toupee. SuperSkin Remy is a great deal for men seeking a natural-looking and undetectable hair toupee. As its name implies, it has Remy hair - the most premium strands with intact cuticles that point in the same direction. In other words, Remy hair is less prone to matting or tangling.

For the base, we have used a 0.08mm poly base. We have also v-lopped hair on the front ½" of the graduated hairline and used single split knots on the rest of the base. It provides a natural look and makes the hair unit last longer. With standard CC shape and medium-light hair density, men can expect the SuperSkin Remy hair toupee to reach their doorstep within 3-5 business days.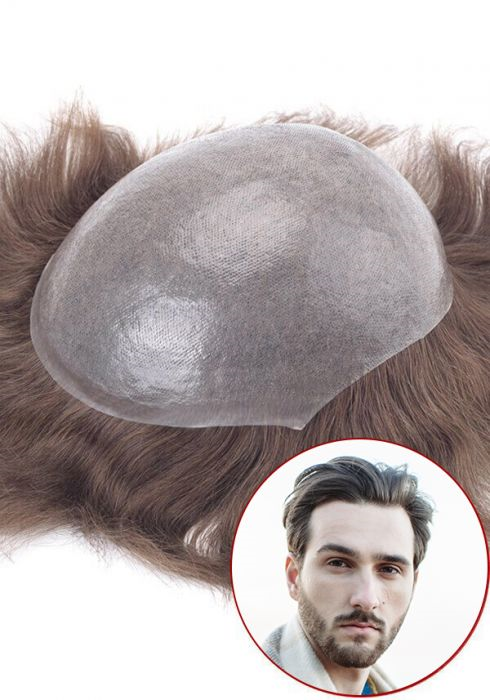 Above are the best hair toupees that even celebrities, TV personalities, and actors with hair loss love to buy in 2022. We hope you liked our collection of toupee hair replacement systems.

Didn't find the hair toupee you were looking for? No worries! Explore our complete catalog of stock and custom hairpieces to find the one that best meets your hair goals!

Got any queries to ask? Send them to support@lordhair.com and have them answered by our hair toupee experts.

Also read:

Hairpieces for alopecia to get rid of baldness
The connection between kefir and hair growth
Types of wigs caps to consider for the next purchase

Email: support@lordhair.com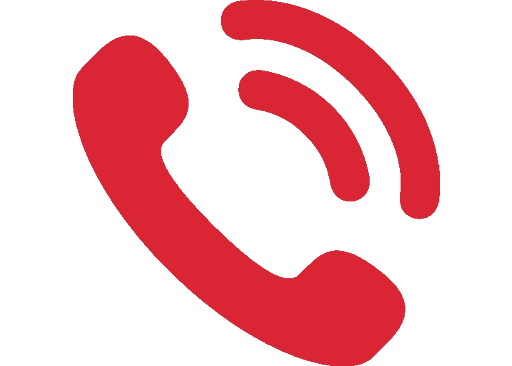 Tel: +86 532 80828255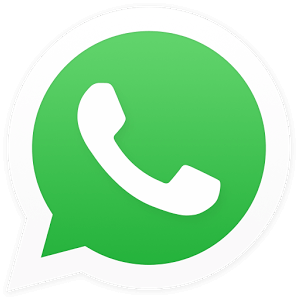 WhatsApp: +8618678615507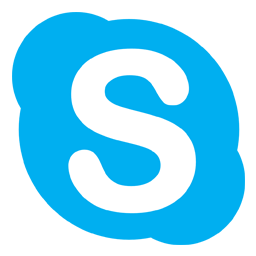 Skype: Lordhair
Find us on social media