8 Men's Glue-On Hairpieces That Are Amazing for 2023
By:

Victor Lordhair

2022-07-29 23:10:00
Note: This blog on glue-on hairpieces was last updated in December 10, 2022 to include new products and recommendations. Happy reading!
According to NCBI, 16% of males aged between 18 to 29 and 53% of males in their 40s suffer from moderate to aggressive male pattern hair loss. Thanks to Lordhair's glue-on hairpieces, covering up bald spots is now super easy. Glue-on hair systems (also known as toupees, wigs, and hair patches) help men overcome hair loss and thinning instantly. The same is adding to their popularity.

However, many men - especially those who are new to the wonderful world of hair toupees - often feel overwhelmed by the plethora of glue-on hairpieces and wide spectrum of base materials, hair colors, lengths, and densities available on our website. That's why we have decided to help them out!

In this blog, Lordhair - a leading hair system brand - will share a list of 8 glue-on hairpieces that are helping men tackle pattern hair loss without compromising comfort and realness. The great thing is that all of these hair toupees can also be attached using tape!

Since some of you might be in a hurry to learn about premium men's glue-on hairpieces to cover bald spots on the scalp, here's an FAQ version of the blog:

Which are the best men's glue-on hairpieces?

The following are some best hairpieces for men that can be attached using glue:
SuperSkin-F hair toupee
UTS hair toupee
SuperSkin-V hair toupee
SuperSkin hair toupee
UTS-Brushback hair toupee
SuperSkin-VM hair toupee
SuperSkin-MC hair toupee
Ocean hair toupee

How much time will a stock glue-on hairpiece take to reach my doorstep?

The stock model of a glue-on hairpiece will reach your doorstep in around seven working days after shipment.
Can I also attach glue-on hair toupees for men using adhesive tape?

Yes, all of our hair toupees for men can also be secured on the head using tape.

Ready to check out our list of best glue-on hairpieces for men? Let's go!

Which Are the Best Men's Glue-on Hairpieces?

The following are the best glue-on hair pieces for males to buy in 2022:

#1 SuperSkin-F Glue-On Frontal Hairpiece

A perfect glue-on frontal hair toupee for men who are seeing hair loss around the forehead. SuperSkin-F comes with a transparent super thin (0.06-0.08mm) base that feels comfortable and is very easy to attach and clean. Since it's a thin skin base, men don't have to worry about anyone noticing that they are actually wearing a hairpiece.

The SuperSkin-F hair toupee for men has 100% human hair with a 30mm wave and 6" length that has a life-like look and feel. A front contour that is available between C and CC (6" x 0.75" size comes in CC contour only), this glue-on hairpiece has a medium-light to medium (110%) hair density.

Lordhair offers the SuperSkin-F hairpiece in multiple sizes (from 6" x 0.75" to 6" x 2") to accommodate different degrees of frontal recession. Since it's a stock glue-on hairpiece, it will reach the doorstep in around seven working days.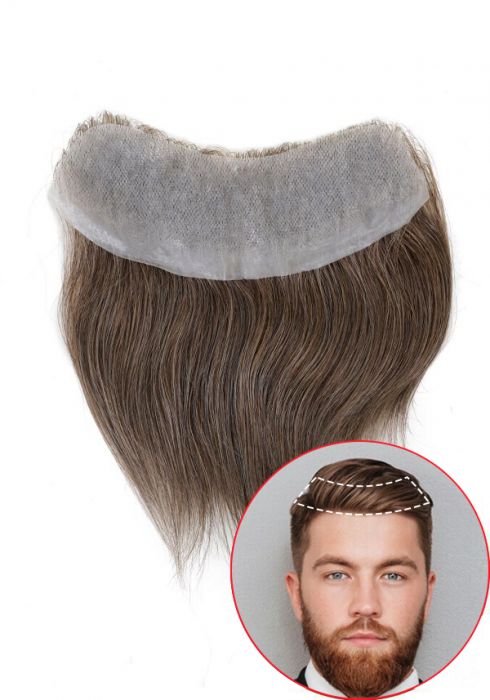 #2 UTS: Men's Glue-On Hair Toupee

If realness and comfort are top priorities, then, this glue-on hairpiece is made for you! The UTS hair toupee for men is a customizable glue-on hairpiece that comes with a transparent featherlight, ultra-thin skin (0.03mm) base. Available only in one base size, 8" x 10", it has a standard front contour, medium-light hair density, and natural front hairline.

Just like the aforementioned glue-on hair piece, Lordhair has used 100% human hair (apart from #1B60, all gray hair types are synthetic) which is V-looped on a thin skin base to provide a knotless look. This makes hair strands stand up with a natural lift and let wearers style them freely.

Men who find the 8" x 10" base size too big can have it cut down by using Lordhair's base cutting service. We charge $10 for base size adjustments and $20 to cut in and style the hair. The final price for the UTS glue-on hairpiece, therefore, may vary after customization.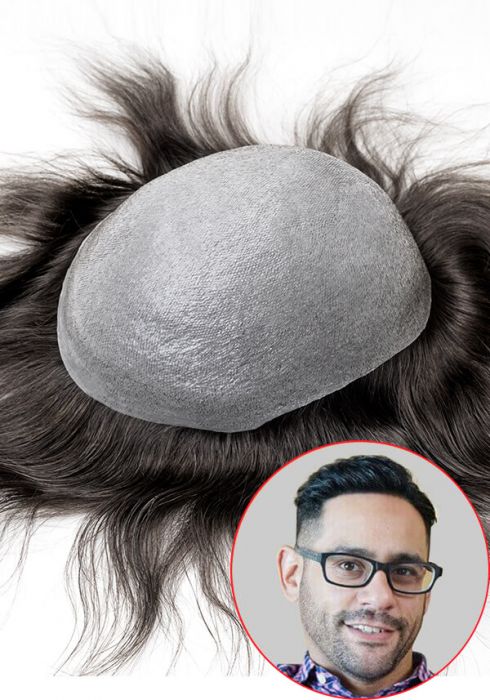 #3 SuperSkin-V: Glue-On Hairpiece for Men

SuperSkin-V from Lordhair is a well-received glue-based hairpiece favored by men suffering from pattern baldness. Its 8" x 10" base is constructed using a transparent thin skin (0.06-0.08mm) which is unnoticeable, and comes with a graduated front hairline and natural top view. Easy to attach and clean, it is made using a knotless V-loop ventilation technique.

When it comes to hair, SuperSkin-V packs 5-inch human hair (some grays are synthetic) in medium-light density. The same delivers an ultra-realistic look and can be styled freely. With a standard front contour, this hairpiece for men can be attached either using glue or adhesive tape.

Available in more than 30 hair colors, the SuperSkin-V glue-on hairpiece's base can be cut down prior to shipment. The price of the stock model is around US$249.

Check out this transformation to witness how a hairpiece helps overcome hair loss and boosts confidence:

#4 SuperSkin: Men's Glue-On Hair Toupee

Here is another amazing men's glue-on hairpiece for overcoming patchy hair loss. The SuperSkin hair toupee, like previously mentioned units, has translucent super thin skin (0.08mm thick in this instance) that is comfortable, breathable, and undetectable. Lordhair has V-lopped hair only on the front ½" of this glue-on hairpiece for men.

The rest of the base has single-hair knots that create a natural top view with added durability. With slight wavy human hair and a natural hairline, the SuperSkin men's glue-on hair toupee comes with a standard CC front contour shape. Featherlight in weight, it has a medium-light hair density that mimics the density of natural hair.

Lordhair offers a 30-day money-back guarantee on the SuperSkin glue-on hairpiece and all other hair systems (only if it has not been cut, styled, colored, washed, or worn by the wearer).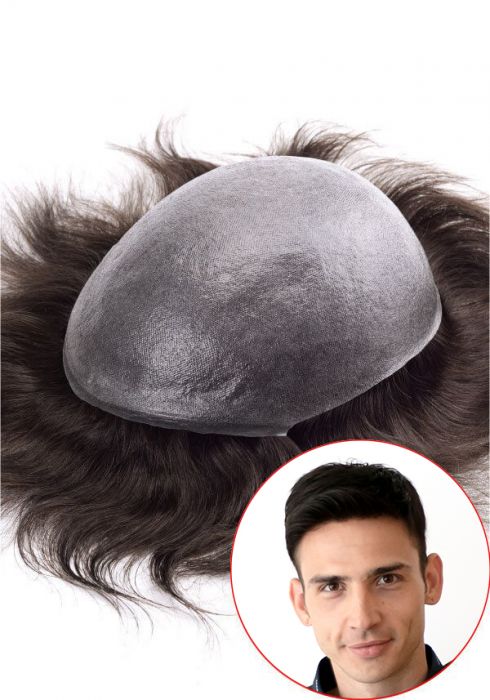 #5 UTS Brushback: Glue-On Hairpiece for Men

We bet most readers have already guessed what this glue-on hairpiece is all about. The UTS Brushback hair toupee is a perfect option for men who are losing hair on the crown and along the hairline. It has a 0.03mm thick base that is made using a PU material - a transparent material that mimics human skin. It is almost invisible on the scalp and is incredibly comfortable.

The soft human hair strands used in UTS Brushback look completely natural and are best for males who want to try hairstyles with an exposed hairline such as classic ducktail, mohawk, and slick back haircut. This glue-on hairpiece can also be attached using adhesive tape and comes in a wide range of colors.

Buyers can also choose the gray percentage to match the toupee hair with their real hair color. What more can you ask for?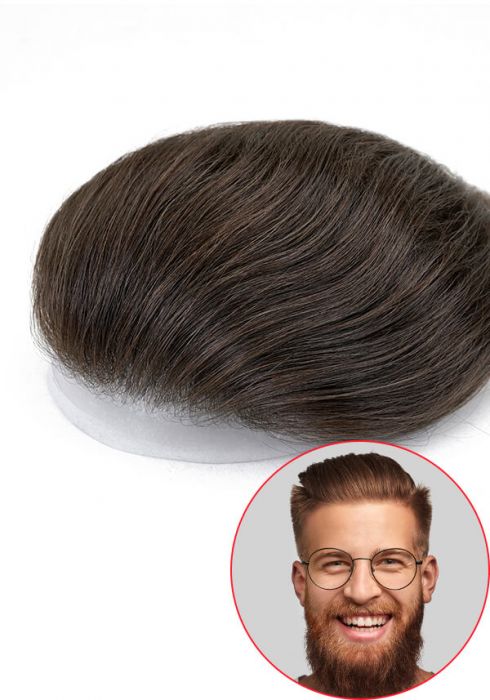 #6 SuperSkin-VM: Glue-On Hair Toupee

One of the best thin skin glue-on hairpieces for men in our catalog. SuperSkin-VM has a standard front contour with medium hair density and 30mm wavy hair. The strands are made of real human hair that looks, moves, and acts just like natural hair. Easy to style, SuperSkin-VM is also an excellent choice for men who want to try the latest hairstyles but can't because of patchy hair on the scalp.

Lordhair hasn't compromised on base quality while making this glue-on hairpiece for men. We have used a full super thin skin base and V-looped hair into it so that knots aren't visible. The stock base size of the SuperSkin-VM hair toupee is 8" x 10". If you need a smaller-sized thin skin hair unit, we also provide the base customization service.

The stock model of SuperSkin-VM can be shipped within 24 hours and it will reach your doorstep in around one week. The glue-on hairpiece for men will take an extra 1-3 days if ordered along with one of our services.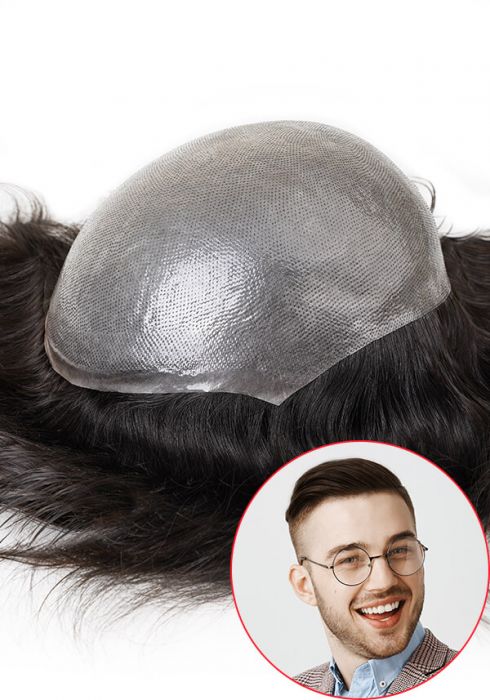 #7 SuperSkin-MC: Men's Glue-On Hairpiece

The SuperSkin-MC glue-on hair system for men is highly recognized for its remarkable degree of realism and durability. It comes with a strong and resilient 0.01mm thin skin base that gives men an appearance of hair coming out of the scalp. This means that literally, no one will be able to tell that you have a glue-on hair toupee on your head.

Each single human hair strand on the front area of SuperSkin-MC is knotted onto the base using the V-loop ventilation technique. The remaining part of the base has single-split knots. Men can easily secure this hairpiece using glue or adhesive tape.

With a regular 8" x 10" base size, standard front contour, and medium-light to medium hair density, the SuperSkin-MC glue-on hairpiece is available in a wide variety of colors to cater to different aesthetic tastes and has a price of US$269.

Browse premium men's hair systems and toupees in our extensive collection

#8 Ocean: Adhesive Hair Toupee for Men

Our list of the best men's glue-on hair toupees would be incomplete without talking about this unit. The Ocean glue-on hairpiece has gained popularity for its softness. Unlike normal units, it has naturally straight European hair - a premium toupee hair fiber that has a fine denier and is silky, shiny, and less chemically processed.

This men's glue-on hairpiece comes in an array of colors and has medium (120%) hair density. In terms of base, Lordhair uses 0.08mm thick skin material and punched hair into it so that there are no visible knots. Want to try a swept-back style? No problem. Want to create a man bun? That can be done!

Since the Ocean glue-on hair toupee is available in different lengths (from 6" to 10"), men can style it easily as per requirements. The stock variant of this hairpiece for men has a starting price tag of US$349.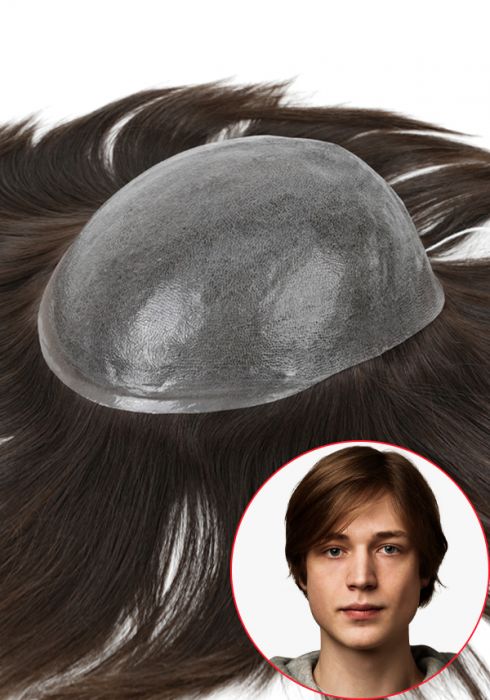 Maintenance of Glue-on hairpieces
Since the maintenance of hair systems is highly crucial to extend their life span, below are some tips and ideas that will help maintain the good health of your hair system:
Comb/brush your hairpiece every day to prevent tangles.

To prevent hair from dryness and damage, follow all the guidelines shared by the wig supplier.

Don't style your hairpiece a lot. This can damage the base as well as strands.

Keep it on a wig stand when not in use. This will help it retain shape for a long time.

Clean your scalp religiously to keep the hair system in good health.
Shop Glue-on Hair Systems in 2023

Above are the best 8 men's glue-on hairpieces for 2023 that are helping men all over the world overcome pattern hair loss. If none of the above hair toupees we have introduced match your needs, browse our entire range of hairpieces for men.

Need something truly unique? Consider ordering a custom toupee that will be designed to your exact specifications.

Got any queries for us? Send them to support@lordhair.com and our hairpiece experts will answer them.

We also recommend checking out these blogs and product pages:

Collection of partial wigs for women
Best men's clip-on hair systems
Everything about a bald spot on the crown of the head
Complete guide to storing wigs and toupees the right way
Glueless lace human hair wigs for women
Discover hairpieces for alopecia

  Email: support@lordhair.com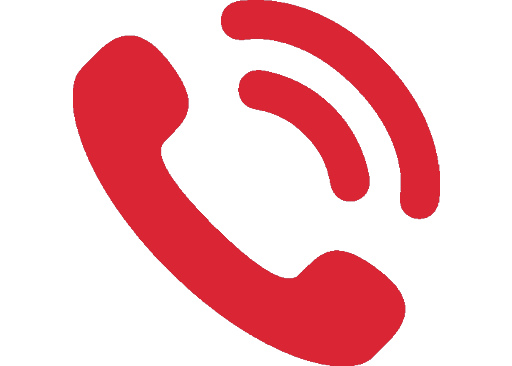 Tel: +86 532 80828255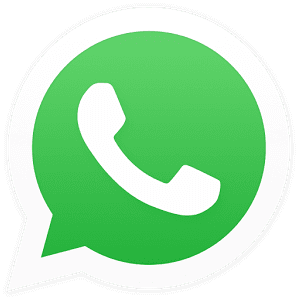 WhatsApp: +86 18561859252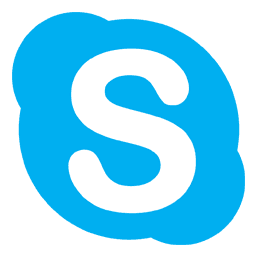 Skype: Lordhair
Find us on social media