Non Surgical Hair Replacement Cost for Men & Discounts
May 4, 2018 2:17:50 AM
20047 views
While some men think non surgical hair replacement system costs thousands of dollars, others don't have any idea about the price and expenses. We understand it's a bit difficult to work out just how much hair replacement systems featured on our website costs. That's why are going to break it down for you and give you a clear idea about the cost of our hair replacement systems. We're confident that you'll be pleasantly surprised at just how cost efficient it can be to use a hair system as your long-term hair replacement solution.
Non-surgical Hair Replacement Cost - Stock Hair Systems
Let's first look at the price of our most popular non surgical hair replacement system model: men's stock hair systems. Our stock hair systems for men come in a variety of different base materials: lace, skin, mono or a combination of the three. Prices start from just $159 and go up to $199 with the vast majority being priced at $169. On top of that, you have the option of choosing one of our in-house services such as cutting and styling ($20) or base cutting ($10) which would make your hair system ready to wear from the moment you receive it through post. This is how low our non surgical hair replacement system costs!
Our stock hair systems also become much cheaper if you buy multiple systems at a time. For example, the standard price for our S22 ultra thin skin men's hair system is $159 but if you buy six at a time (these hair systems are designed for just one month's wear given that they are just 0.03mm thick), then, the total price would be $699 rather than $954 if you ordered one hair replacement system at a time. Even buying just two of our hair systems at a time will save you money and reduce the cost of our non surgical hair replacement products: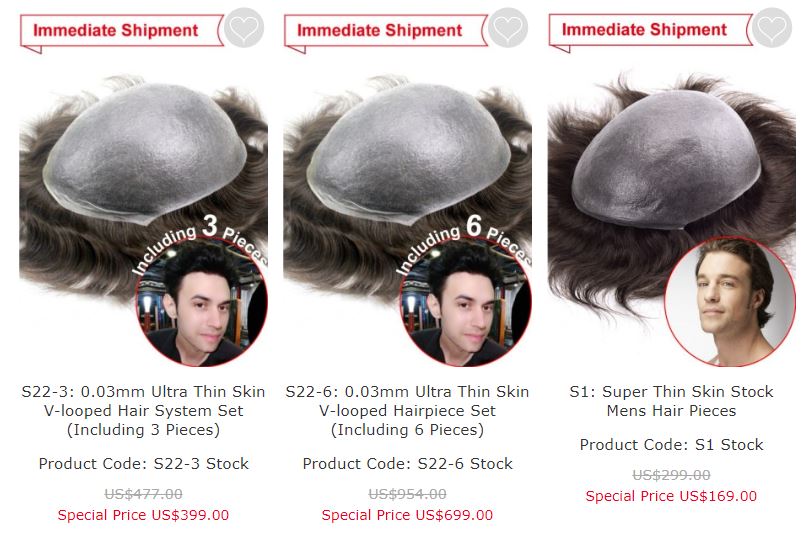 Non surgical Hair Replacement Price - Custom Hair Systems
We do of course offer custom-made hair systems for men and you will naturally find these more expensive. There are dozens and dozens of models to choose from and they are priced from $199 but bear in mind that is just the starting price for our custom hair replacement system for gentlemen. With so many customization options available to you, it would be impossible to give you an exact final price. That said, you have complete control over every feature of the hair system (from the hair to the base). So, if you had a lace system and want bleached knots all over, then, that will cost you an extra $19. Perhaps you want European human hair and if so, that would be a further $49. Additional services like our rush service where production will take 5 to 6 weeks instead of the regular 7 to 8 weeks will cost $59. The following screenshot shows just how many options you have when it comes to hair: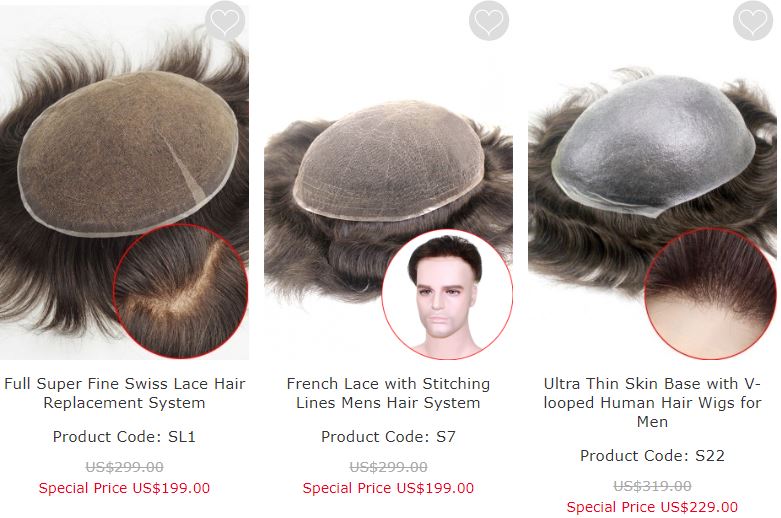 You will also be pleased to know that for first time buyers, our non surgical hair replacement system cost will be further reduced as we offer a $20 discount on all our hair systems. In addition to that, we have a huge library of non-surgical hair replacement systems and accessories where you can find the perfect solution to your hair woes.

Fastest & Free Hair System Shipping
Oh, and yes, we do ship to your country. And for free. That's right. We offer free and fast worldwide shipping. We can guarantee this because we work with some of the biggest international couriers like FedEx, DHL, TNT and UPS. This means you can expect to receive your affordable non surgical hair replacement system in just 3-5 business days. (We can ship stock systems the day you order them but custom-made systems obviously require several weeks of production time.)
So, there you have it. A cheap and viable hair replacement solution from just $159 including shipping. If you need advice on any of hair systems, then, don't hesitate to get in touch with us. We're only a phone call (+8653280828255) or an email (support@lordhair.com) away.
Buy non-surgical hair replacement at best price
Men all over the world are struggling with hair loss and hair problems due to ageing, medical, genetics, and lifestyle problems. At Lordhair, we are committed to provide a pain-less solution to hair problems by offering premium non-surgical hair replacement systems and accessories at affordable prices. By focusing on bringing down the cost of premium hair systems for men, we want to make top quality hair replacement products accessible for all. Browse our growing catalog of stock and custom hair replacement systems which come with best pricing and after sales support. Have a look at customer photos to witness how customers from all over the world have benefited from our non surgical hair replacement systems.
Do you have more questions about price of non surgical hair systems? Talk with our team to find answers to all your questions related to hair replacement products.
Lordhair. For a better you.
You must be logged in to post a comment.
click here to log in