8 Hair Growth Devices for Hair Loss: Laser and Non-Laser Solutions
There are several hair growth devices available in the market that claim to stimulate hair growth and combat thinning. A lot of these laser and non-laser hair growth devices are recommended by doctors as well to complement clinical treatment. Since multiple brands deal in more or less the same product, choosing the right hair growth device can be tricky.
That's why Lordhair - globally trusted for hair toupees - is here with 8 hair growth devices that claim to undo hair loss and thinning. Let's start with our list of laser and non-laser hair recovery machines!
8 Hair Growth Devices for Hair Loss
Below are the most popular hair growth devices for getting back your lost hair:
CurrentBody Skin LED Hair Regrowth Device
One of the most popular LED helmets that covers the entire head to tackle hair loss, this hair growth device claims to stimulate follicles with oxygen and nutrients to slow down hair loss. It also has a Bluetooth-enabled headphone that allows you to listen to music and podcasts while undergoing treatment.
The company recommends using this hair growth device for 10 minutes daily for visible results in 16 weeks. While it has its share of critics, it won the Best New Product in the tools category in the Marie Claire 2023 Hair Awards.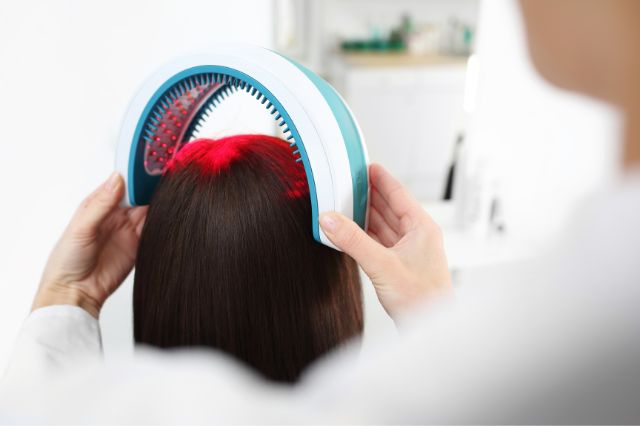 iRestore Professional 282
iRestore is an FDA-cleared laser hair growth device that uses red light to encourage hair growth. Easy to use and set up, iRestore Professional 282 claims to help men and women with alopecia, receding hairline, pattern baldness, and thinning hair.
This low-level laser hair therapy technology can take three to six months to give visible results. It is also one of the most expensive hair growth devices. In case laser devices don't seem like your thing, we recommend checking out these hair loss and recovery resources:
- Hormones causing hair loss in men and women
- Stop hair breakage and falling out
- Best hair loss treatments for men and women
- Everything about MSM for hair growth
Act+Acre
This is a trichologist-designed derma roller that stimulates the scalp and supports hair growth. This non-laser hair growth device promotes microcirculation by creating microchannels on the scalp to support hair growth.
One of the least expensive hair growth devices on our list, Act+Acre is covered in micro-needles that create very small punctures in the skin to increase circulation. This hair-growth device can take three to six months to deliver results. Most dermarollers carry the risk of infection and are not suitable for people with diabetes.
Ultima 9 Classic LaserComb
This FDA-approved medical device can help you regrow hair by delivering therapeutic laser hair energy to your hair follicles. This hair growth device is good for targeting specific areas on your scalp. Ultima recommends using the hair regrowth machine for 11 minutes three days per week.
While using this hair growth device, make sure the laser energy reaches your scalp by ensuring scalp contact. Please note that cases of extreme baldness and big bald patches are rarely treatable by such devices.
HairMax LaserBand 41
This hair growth device has built-in teeth inside the band that help spread hair to target the scalp area. HairMax LaserBand is designed to fit easily over most head sizes and shapes. However, you have to move the device to different parts of your scalp continually to get the best results.
This FDA-approved hair growth device is cordless, compact, and lightweight. It delivers therapeutic laser light to your hair follicle to treat hair loss.
Intensive LED Hair Growth Brush
The second least expensive LED device in this list, this laser hair growth device features a gentle sonic vibration, red and blue LED to help stimulate the scalp and boost hair growth. However, you need to use red and blue light separately which can make treatments take a bit longer.
Wondering how it works? Well, this laser hair growth device - like most on this list - claims to boost blood circulation. Genetic hair loss is hard to treat with blood circulation enhancement though.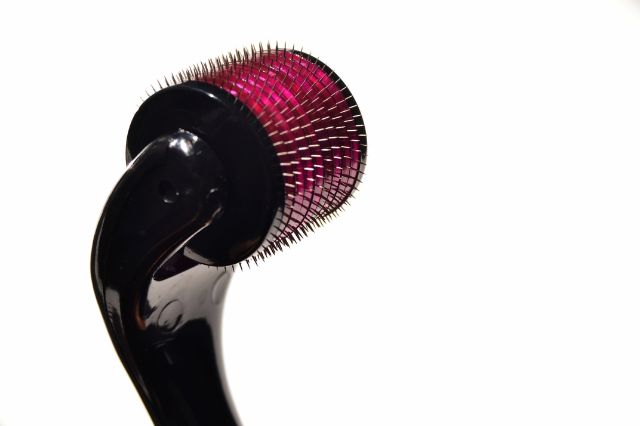 Ziering Lasercap
Ziering Lasercap uses low-level laser therapy which is stronger than LED for fighting hair damage. This hair growth device was developed by Dr. Ziering for his patients to use at home in combination with in-office treatments. Meaning, it was designed as a complimentary hair recovery treatment rather than an independent one.
It's recommended to use this hair growth device on your head for 30 minutes three times per week.
Theradome PRO Laser Hair Growth Helmet LH80
This laser hair growth device uses laser technology to improve hair density and volume and stimulates hair growth. In this device, 80 premium high-energy density lasers stimulate hair follicles to speed up hair growth.
Side Effects of Laser Hair Growth Devices
Just like surgical and medical hair loss treatments, laser and non-laser hair growth devices come with their share of side effects. Here are the major ones:
Dry skin

Irritation

Scalp tenderness

Pruritus

Warm sensation
While the side effects are not major, it's important to go ahead with your buying decision with complete awareness rather than half knowledge. In addition to the above, most of the products are expensive and rarely help with big bald patches and aggressive thinning.
Fight Hair Loss With Hair Systems
We are done with our list of hair growth devices and have also covered side effects and complications! If your hair loss has reached an advanced stage, laser hair growth devices will probably not work just like medications and surgery. We recommend opting for hair systems.
For those who don't know, Lordhair sells hair systems at affordable prices to help men and women recover from hair loss with zero side effects. Shop women's wigs, men's hairpieces, and toupee hair replacement systems to get your lost confidence back.
Have questions about hair systems? Drop them in the comments to get a quick reply from our team of hair experts.

  Email: support@lordhair.com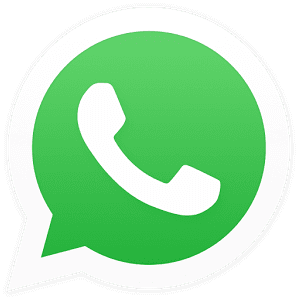 WhatsApp: +16263623127
Find us on social media