Non-Surgical Hair Replacement Systems
We stock and custom make a wide variety of non-surgical hair replacement systems including toupees and partial hairpieces for men. A full head of hair is not a distant dream if you choose modern hair replacement systems from Lordhair. Whether you need a stock hair system right away or want nothing less than perfection through customization, we can deliver both at an unmatched price.
Lordhair is one of the leading manufacturers and suppliers of non-surgical hair replacement systems in the world. Go ahead and find the right hairpiece for you!

Hair Replacement Systems FAQs
Medical hair restoration treatments like surgery and topical medications come with their share of risks. This is not the case with toupee hair replacement systems. Our hair recovery products are used across the globe for diverse hair loss conditions and styling needs. Whether you lost your hair to alopecia, cancer, or bad styling choices, our hair replacement systems can aid recovery with ease.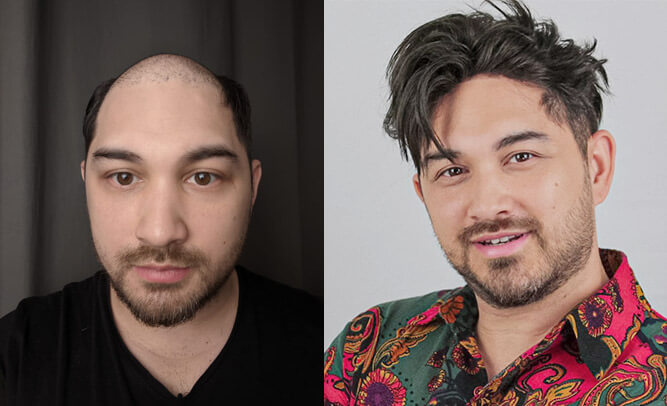 Modern non-surgical hair replacement systems are highly comfortable, durable, lightweight, and hyper-realistic. Order in bulk to benefit from special discounts and offers frequently planned by our team!
Tips to buy best hair systems
Selecting a toupee hair replacement system is not an easy task, especially for those who are buying for the first time. Here are some useful tips to pick the best non-surgical hair system:
· Pick a hair replacement system after carefully measuring your head.
· If you choose a French lace hair system or a partial hairpiece for men, it's recommended to use tape for attachment.
· Choose a hair replacement system that guarantees hair that matches your real hair density and texture.
· Make sure that your non-surgical hair system is breathable, realistic, and lightweight.
Browse our collection of non-surgical hair replacement systems to recover from chronic hair loss and baldness. Email us on support@lordhair.com to discuss queries related to specific hair replacement systems.
1 month to a year, depending on base type and maintenance. The service life of a men's hair replacement system mainly depends on how it has been used.
In the event of intensive use (permanent attachment both day and night, frequent exercise and wearing in the shower), it is estimated to last 1 to 6 months depending on the thickness, base type and hair density. The thinner and more delicate the base material, the shorter the service life.
Some men's hair replacement system wearers only use them during the day and fix the men's hair replacement system with clips every day. This means they don't sleep, don't exercise, don't wear motorcycle helmets and don't swim in a toupee hair replacement system. In this case, the expected lifespan of a hair replacement system is greatly extended (usually 6 months and above).
Ultimately hair replacement system lifespan depends on the pull on the hair, how delicate the base is and how tight the hairs are knotted on to the base. The lower the pressure on the hair, the less pull there is, and the longer the hair replacement system will last.
Sleeping in a toupee hair replacement system is the most common option. Most men choose a long-term, semi-permanent fix, not something that needs attention and attaching and detaching everyday. However, be aware that sleeping in a hair replacement system will shorten its life (due to pressure on the strands of hair all night).
A hair replacement system is a better option when it comes to hair loss because they do not fall off and they restore men's confidence with the look of real hair.
Yes. Since hair is natural, it will brighten in the sun (like any hair), it may be good to protect hairs on your hair replacement system with a hat for times you don't need to be showing your hair replacement system off (such as running quick errands).
Generally speaking, hats can also be used when you don't have enough time to comb your hair patch without causing too much damage to the hair. On the contrary, helmets and hats tend to make hair on your hair replacement system tired and knotted.