SuperSkin-VM | 0.06mm Super Thin Skin Medium Density Stock Hair System for Men
Product Name: SuperSkin-VM
Full transparent super thin skin base. The SuperSkin-VM men's hairpiece uses knotless V-looped hair all over to enhance your look and enable you to style your hair as you wish. Easy to use and clean.
US$279.00
US$249.00
FREE SHIPPING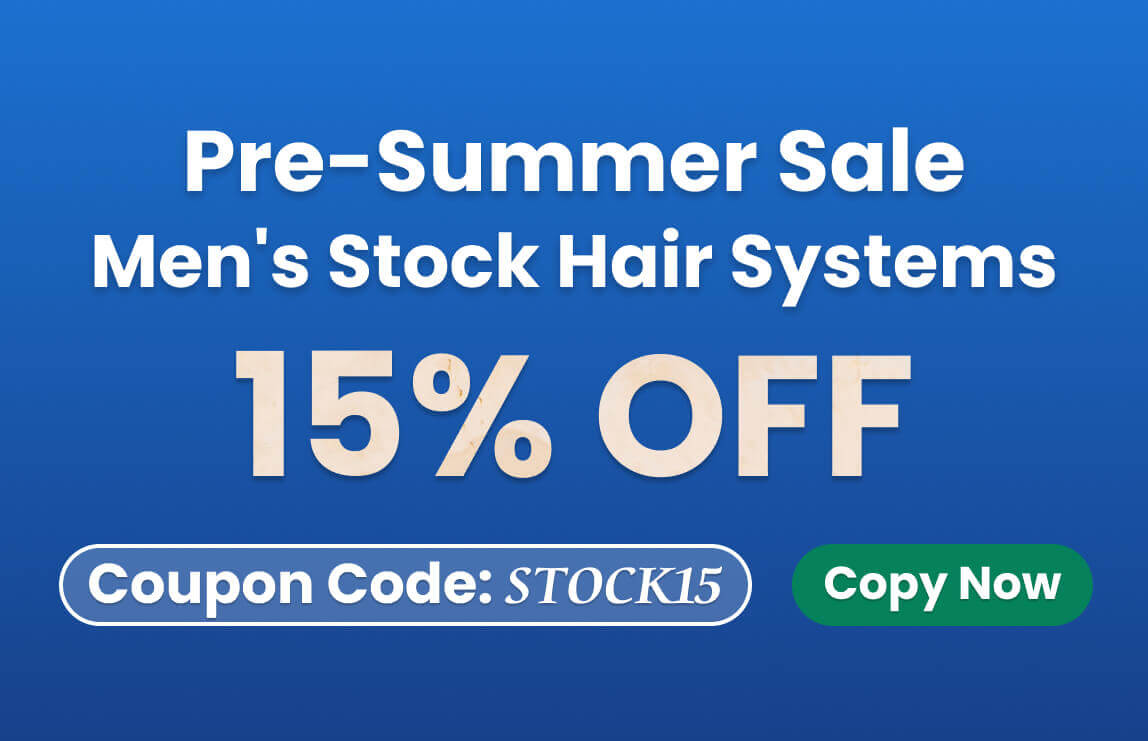 Click to Copy
Secure Payment

Our transactions are secured as our website is uses SSL encryption, meaning personal and payment data are secure.
Free Shipping

We ship to more than 200 countries all over the world.
30-Day Money Back Guarantee

Every hair system comes with a 30 day guarantee for any manufacturing mistakes or quality defects.
As part of our CSR program, we are offering free, fully-customized wigs to children under the age of 12 who are suffering from hair loss.
As such, we will donate $1 to this cause for every Lordhair hair system that we sell.
For more information, please visit Free Wigs for Kids:
https://www.lordhair.com/free-wigs-for-kids
SuperSkin-VM men's hair system for men has a full super thin skin base with V-looped hair all over. The hair density is medium, which is the only difference from another stock hair system SuperSkin-V.
We recommend liquid glue to attach this skin hair system. It's easy to use and clean. The stock base size is 8 inches wide and 10 inches long, yet if you need a smaller size, we provide base cutting service.
Besides, we also provide a hair cutting service so that you can use the hair system out of the box. Immediate shipment after payment ensures you will receive this system in about a week if you don't need base cutting and hair cutting service. Below are the specifications of the product.
Base Design

Transparent super thin skin base with V-looped hair all over (thinnest skin 0.06-0.08mm)

Base Size

8'' x 10''

Base Material Color

Transparent

Front Contour

Standard CC shape

Colors Available

#1, #1A, #1B, #2, #3, #4, #4ASH, #5, #6, #7, #7ASH, #18, #22



Hair Length

5"

Hair Density

Medium

Hair Type

100% Human hair

Curl & Wave

30 mm

Hair Direction

Freestyle

Advantage

Natural-looking, style freely, easy to use, and clean

Delivery

Shipment takes place within 24 hours. If you would like us to cut the base size down or cut and style the hair before shipment, please allow an additional 1-3 working days.

Kind Reminder

If you find there is a problem with your order or are unhappy with your hair system in any way when you receive it please contact us immediately. Do not cut, style, color or wash the hair or wear the hair system. Our customer service team will be happy to discuss any issue with you and will be able to replace your hair system with another one if required.

We also offer a 30-day money-back guarantee providing the hairpiece has not been cut, styled, colored, washed, or worn.

If you ask us to cut down the base size or cut the hair or make any alteration to the hair system before shipment then please know the hair system cannot be returned for a refund.

Please cut the excess lace material before you attach the hair system.
If this stock hairpiece doesn't meet your needs, you are welcome to customize it by CLICKING HERE.
Colors Available
The hair color pictures are only for reference. Please be aware there might be color differences due to different monitors or screens.
About Hair Cut
Besides top-quality non-surgical hair systems, men's hairpieces, and realistic wigs, we also provide top-notch hair cutting and styling service at additional price of $20 USD only. The best part is that the cut-in only takes 3 business days! Send the pictures of your favourite hairstyle to us, or choose one from the pictures below. Provide the hair length you prefer after cutting so that we can customize your super thin men's hair system with lace front just the way you want.
Fast and perfect

Review by

Mark S***

Unit arrived in 5 days , really happy with the quality .

Really good

Review by

Tom

Have used this hairpiece since the beginning of december and the quality is still really good. I totally recommend this hairpiece.

Fantastic

Review by

Richard

I have been using Lordhair for almost a year now and have not looked back since! Love the hair systems they offer!

Extremely happy.

Review by

Nicholas B***

I am SO SO happy with this hair unit. Tried a .03 mm poly from another company prior for my first go at hair replacement and while it looked ok it just didn't give me that wow factor and enjoyment I got from the Lordhair unit. Not to mention, a better price from Lordhair and the unit was ready to go out of the box due to the hair style cut in service. The thickness of the base gives some added durability and the density of the hair works perfect for my age I'm in my 30's and want a thick head of hair look. Overall extremely happy with the unit it is exactly as advertised.