6 Realistic Human Hair Toppers for Women to Buy in 2023
By:

Victor Lordhair

2022-12-16 19:05:00
Hair damage in form of bald spots and thinning can happen to anyone, and finding the right cure usually takes patience as well as time. Lordhair's realistic hair toppers are a quick way for women to suppress hair thinning and bald spots instantly.

Our catalog is full of high-quality real human hair toppers that look beautiful, feel great, and blend seamlessly with existing hair for a hyper-realistic appearance. This is also the reason why women usually find it difficult to pick the right option for themselves.

But fret not. In this blog, we will share a list of 6 realistic human hair toppers women can buy in 2023. Whether it's about concealing hair loss or switching styles, these hair units are voluminous, comfortable, and true value for money.

Here we go!

Best Realistic Hair Toppers for Women

Let's put a spotlight on our first real human hair topper for women:


#1

Anica: Human hair topper


A premium realistic hair topper that has been continuously gaining traction since its launch, the Anica hair wig is designed to add extra volume and dimension to the affected scalp area. Thanks to its 7" x 9" base made of French lace top and thin skin around the edges, this hair unit is really comfortable and delivers women a fabulously full hair look in an instant.


Although the Anica realistic hair topper can be attached using tape, ladies can also wear it using clips. When it comes to hair, it has 100% Indian human hair which means wearers don't have to worry about the natural appeal. Hair strands are totally straight and available in different color and length options. However, women can curl them as per requirements.


The stock unit of the Anica real human hair topper should reach your doorstep within seven days.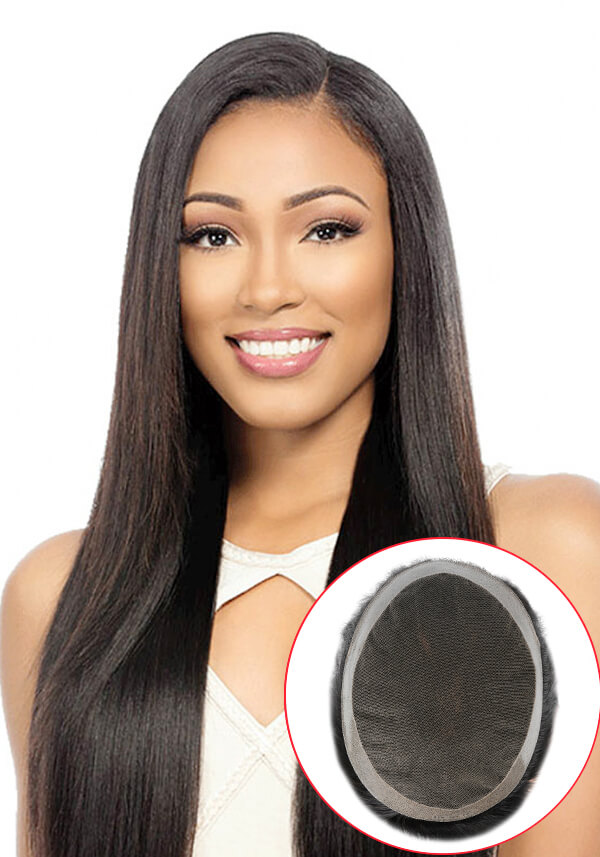 #2

Daria: Realistic hair topper


Daria wig is a perfect hair topper for Caucasian women who not only care about hyper-realism but also comfort and durability. Best known for hiding hair thinning and baldness at the crown region, it has a 5.5" x 6" base constructed using a silk top and PE line. The silk top delivers the appearance of hair coming directly out of the scalp.


PE line, on the other hand, allows you to pull out the hair through the netting, thereby completely integrating the hair and adding volume to the crown area. The Indian human hair used in the Daria hair topper is thick and has a life-like appeal. It has medium hair density and is available in different lengths (from 12" to 20") and hair colors (from black to blonde).


Women can buy the stock model of the Daria hair topper for US$539.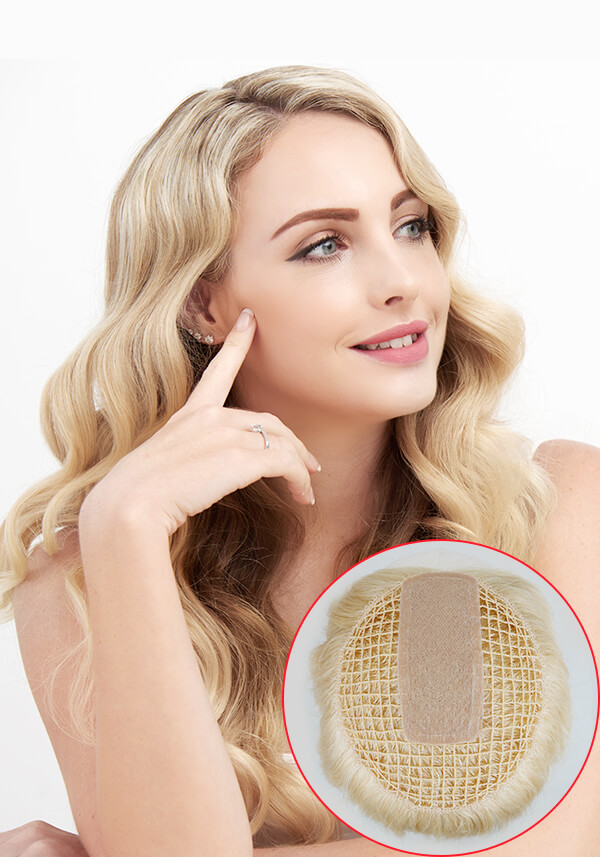 #3

Fiona: Real hair topper


One of the most versatile and natural-looking real hair toppers designed to give women the coverage and confidence they need. The Fiona wig has a cap constructed using a top-quality full silk top. It is ultra-sturdy and looks totally authentic. The realistic hair topper also comes with a center parting meaning ladies can easily experiment with hairstyles.


Lordhair has also added four clips for utmost practicality and ease of use. Put simply, women can wear the Fiona hair topper and perform day-to-day tasks without any worry. Talking about strands, this hairpiece comes with 100% Chinese Remy human hair which is unprocessed and imitates real strands on all counts.


The Fiona realistic hair topper has a hair length of 16" and is available in two colors.


Browse our complete collection of men's hairpieces and toppers for women


#4

Amelia: Real hair topper


In a short amount of time, the Amelia hair topper has won the attention of women around the world. The reason is its specifications! The realistic hair topper has the most practical and innovative base design. Best known for concealing crown hair loss, the base of our Amelia wig is constructed using mono and PE line. While the mono-material makes the topper durable, the PE line makes it look hyper-realistic


Straight human hair used throughout the Amelia real hair topper lets ladies achieve optimal realism. Soft and undetectable, the wig comes in a range of hair colors (natural black, blonde, and more) and hair lengths.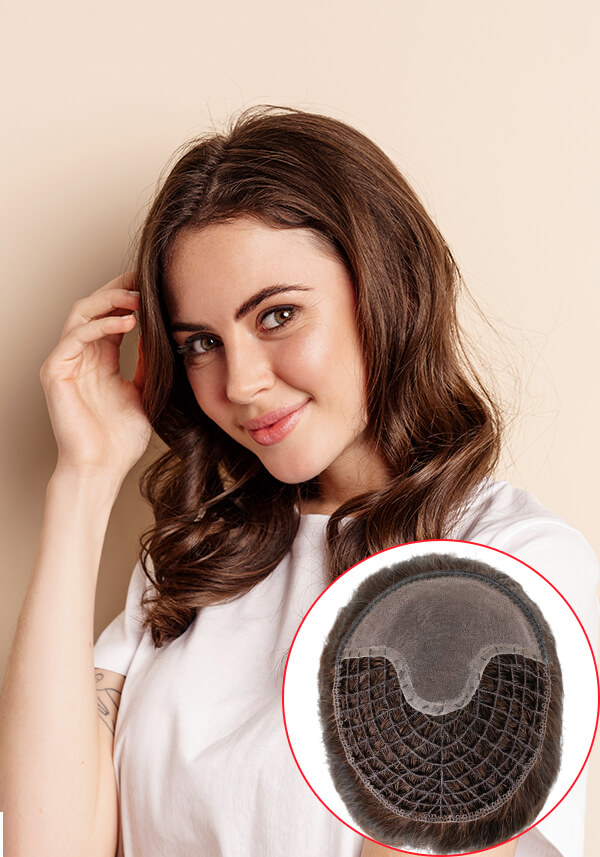 #5 Serenity: Real hair wig

Women planning to purchase a realistic hair topper that not only hides thinning and bald spots but also keeps them ahead in the styling game should definitely consider our Serenity hair wig. The base of this hairpiece is made using the finest materials - silk top and diamond lace. The silk used in the Serenity real hair topper comprises two layers of silk mono that allow women to acquire optimal realism.

100% human Remy hair is firmly knotted onto the first layer. It goes through the second layer to deliver a knotless look. This means no one will be able to point out that you are wearing a hair topper. Diamond lace adhered to the silk top makes Serenity comfortable, breathable, and soft. Attachment and removal are no problem with this hairpiece, thanks to the four clips present on the base.

The Serenity realistic hair topper comes in different base sizes, hair lengths, and densities.

Check out how amazing Heather is looking after wearing a premium hair topper from Lordhair:

#6 Floret: Realistic hair topper

Floret has been one of our hot-selling realistic hair toppers for quite some time now. The hair topper has some similarities with our aforementioned hairpiece. For example, it has Remy hair like Serenity which looks as natural as one's own hair. The hair is 14 inches long in medium-heavy density and completely straight. It is perfect for women who have thinning hair on the top of their heads.

What makes the Floret real hair topper different is its base. It has a ¼" NPU perimeter with ribbon on the back and sides. It makes the base incredibly soft, comfortable, and durable. It is very easy and convenient to attach and take off the Floret realistic hair topper with the clips adjoined. This hairpiece is available in 10 different colors and can be shipped immediately once the order has been placed.

Shop Realistic Hair Toppers for Women

Above are some of the best real human hair toppers that women can buy in 2023. Whether you have just started losing hair or have been dealing with advanced patchy baldness, these hairpieces can help attain the full, gorgeous head of hair. They will provide you with added hair volume and blend very well with the scalp strands.

Didn't find the real human hair topper of your dreams? Browse our complete catalog of premium non-surgical hair replacement products at amazing discounts. We bet you will find the best women's realistic hair topper for concealing thinning and hair loss of your choice.

Got any queries for us? Send them to support@lordhair.com and have them answered by our hairpiece experts.

Also read:

Discover the newest products launched by Lordhair:

  Email: support@lordhair.com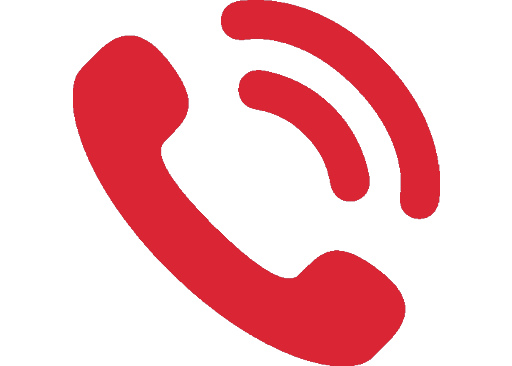 Tel: +86 532 80828255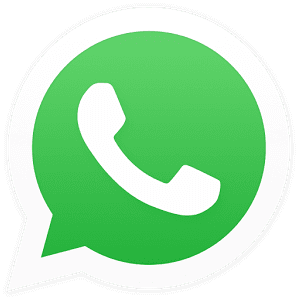 WhatsApp: +8615698163279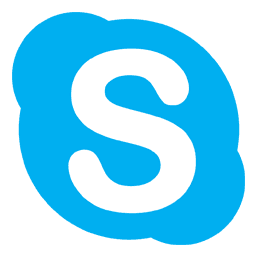 Skype: Lordhair
Find us on social media