Permanent Wig Attachment: Truth or Fiction?
Note: This blog on permanent wig attachment has been updated with new insights and product recommendations in December 29, 2022. Happy reading!
It's time to address one of the more popular search queries from hair loss sufferers: permanent wig attachment. Wouldn't it be great if we could put hair on our heads as simply as we put a hat on or throw on a t-shirt? With the advent of greater technology, balding and bald people are not far from having this as the ultimate hair loss solution but unfortunately – and as nice as it would be - we are here to debunk this myth.
There is no such thing as a permanent wig!
So, as far as a permanent wig is concerned, it is fiction. If you were to think of your personal hygiene and the health of your scalp, then, a permanent hair piece will seem like a really bad idea!
What we do have today, however, is semi-permanent wigs or hair pieces. Or you may have come across terms like glue-on hairpieces, semi permanent hair pieces, and temporary wig attachments. We prefer to call them hair systems but whatever name you read or hear, hair systems provide you with the complete modern solution to your hair struggles.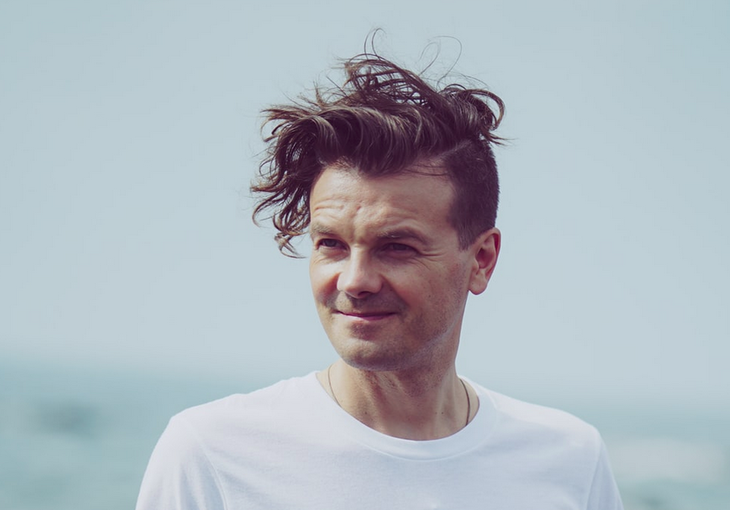 But just what is a hair system?
Hair systems are made by ventilating human hair to what is typically a lace, polyurethane (PU) or monofilament (mono) base that is then secured to the scalp by tape or glue. These can be worn for up to several weeks at a time and during that time period they are very much 'permanent'. You can sleep in them, shower in them, swim in them, exercise … you get the idea. Your lifestyle needn't be compromised by wearing one. Your hair system will just stay in place and become part of you. That said, how secure the hold or bond of the tape or glue depends on your lifestyle because you may find it best if you reattach the front every few days or reattach the whole unit after a week. Removing the hair system, cleaning it, washing their scalp (and reshaving their head if necessary), and reapplying tape or glue once a week seems to be common practice for many hair system wearers.
Enough of the explanations, let's introduce some hair systems to you. Remember, a hair system is the closest you'll get to a permanent wig. We have a range of stock hair systems and semi permanent hair pieces that should be able to fill all your requirements and we'll start by introducing one of our best-selling models: the Champion.
Champion
The Champion has a base design that will never go out of fashion. Its base is made entirely of French lace to bring you the best in comfort, breathability and realism. On buying this semi-permanent men's hairpiece, you'll have no worries about revealing your hairline so you'll be able to style your hair as you wish. It has medium-light density hair and is available in over 35 different hair colors! We bleach the knots – think invisible knots – on all of these colors apart from the two darkest colors. With the Champion being so light and airy, it makes a great choice if you are physically active or live in a hot climate.
UTS
The UTS is another in-demand semi permanent hair system and is favored for its very high degree of realism. It has an all-over polyurethane/skin base that measures just 0.03mm in thickness. That's why we refer to the base material as ultra-thin skin. What you have, therefore, is a very light and very thin and transparent base that takes on the appearance of your scalp. Hair is V-looped so there are no knots and hair will look like it's growing right out of your scalp. Almost like real & permanent hair!
That gives you a front hairline you can show off as well as complete flexibility with your styling options. The UTS has a medium-light hair density and has over 20 hair colors for you to choose from.
SuperSkin
For people who are looking for permanent wig attachment, we bet SuperSkin semi permanent hair piece is a risk-free solution to curb hair loss. It has a thin skin base but is slightly thicker, and therefore, more durable. It measures 0.08mm in thickness. It's still very realistic, and hair is V-looped at the front and single split knots are used across the rest of the hairpiece. These knots are very small but hair knotted to them will last longer than V-looped hair. Either way, you can still be very confident about revealing your front hairline or parting your hair.
The SuperSkin comes with medium-light density and you can choose from over 35 different hair colors
Our toupees are world-class yet highly affordable. Browse toupees at deep discounts!
.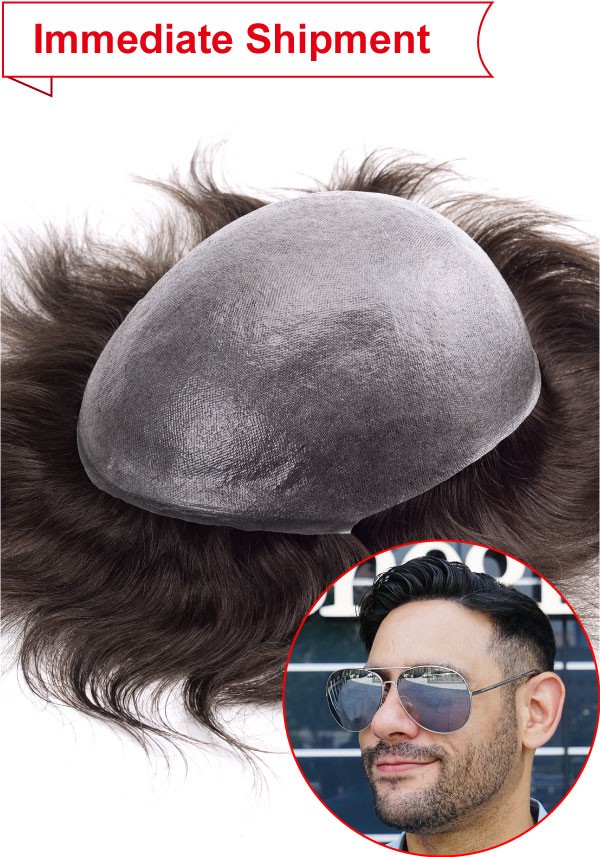 Our toupees are world-class yet highly affordable. Browse toupees at deep discounts!
Remy
The quality of the hair is very important to people who search for a permanent solution to hair loss, and that's why we've recently added the Champion Remy and the SuperSkin Remy semi permanent hair piece to our range of men's stock hair systems. These stock hair systems are exactly the same as the aforementioned Champion and SuperSkin except that they both have Remy human hair instead of the regular Indian hair that we use on our stock products. To the naked eye, Remy hair may look the same as regular Indian hair but it differs in that Remy hair has all its cuticles intact and pointing in the same direction.
This means the hair will remain softer, thicker, and stronger for longer and it will retain its color better. A perfect product for someone searching for a permanent wig attachment!
Quantum
Now, let's show you how we can combine different base materials to make more intricate base designs. The Quantum, for example, combines French lace and thin skin so it is a lightweight and very natural hair system. French lace is a popular base material as you know but many people like the added practicality and convenience that a thin skin back and sides bring. Thin skin is a much easier surface to apply tape or glue to than delicate and finely-woven French lace. This semi-permanent wig is also easier to clean.
The Quantum hair system has a mixture of bleached knots and long-lasting double knots across the base but there are bleached knots where it matters most along the front hairline and around the crown. It has medium-light density and over 20 hair colors to choose from.
Watch the video to see what Lordhair hairpiece brought to Patrick:
Vigor
The semi permanent hair piece named Vigor is different from the other stock models we've introduced so far as its focus is more on durability. That's because the Vigor has a fine mono top. Fine mono is woven so it is breathable and it is still a lightweight material. However, it is rigid in comparison to lace and will not shed hair easily. It's not as natural in appearance as French lace or thin skin but the Vigor has a French lace (with bleached knots) so it's realistic where it matters most and the back and sides are thin skin.
The Vigor may have an unusual-looking design at the back of the base but it is actually a cut-away design: you cut along the thin skin so the base matches the exact size of your balding area. The Vigor hair replacement system can support a medium hair density and you can choose from more than 20 hair colors.

Neo
This hair wig gained the attention of men in a very short time, and the credit goes to its breathability and all-natural appearance. The flesh colored base of the Neo wig combines French lace and thin skin.
Neo hair wig comes with 30mm wavy human hair that look 100% real. The hairpiece gets its minimal weight and airiness from its thin skin perimeter. This human hair wig for men is available in different sizes and colors. It also has an A-front contour!
Ocean
Ocean human hair wig gained popularity for its softness. It has naturally straight European hair fibers that are silky, shiny, and minimally treated with chemicals. Ocean wig is available in different hair color options and has medium hair density.
To design this unique hairpiece for men, we used 0.08mm thick skin material for base and punched hair into it to make sure there are no visible knots. The availability of this hair system in different sizes makes it suitable for men with diverse head dimensions.
Quantum Premier
One of the latest additions to Lordhair's catalog! Quantum Premier is a semi permanent wig attachment that has a base similar to Quantum hair system. It has a 8" x 10" base constructed using premium materials - French lace and silk. The French lace on front and top makes the unit durable, lightweight and comfortable. Silk on sides and back makes the attachment look closer to natural scalp.
What makes it better than regular Quantum is its premium hair. The Quantum Premier wig attachment has a 100% Indian human hair that appears, feels, and moves just like real scalp hair. Easy to attach and clean, this premium hair unit for men has bleached knots on lace front and medium-light hair density.
While the shipment is usually processed within 24 hours, it will take 2-3 more days if you want us to cut the base down or style the hair as per your needs.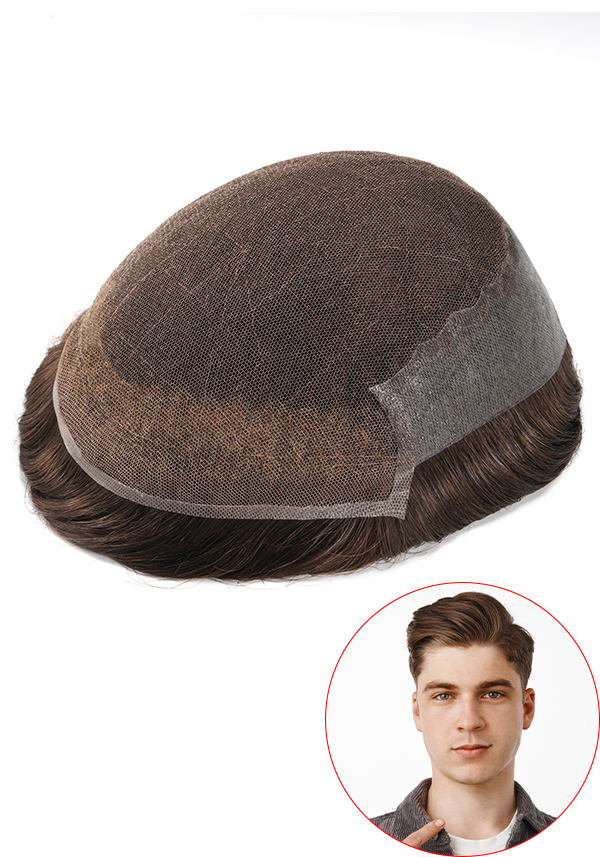 Not just stock hair systems
It's not all about stock hair systems or semi permanent hair pieces, however, as we have custom-made hair systems too. The beauty of a custom hair system is that you are in complete control of the whole design process and we will make the hair system to your exact specifications.
So, if you are looking for a permanent solution to hair loss and can make a template of the top of your head, we will make the mould of the base of the hair system from it. You can choose your base design from our collection of non surgical hair replacement systems. And if you have something particular in mind, then we can modify an existing design to suit your needs.
You are responsible for all aspects of the hair so providing it is compatible with the nature of the base materials (some materials can only support lighter densities, for example) you can choose the hair density as well as the color, the curl, wave, etc.
Here is an example of a custom hair system we made for one of our customers. The LM1 semi permanent hair piece is a very durable hair system. Thanks to its fine mono base and PU perimeter, some degree of realism was important to the customer as he wanted a French lace front so he would have a very strong-looking front hairline.
As you will see from the product specifications of the LM1, this model has dark hair with a small percentage of gray hair (10% at the temples and 5% on the sides). Our custom hair systems will perfectly imitate your own hair and exact graying pattern. For us to do this, it's best if you send in a sample of your hair.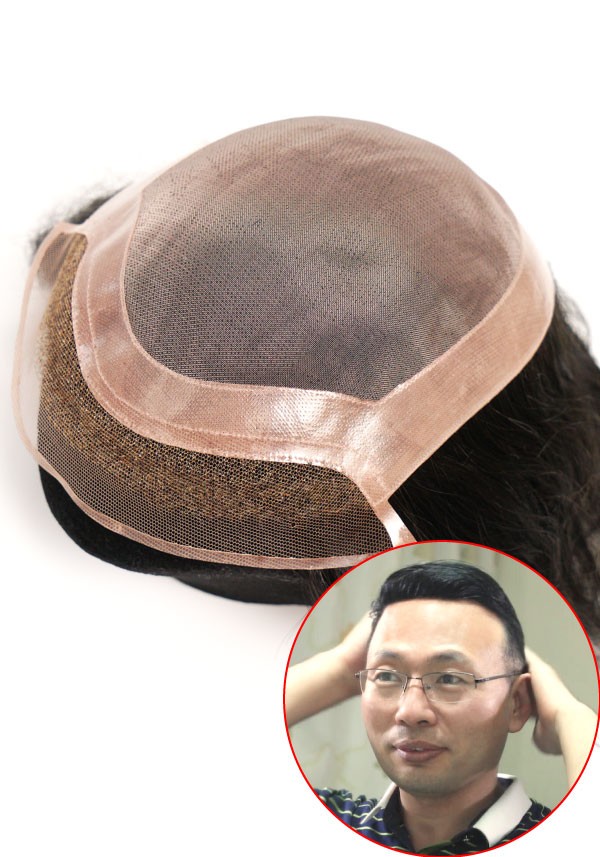 Why shop wig attachments from Lordhair?
Lordhair's real hair wigs are helping men attain the most natural look and feel. Our hair toupees have raised the bar of realness over the decades and offer clients the exact hair look they desire. If you think that's the only reason to buy our hair replacement systems, you are mistaken!
Men around the world also love buying our wig attachments for the following reasons:
- Immediate recovery from partial as well as complete hair loss.
- Can be attached for weeks without any need for removal.
- Highly cost-effective. A year's supply of sturdy hair systems costs around US$1000 only.
- Highly comfortable, breathable, and durable.
- Can be worn while showering, swimming, or during an intense workout
Our collection of wigs for women is equally amazing.
Permanent wig attachment: Endnote
So, whilst there is no permanent wig and therefore, no miracle solution to your hair loss troubles, we are confident that we can offer you the next best thing in our hair systems. The hair replacement industry has evolved enormously from the more 'traditional wig' that many are familiar with. You will find that our range of stock and custom hair systems will more than match your needs. What's more, you will soon be pulling off the look you've yearned for and feeling better about yourself.
Lordhair has been designing and supplying semi permanent hair replacement solutions to 100+ countries for almost 2 decades now. Our team has mastered the art of designing hair replacement products that promise a long lifespan, supreme comfort, and true realness.
Please feel free to get in touch if you would like to discuss anything you've read about here. We can be contacted by email at support@lordhair.com
At Lordhair, we create helpful guides, DIY resources, and insightful blogs to help men and women recover from hair loss, style without damage, and improve overall hair health. Check out the latest resources and product recommendations right here:
Discover hair replacement systems for men
Tips for wearing wigs every day (women)
Discover hairpieces for thinning hair
Check out these product pages as well:
Shop wigs for alopecia at the best discounts
Discover premium collection of volume hair toppers
Shop hair patches for men in 2023
Discover partial hairpieces for receding hairline
Lordhair. For a Better You!

  Email: support@lordhair.com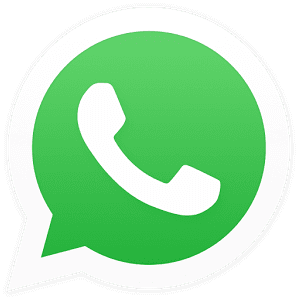 WhatsApp: ‪+8618678615507
Find us on social media