9 Healthy Signs of New Hair Growth You Should Be Aware Of
Kudos on commencing the battle with your hair loss condition! We understand how tough this can be. While it greatly helps when the results start to show up, it's often hard to be 100% sure about new hair growth. Sometimes, it's just old baby hair that we are noticing now. At other times, it's just the anxious mind playing tricks.
To be honest, it's a common concern for both men and women who have struggled with hair loss and are making hair regrowth efforts. The good news is that there are signs you can look out for to put your worries to rest.
In this blog, Lordhair - trusted globally for non-surgical hair replacement systems - will share nine signs (some call these symptoms too) of new hair growth. Plus, we'll also discuss a non-surgical treatment that can come to your rescue if results are taking a lot of time.
It's time to celebrate those new strands and regain lost confidence. Let's dive in!
What Are the Signs of New Hair Growth?
Hair regrowth on the scalp doesn't happen overnight. If you have been making efforts for only a few weeks, the results may not be visible. Nevertheless, you will notice certain signs on your hair and scalp that indicate regrowth.
Here are some signs of new hair growth on the head:
Dark spots
When you're on the path to regrowing your hair, one of the early signs to watch for is the emergence of small dark spots on the scalp. According to dermatologists, these spots indicate the presence of new hair follicles. Although they may not immediately transform into visible hair strands, they are a promising indication that the process of hair regrowth has begun.
Dark spots are more noticeable in individuals with fair or light-colored skin. In time, these spots will transform into visible hair, helping you regain what has been evading you.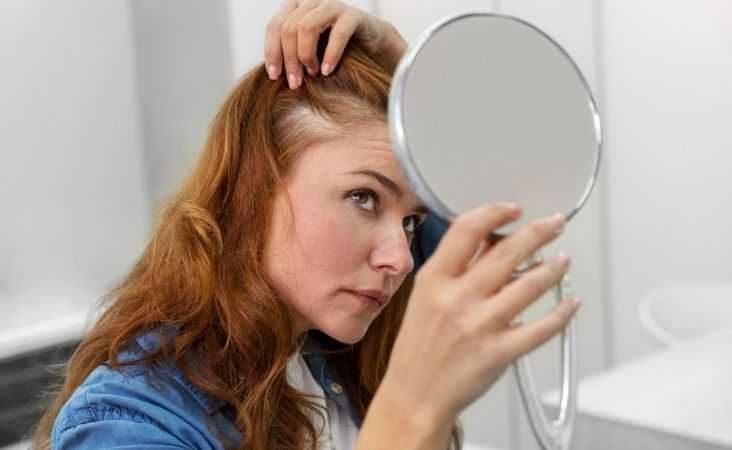 Fuzz
New hair growth often starts as a delicate fuzz. This soft, fine layer of hair is one of the first signs that your hair is making a comeback. It may appear on those areas of the scalp where you have been experiencing hair loss or thinning.
Although it may seem subtle at first, this fuzz is a clear indication that your hair follicles are becoming active and are working to produce new strands. Over time, it will continue to grow and thicken, eventually resulting in a fuller head of hair.
Fine and short hair growth
As you observe the symptoms of hair regrowth, you'll likely notice that the new strands are finer and shorter than your existing hair. This is completely normal, and a sign that your hair follicles are starting to function again. These fine and short hair are a precursor to more substantial growth that will occur in the coming months.
While they may not contribute significant length or volume immediately, they are a sign of progress and a promising step toward achieving lustrous locks once more.
Fewer split ends
Another welcome sign of new hair growth is a reduction in split ends. For those who don't know, split ends occur when the tips of your hair become damaged and split into two or more strands. As your hair regrows, you'll notice that the split ends on your scalp become less common.
This is an encouraging indication that your hair is on the path to recovery. And with continued care, you can get robust strands anytime soon.
Increased hair density
We bet that our readers have already guessed what this hair regrowth symptom is all about. As new hair begins to sprout, men and women will experience a noticeable improvement in their hair density. This means that the overall thickness of your hair is increasing, and your once-thinning areas are gradually filling in.
The added density will contribute to a fuller and more voluminous appearance, boosting your lost confidence and providing visible evidence of successful hair regrowth.
You may also be interested in:
- Possible reasons and solutions for hair breaking and falling out
- How to fix hair growth that has stopped on the head
- Chinese herbs for hair growth and hair fall control
- Essential nutrients and vitamins for hair growth
Baby hair
Along your hairline and other areas where you've experienced hair loss, you'll start to notice the emergence of tiny, wispy "baby hairs." These fragile, fine strands of hair are a clear sign that new growth is taking place. While they may seem delicate and inconspicuous at first, these little strands are a promising indication that your hair follicles are reawakening and beginning the process of producing new, more substantial strands.
Over time, this baby hair will grow and blend in with your existing hair, contributing to a fuller and healthier overall appearance.
Less scalp visibility
New hair growth will cover your scalp, reducing the visibility of your skin through thinning areas. Consider this sign as a significant milestone in your journey toward a full head of hair. Why, you ask? That's because the diminishing scalp visibility is a sign that your hair is becoming more abundant and effective at concealing areas that were once sparse.
In simple words, it's a visible sign of your progress and the positive changes taking place in your hair.
Increased texture and shine
Dermatologists state that fresh hair growth after hair loss often brings a noticeable improvement in texture and shine. The new hair strands tend to be vibrant and healthier in appearance. They add texture to the rest of your scalp hair, making it feel more robust and substantial.
This increase in texture and shine is a clear sign that your hair is regaining its vitality.
Reduction in itching and irritation
Hair loss and thinning can often be accompanied by itching and irritation of the scalp which can be annoying, to say the least. But as your hair begins to regrow, you'll likely experience a reduction in these symptoms. The relief from itching and irritation is a welcome change and signals that your scalp is becoming healthier and more resilient as the regrowth process continues.
Lordhair believes that the reduction in scalp discomfort is a significant part of regaining your full head of hair and the confidence that comes with it!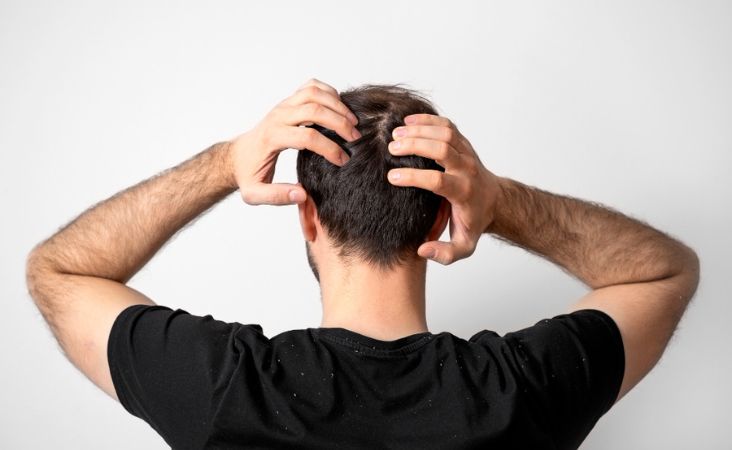 What to Do If New Hair Is Not Growing?
Let's be honest. Hair recovery after aggressive damage can be a very time-consuming process. A lot of men and women have reported negligible growth after spending a lot of money as well as time. For some, regrowth might not occur at all. If that's your case, it's time to explore other options. We recommend hair systems for men and wigs for women.
A hair system is a non-surgical recovery solution that provides a quick and effective way to regain the confidence you may have lost during your hair loss battle. Also known as men's hairpieces and toupees, and for women, wigs for women and toppers, hair replacement systems are meticulously crafted using advanced techniques and materials to cover the balding region and give the impression of a full head of hair.
The hairpiece base is designed to mimic the natural texture and color of your hair, ensuring a seamless blend with your existing hair. But if you think that's it, you're wrong!
Here are more reasons to buy a hair replacement system from Lordhair:
They are lightweight and breathable. You won't feel weighed down or uncomfortable at all.

Many of our hair systems are designed to last a good number of months. They are constructed with high-quality materials to withstand everyday wear and tear.

They are easy to care for and maintain. This makes your daily routine hassle-free and convenient.

They can be customized using our wide range of customization options. That means you can select the hair color, density, and other features to perfectly suit your needs.
Check out how amazing John looks after wearing a Lordhair hair system for the first time:
New Hair Regrowth Signs: Final Words
Above are some major signs of new hair regrowth on the scalp. Remember, the journey to restoring your hair can be a challenging one. Not everyone will get the same results. Those who may find the progress slow or non-existent can consider exploring the Lordhair catalog of premium hair replacement systems.
As a leading hairpiece manufacturer and global supplier, we ship hair wigs, toupees, and toppers to 100+ countries while promising amazing quality and a money-back guarantee. Feel free to contact us or leave a comment below. Our hair system experts will be more than happy to answer your queries!

  Email: support@lordhair.com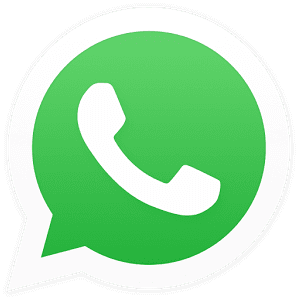 WhatsApp: +16263623127
Find us on social media