3 Tips for Wearing Wigs like a Queen
Women across the globe wear wigs to experiment with unique styles and also get back the confidence damaged by temporary hair loss. However, wearing a wig like a queen requires practice and - more importantly - expert insights.
In this post, Lordhair will share 3 easy tips for wearing wigs like a true professional. Are you ready to look like a queen while wearing a wig? If yes, let's proceed further with our quick wig-wearing guide for women!
Use a wig cap liner
Wearing a wig cap liner under your hair wig is a completely personal choice. That's because your wig cap already acts as a protective barrier to your scalp.
However, adding a cap liner under your hair wig will double its security. It will protect your scalp from irritation even in hot weather and also help keep the wig clean by forming a barricade to keep away sweat and oil on the scalp.
Discover the best collection of wigs for women at amazing discounts

Swap it out
One of the most useful wig-wearing tips for women to consider in 2022. If wearing the same wig every day, you need to think more about maintaining the quality of your hair wig. That's why experienced wig wearers don't count on just one wig.
Make sure to keep at least 2 hairpieces in your hair closet. Rotate them out on different weeks. By switching out your human hair wigs, not only will you reduce their wear and tear but also improve their lifespan.
Browse women's toppers to recover severe hair loss.
Store it correctly
Another useful wig-wearing tip for women! Storing a hair wig correctly is as important as buying a premium one. Elements like sunlight and pollution impact the wig's health. And if it isn't stored correctly, the damage multiplies.
Keep your human hair wig in a cool, dry area in order to make it last longer. Place your hair wig on a wig stand to prevent damage to the wig shape.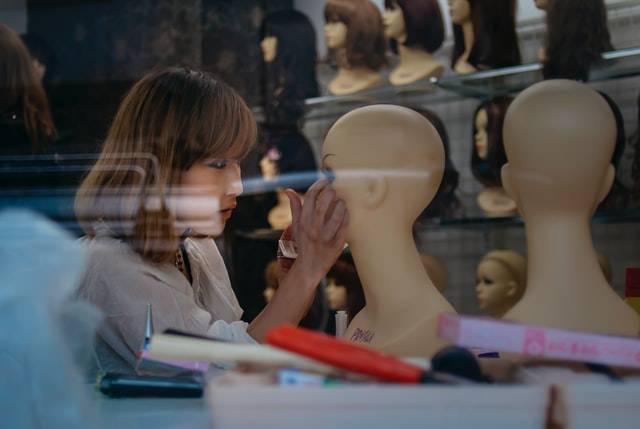 There you go!
We are done sharing wig applications and maintenance tips. If you are really looking forward to putting on a hair wig for a long time on your head, then these wig-wearing tips and ideas will help you do so with ease, comfort, and style.
Haven't bought a wig yet? Browse our collection of premium partial wigs for women!
Got any queries to ask? Send them to support@lordhair.com and have them answered by our hair experts.
Also read:
Unprocessed human hair wigs to buy in 2022
Melatonin for hair growth: Everything answered
Hottest braid hairstyles for women