Best Human Hair Lace Frontal Hairpieces for Men
By:

Lordhair

2021-03-12 06:06:34
Human lace frontal hairpieces are widely popular amongst men who want to overcome chronic hair loss. Since we have so many products, styles, and custom options available in our catalog, some men, especially first-time buyers , find it hard to figure out which lace front hairpiece will work best for them.
To help our male customers with wig shopping, we created this list of the best human hair lace frontal hairpieces.
Human lace front wigs for men
All our hair replacement products are known for being scalp-friendly and promising a realistic appearance. The following are the best lace front real hair wigs for men:
#1 Combo-V: French lace front hairpiece
Combo-V is one of the finest human lace front hairpieces present in our catalog. It has an 8" x 10" base designed using a combination of super thin skin and French lace front. While the thin skin layer with knotless V-looped hair makes it highly realistic and durable, the French lace front further manages to present a super natural-looking front hairline however the hair is styled!
This stock lace front wig has 100% human hair to provide men with the most natural of appearances. Also, bleached knots at front make for an appearance of hair coming out of scalp. The Combo-V lace front hairpiece comes with 5 inches hair strands and medium-light hair density. However, this men's wig is available for US$259 only!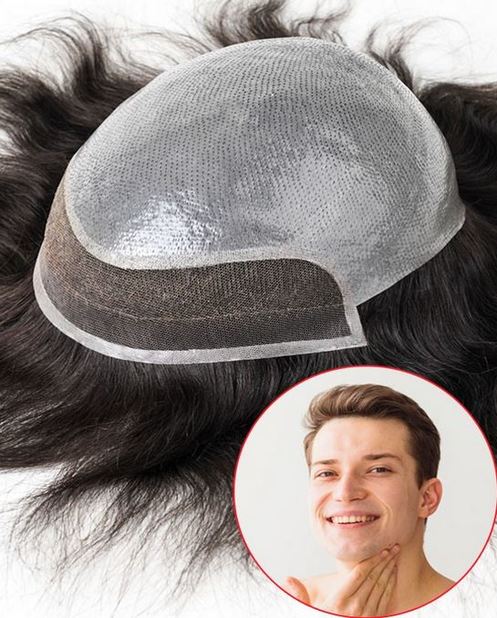 #2 Inception-FL: French and Diamond lace front hair wig
Inception-FL is one of the top-selling men's lace front hairpieces on our website. That's the reason why we decided to add it to our list. Unlike the previous hair wig for males, its base incorporates three materials - translucent injected thin skin, French lace, and diamond lace. Each single hair strand is tightly injected into the base to present a completely knotless appearance of hair growing out of scalp, guaranteeing its top level of realism. Besides, The top side of the base is attached with French lace for the purpose of solidifying the hair roots, thus offering a longer lifespan of the hairpiece and facilitating hairstyling options of any kind. the bottom side of the skin base is attached with a very special lace material called diamond lace that feels extremely comfortable on your scalp. In addition, there is a small number of punched holes scattered around the base to give the wearers extra breathable feeling, especially in the hot weathers.
We have also included a fully bleached French lace front which is virtually invisible and creates a naturally off-the-face styling versatility. The Inception-FL French hairpiece has premium quality human hair strands that come in 13 unique shades. This lace front wig for men will cost you US$219 only!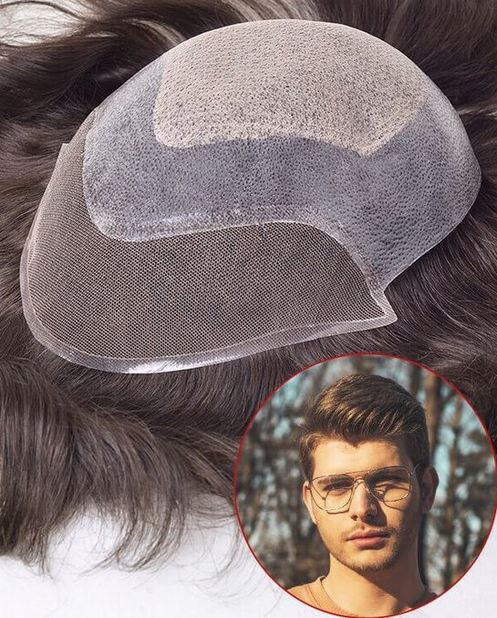 #3 Vigor: lace front real hairpiece
Vigor lace front hairpiece has a global demand mostly from countries like the USA, Canada, France, Japan, and Australia. It has an 8" x 10" base with a fine mono top which is a very solid woven material that feels super breathable while guaranteeing its exceptionally long lifespan. The thin skin perimeter surrounding the fine mono top makes this hairpiece for men much more user-friendly by allowing both tape and glue for attachment with extreme ease and handiness. Furthermore, to make the front hairline look more natural, a layer of French lace is wisely adopted at the very front. So there is no need to worry if people are going to notice anything strange about your hair however you style it.
When it comes to the hair, this lace front hairpiece packs 100% real human hair of 5- 6" length and medium hair density. What's more, this lace front hair wig for men is available in 24 different shades.
The ability to cut down the base to a minimum 5" x 6.5" prior to shipment makes the Vigor lace front hairpiece a value-for-money product for just US$279!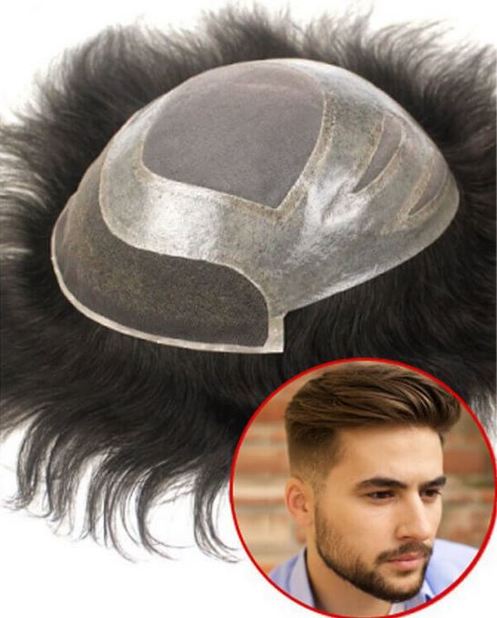 #4 Combo: thin skin wig with lace front
As another premium lace front hair wig present in Lordhair's hairpiece collection, it's designed using 100% real human hair that allows men to style the hair just like their own while hiding the bald patches perfectly. This men's frontal hairpiece brings 5-inch hair in medium-light density which can be parted easily into any direction.
The Combo hairpiece has an 8" x 10" base designed using a 0.08mm super thin skin base with a lace front, making it enduring, undetectable and breathable. Thanks to the single split knots hair along the front hairline, this hairpiece becomes even more undetectable. For another, the Combo wig is really easy to wear, wash and maintain given the way it's designed. Men can grab this lace front human hairpiece for just US$239 only!
Check out how Chris felt after using a lace front hairpiece of ours:
#5 Champion-F lace front hairpiece
Champion-F has a 6" x 12" full French lace base that can be arbitrarily cut into multiple frontals of any shape and size according to one's requirements. Not only is Champion-F very natural-looking, but it's also highly breathable and lightweight as a result of the nature of French lace material.
Speaking about its hair strands, the Champion-F packs 6-inch real hair strands that lead to a more realistic appearance. Bleached knots all over the base make the lace front hairpiece completely undetectable when adhered to your scalp. What's more, everything about this hairpiece can be easily customized as per your own requirements. Get the Champion-F lace front hair wig for just US$239!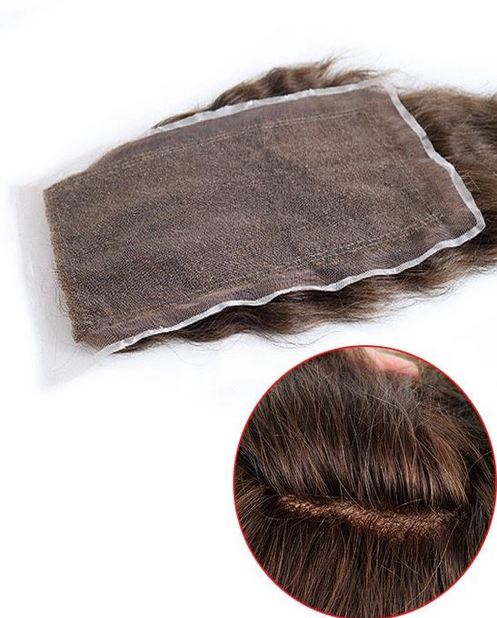 #6 LM1: custom lace front hair wig
Our list of best men's human lace front wigs and hairpieces would be incomplete without the LM1 lace front hair system. This customizable hairpiece for male has a durable base consisting of fine mono top with a ¾" wide PU perimeter as well as a ½" French lace front for realistic and undetectable purposes.
When it comes to hair length, this custom lace front hair wig with PU monofilament packs 6" brushed-back Indian hair that looks completely realistic and comes in medium-light hair density. The affordable price of US$239 makes this custom monofilament lace front hairpiece a great deal for men who want value for money!
Didn't find the hairpiece of your dreams? Check out our complete collection of hair systems for men!
#7 S12: Fine mono lace front hairpiece
Men dealing with aggressive hair thinning should consider buying this lace front hairpiece! As the name suggests, its base is designed using a fine welded mono lace front with stitching lines for better contouring and durability. We have also included thin-skin to make the S12 lightweight and user-friendly.
For the hair, we have used 6" Indian human hair strands which can be trimmed and styled in any way. This fine mono lace front hairpiece with a 15mm loose curl is really easy to wear, clean, and maintain. But it's a steal for only US$269!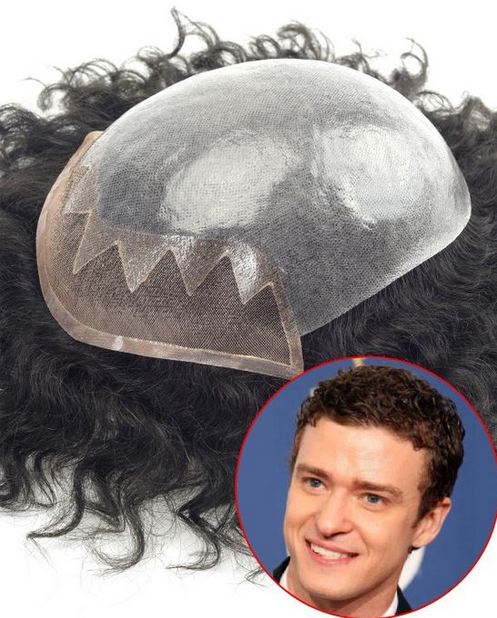 Our list of best human lace front hairpieces for men ends here.
Blaming it on the genes or lifestyles, hair loss among men typically starts in the early twenties. If your hair thinning has reached an advanced stage, then, buying a hair system (another name for hairpiece, toupee, and wig) is the easiest and safest path to recovery.
In case none of the above products fit your hair goals, browse our catalog of lace front wigs to discover more.
Got any queries to ask? Send them to support@lordhair.com and have them answered by our hairpiece experts!

  Email: support@lordhair.com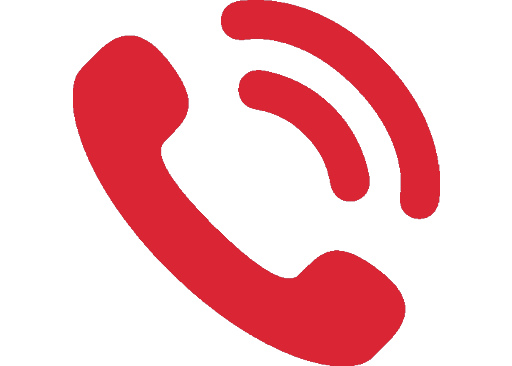 Tel: +86 532 80828255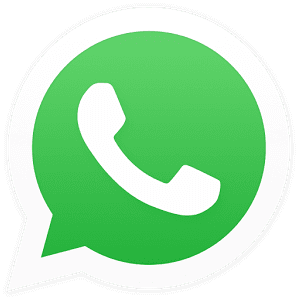 WhatsApp: +44 7729828550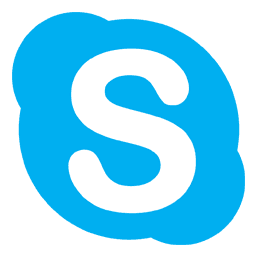 Skype: Lordhair
Find us on social media