Do Hair Systems Come In Different Sizes?
Very simply put, hair systems do come in different sizes. That's because hair systems can be made with different base sizes. There is a lot of information to absorb when you first start to learn about hair systems and knowing about the different base sizes that are available is one of those things.
Do not worry that the exact size of your hair loss area will prevent you from wearing a hair system. We can actually divide hair systems up into four different types based on different base size dimensions and we'll introduce them all below.
Four types of hair replacement systems:
Regular-sized hair systems
We don't tend to give this size a special name but generally speaking if you see 'hair system' then you can presume it has a regular base size. By that, we typically mean 8" (width) x 10" (length). That is the default size of men's stock hair systems at Lordhair. This base dimension matches the nature of male pattern baldness which is the primary cause of hair loss in men.
Our Neo stock hair system, for example, is 8" x 10" but if you explore our website you will find that this particular model is also available in smaller base sizes.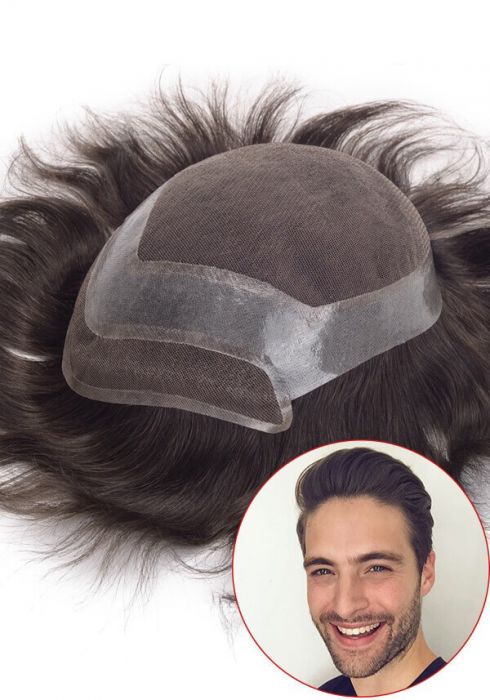 Neo is available in various base sizes
Please note that whilst we offer stock hair systems with smaller bases sizes than 8" x 10", anything larger and you will have to order a custom-made hair system as we will expand on below.
You can also cut down a regular hair system to your own specific measurements and this is an additional service we actually offer ourselves. But if you plan to do this yourself you should check with us first as cutting the base down too small can radically alter the base design
Oversized hair systems
Oversized hair systems are still worn on the top of the head but extend further down the back and sides. They measure between 8" x 10" and 10" x 10".
Oversized hair systems do not form part of our stock range so if your hair loss area extends to this size then you will need to order a custom-made hair system.
Full cap wigs
Full cap wigs cover the entire head and they may even extend right down to the whole sideburn and nape area. They are typically worn by men (or women) who are undergoing chemotherapy or suffering from a medical condition such as alopecia totalis.
Again, at Lordhair, any full cap wig would have to be a custom-made order.
Frontal/Partial (hair systems)
A frontal hair system measures 4" x 4" or less. The one stock frontal hair system we offer at Lordhair measures either 1"/0.75"/0.5" x 6". So, if you have a receding hairline but have plenty of hair elsewhere then you may want to consider a frontal as you will only need to shave a small area of your head to wear one.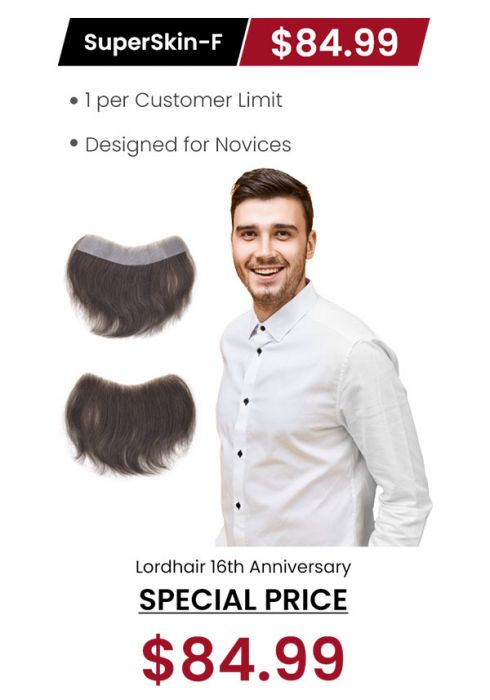 SuperSkin-F is our stock frontal hair system and it is available in three sizes
Recap of the different sizes of hair systems
Frontal/Partials: 4" x 4" or less
Regular: 4" x 4" to 8" x 10"
Oversized: 8" x 10" to 10" x 10"
Full Cap: Larger than 10" x 10"
Watch as we explain these four types of base sizes in greater detail
Now, that you are aware of the different sizes of hair systems, you will need to get an accurate measurement of the size of your hair loss area. If our stock hair replacement systems (regular size) do not match your hair loss then remember that we can always customize a hair system to your particular size and design. Our service team at support@lordhair.com will be more than happy to assist you with the whole customization process.