3 Ways to Match Your Hair Color
It is important to choose a color that will match your existing hair. The following 3 options are the most popular ways to match your hair color.
Option 1: Take samples directly from your own growing hair. (Recommended)
The best option is to take a sample from your own hair. Why? Because nothing beats natural. Your natural hair will allow us to match your true color graduation from the source!
For best results, we recommend taking samples of 100-200 strands which are about 2-3" in length. The more hair you can provide, the easier it will be for us to analyze the color.
.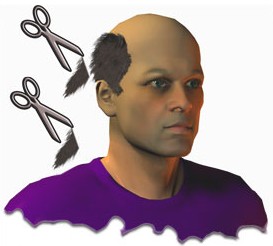 If your hair is the same color all over, please just provide one sample. However, if your hair is a different color in different areas (e.g. you have more grey on the sides), try to take samples from 3-6 areas:
-Front: At the hairline or bang area (if possible)
-Top: The front, top of your head (if possible)
-Crown: The back, top of your head (if possible)
-Temples: At the frontmost part of your hair on the sides
-Sides: Approximately 1-2" above the top of your ear
-Back: As close to the center of the back of your head as possible
NOTE: Please cut a sample from each area and label each one, informing us what part of the head it came from (e.g. front, top, sides, crown, temple or back etc.).Please make sure the hair is clean. This is important because dirty hair will not show its true color.
We STRONGLY RECOMMEND sending in your hair samples because PHOTOS DO NOT reflect the real color of your hair. Computer monitors also cannot display the color in its actual original tone. There is always a color difference.
Option 2: Use our color ring/swatch to choose your color.
If you are unable to provide a sample, we can provide a color chart giving you the opportunity to browse through numerous colors and select the perfect match for you.
Our color ring contains more than 40 color swatches. Pick the closest three to five color swatches from the hair system color ring. Through a process of elimination, choose the proper color swatch that best matches your own growing hair.
When using the color swatches, please check the color in both artificial light and natural daylight, sunlight could help you to choose the right color for your hair system.
Color ring for men's stock hair systems.
Black Series

Dark Brown Series

Light Brown Series
Color ring for men's custom hair systems.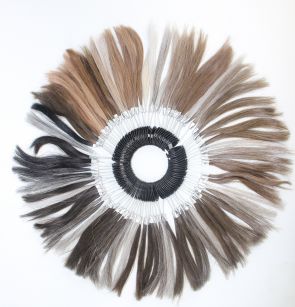 Color ring for women's wigs and toppers.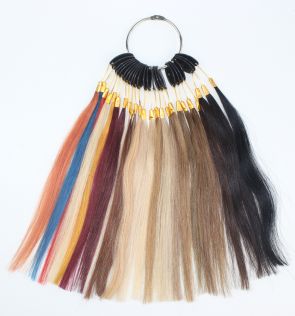 After you have selected your color, you can return the chart with your order details and we will refund or credit this amount towards your purchase. Or you can contact our customer service to tell us your hair color.
NOTE: You may have a color ring from another hair replacement company, but that won't work when choosing a color to make a Lordhair system because codes and colors are different. When choosing your color, be sure to use Lordhair Color Ring.
Option 3: Use Lordhair color image.
We have taken some photos of each of our colors and listed them for your selection. You could compare those colors and find a color which matches your own or the one you like best, your order will then be proceeded base on your selection.
( IMPORTANT REMINDER: We have done our best to display as accurately as possible the colors of the products shown on this web site. However, because the colors you see will depend on your monitor, we cannot guarantee that your monitor's display of any color will be accurate. To improve accuracy we highly recommend you send in a sample of your hair.)
Men's Human Hair Color Board ( Females can also use this color board if you feel like):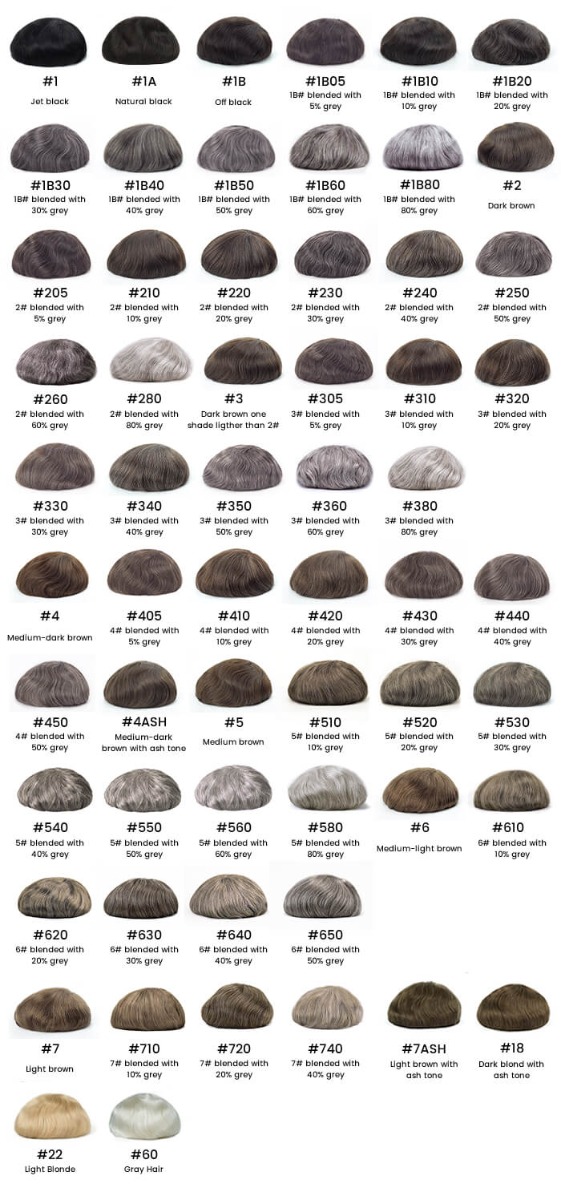 Lady's Human Hair Color Board (Ladies who want to use this color chart, please let us know):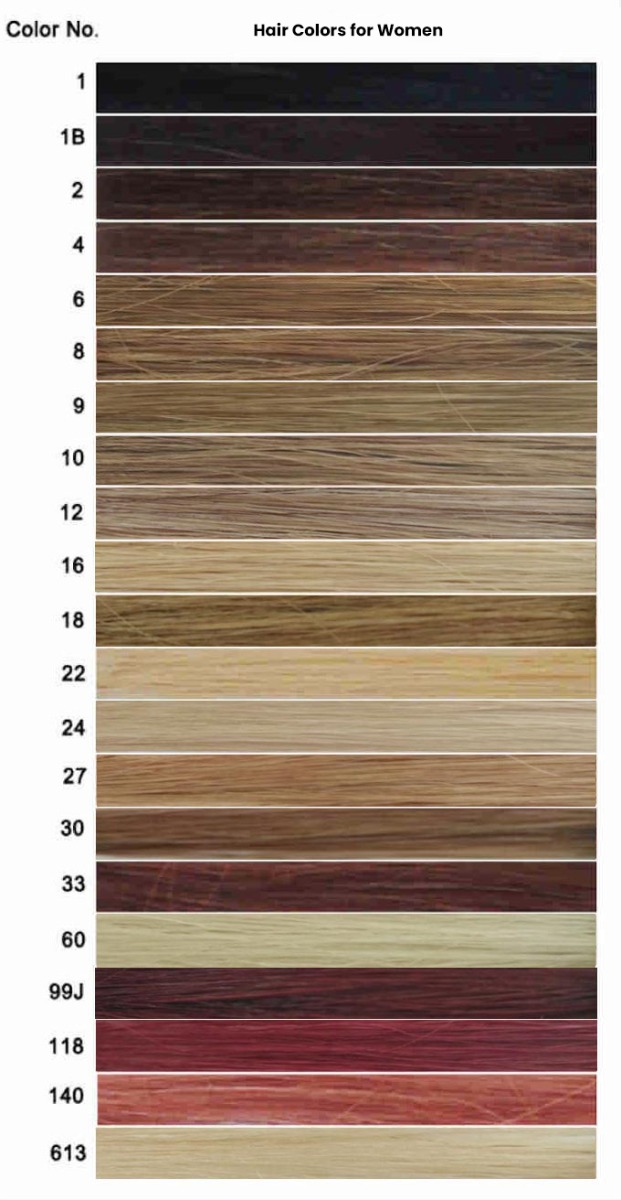 If you want a change in hair color, how do you decide a proper color to best suit you?
Most of us would like to think we are both warm and cool. But when it comes to hair color, it's important to know which one you really are (and it has nothing to do with your fantastic personality).
You're likely a "warm" if you have golden, olive or dark skin and brown or dark eyes (most Latinas, Asians and African Americans fall into this category). "Warm" women tan easily and the veins in their inner wrists are green.
You're a "cool" if you have fair skin and blue or green eyes, you burn before you tan and the veins in your wrists run blue. If you're confused because you sometimes burn, sometimes tan, you likely skew warm.
Once you know if you're a warm or cool, you can easily know what shades of color look good with your skin tone.
If you're ordering a hair system, you will need to know some pretty important things about choosing hair color. Stuff like:
1. Using a photo (even if it's picture of yourself) isn't the best idea for choosing hair color. Because the photos are not able to reflect the real color of your hair.
2. Your age usually dictates the proper color choice for a hair system and how adding gray percentages can add realism.
3. Understanding the HUGE role your natural hair color plays in your hair system color.
4. Using a color ring or hair samples (or a combination of both) to choose your hair color.
5. Sunlight can help you choose the best hair system color.