Top 10 Mens Hair Color Trends & Ideas in 2019- Easy Peasy Tips
Mar 7, 2019 11:27:32 PM
14610 views
2019 is here and it's time for men to style up their hair. Coloring is the easiest way to experiment with looks but it's also the easiest way to mess it up since not everything colorful will look good on our head.
Lordhair is here to guide you about latest colour trends of this year to help groom your personality and make you stand out in the crowd. Our trending hair colouring guide and ideas can also be tried on custom hair systems too! So, if you own a wig, get it coloured to match the ongoing fashion and style trends.
Colour your hair with below easy peasy colouring ideas and make a bold fashion statement in 2019!
Platinum waves
Are you a t-shirt kind of guy? If yes, this hair colour is for you. Bring your favorite anime hair colour into real world by colouring your hair in platinum waves. This spring, colour your hair with forward pointing big patchy spikes. Colour them white on top. In 2019, give your hair this unique colour style.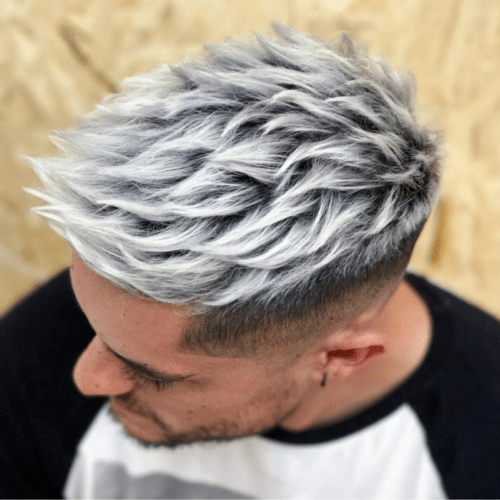 Multicolour
Hello party folks! For men who dare to try new, this hair colour idea is best. In 2019, make a bold statement with this trending hairstyle. Keep medium length hair on top and point them up. A mixture of bright colours and lines on both side of your skull and you get a makeover. Try violet, green, cyan and see the magic!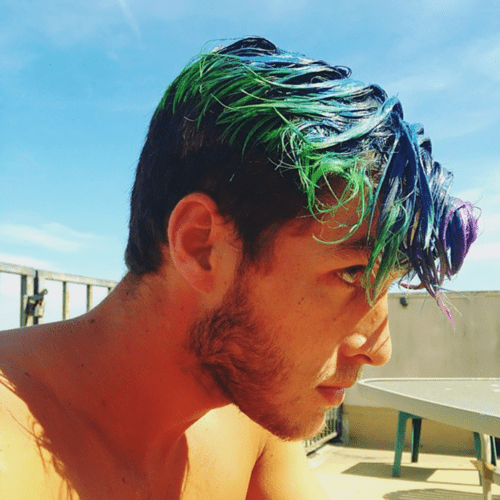 Trendy ash grey
Want to try something different? Go for the ash colour. It goes great with white tees and blue jeans. Even if you wear a plain shirt, it brings out the fun factor in you. This colour is meant for men who are outgoing and happening. Guys, try this hair colour and spread your charm wherever you go. Be the trendsetter this season by following these Lordhair tips for trendy hairstyles. Stay strong because our hair color guide is pretty long!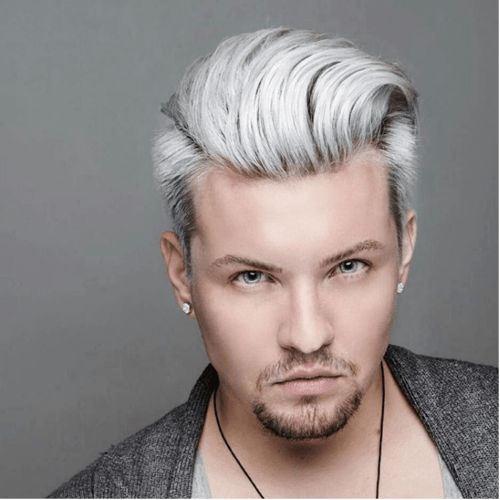 Turquoise and blue
Inspired from video game and anime characters, this is a unique men hair colour idea. This edgy look will definitely make you stand out in the crowd. It is a flexible hair colour style. The blend of hair colour allows you to switch between hairstyles whenever you want. Get two in price for one! It is a revolutionary hair colour for trendy men this fall.
Browse men's hair systems that come with vast customization options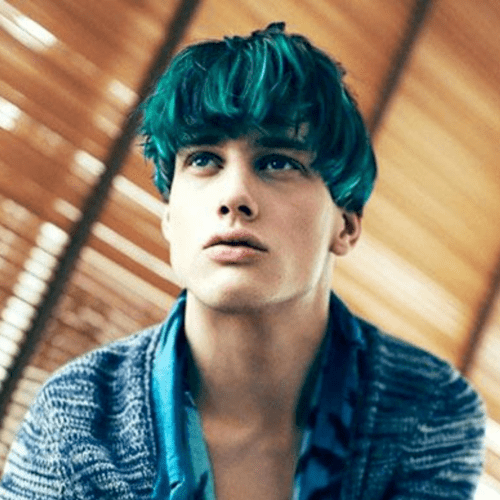 Smoky grey curls
The game changer! This hair colour tip requires your hair to be bleached and toned into a grey, smoky colour. It is a technical process and requires patience. But the end result is fabulous. This trendy hair colour is rugged and goes best with a stubble beard. Yes! It is the biker look and meant for men who never fail to flaunt their dominator instinct.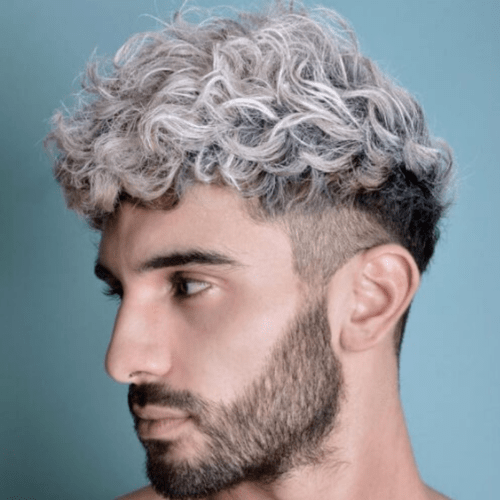 Edgy brownish grey
Brown never goes out of fashion; it lasts forever. Write your personality all over your hair by choosing this hair colour. This clean mens hairstyle in our 'hair color guide for men' lasts for almost three weeks. Give your hair golden spray on top and keep it natural beneath. Look, someone is checking you out!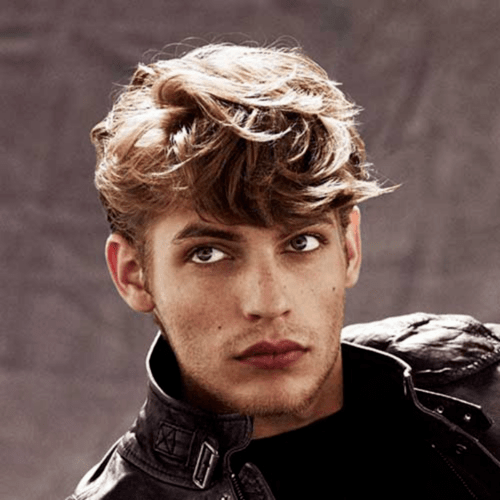 Copper brown
This trendy hair colour is for men with warm skin tone. If your hair are naturally curled, this hair colour style will suit you the most. Your 2019's top hair colour choice will turn heads for sure. Why not give it a try then? Give your hair a makeover this spring with this exclusive hair colour tip.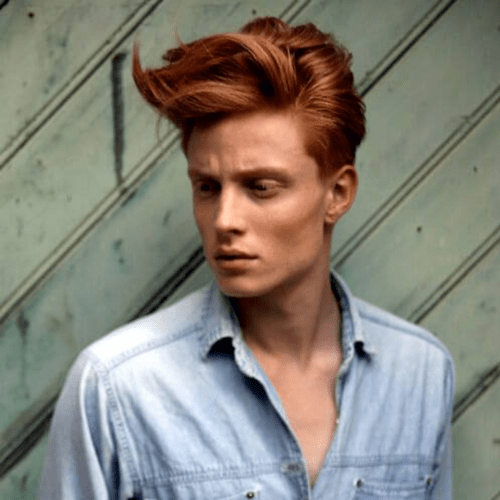 Neutral dark blonde
The next hair colour is quite in fashion nowadays. Slightly long on the top and shorter on the sides. This cool hair colour is best suited for light coloured men. If you have dark brown eyes, this trendy hair colour in our guide is definitely for you. Visit a salon and give it a try today and pump up your personality now.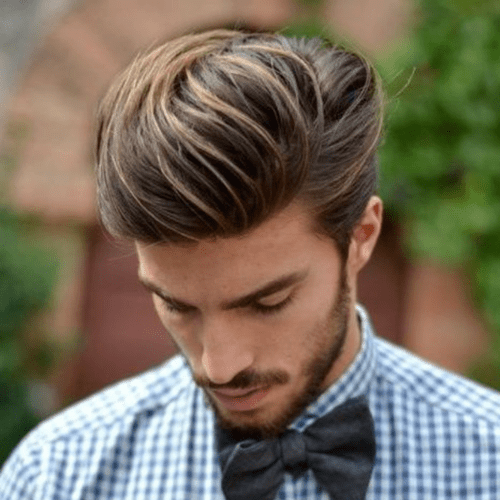 Golden highlights
Hair colours and no highlights? Not possible! This hair colour never goes out of trend. No matter what your complexion, anyone can try this unique hair colour style. This color technique gives your hair a new look and also retains its original texture. Those with straight hair should definitely go for this unique hair colour trend for men.
Struggling with hair fall? Check out best hair loss treatments for men & women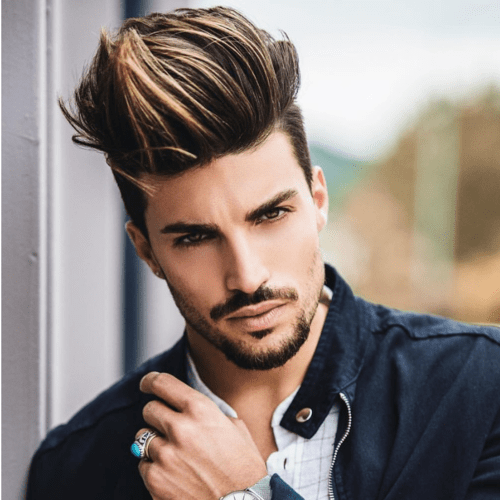 Colour melt
Guys, this hair colour is especially for our metalhead buddies. If you have long hair and want to give them a phenomenal trendy look, you can surely go for colour melt. It also works if you have curls. It can be orange, blonde or even black. Give your hair colour the look you want to and be the trendsetter this fall.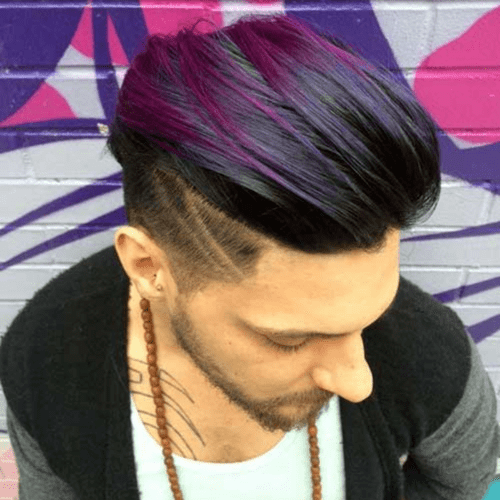 Our hair color guide and recommendations end here but we have more in store! Read on.
Excited to get a new hair colour? Remember below points before getting your hair coloured. We will also share after-colouring care tips as well!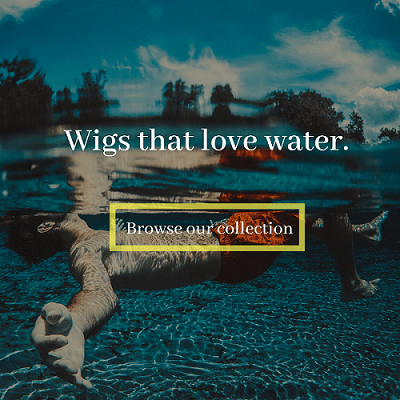 Before-coloring tips & ideas
Look for various hair colour ideas. It will help you choose your hair colour.
Get your hair coloured from a professional, so do your research in advance.
Bring in the photo of the look you want to get and ease the colouring job
Not sure about hair color style? Bring your colourist the hairstyles images that you don't want.
Hydrate your hair a day before colouring by covering your strands in hair mask.
Now that we have listed out the best before-color tips, we will guide you what to do after getting your favorite hair color!
Post colour guide
After hair colouring, change your shampoo and conditioner
Use UV protection sprays for tackling sun damage
Before hopping in a pool, soak your hair in tap water
Using a synthetic hair system? Here are hair system care tips only for you.
Experiment with latest colour trends and spread your charm wherever you go. Hair are essential part of our personality and hence it makes perfect sense to color and style them to look unique. Even if you don't have real hair, colour your hair system to score in fashion.
Looking for a hair system for your scalp? Just email Lordhair at support@lordhair.com and get your customized hair system today.
Follow Lordhair on Pinterest to discover best price wigs, wig buying guides, and styling tips from top rated hair experts.
You must be logged in to post a comment.
click here to log in