Does Ralph Macchio Wear a Toupee?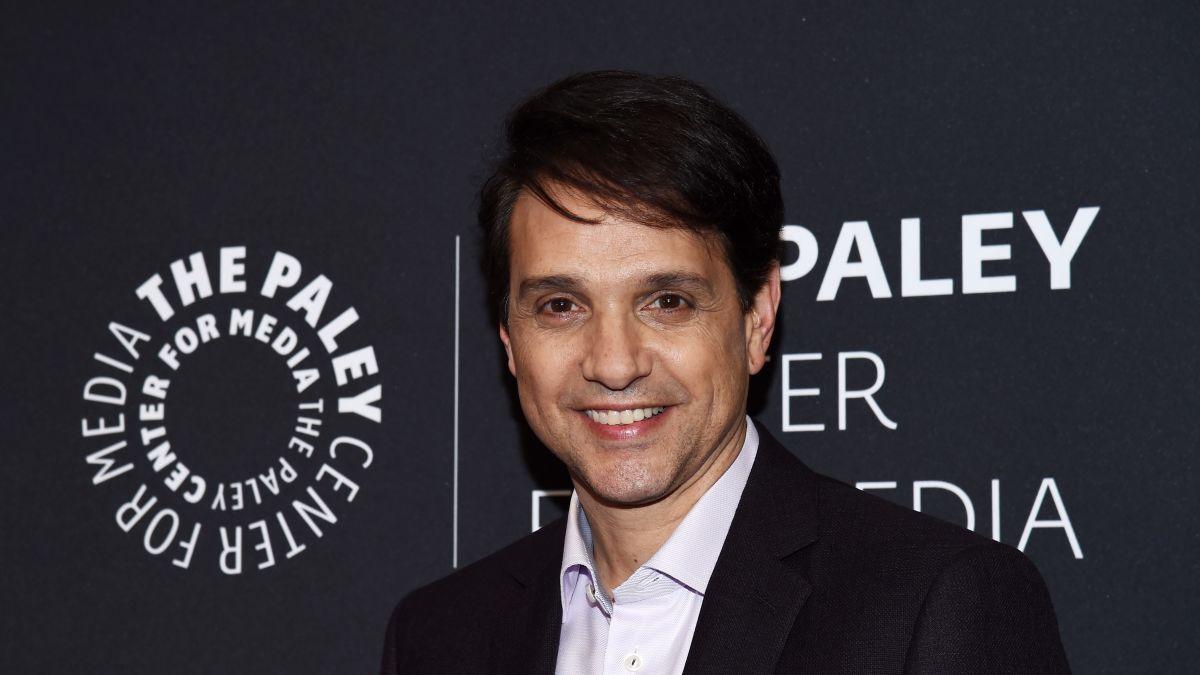 Speculation has been circulating for a considerable amount of time concerning Ralph Macchio's tresses. Some fans are under the impression that he has always had such a youthful appearance. They reason that the same genetics that gives him his recognizable "baby face" are also the traits that have enabled him to maintain such a full head of hair. However, some fans believe that Ralph Macchio is covering his head with a toupee.
An alternative viewpoint is that Ralph Macchio might have undergone follicular unit transplantation at some point in the recent past. Lordhair will try to get to the bottom of this hair question!
Ralph Macchio's Career
After the release of The Karate Kid in 1984, Ralph Macchio's career took off in a big way. Even after comfortably passing into adulthood, he was always been able to portray the roles of much younger characters due to the fact that he had a youthful appearance. Despite this youthful appearance, in his late 20s and early 30s, Ralph Macchio began to cover up the receding areas of his hair by combing his hair over and covering them with the rest of his hair.
Since fewer men then were prepared to take the plunge and spend money on a hairpiece, you will find that a comb-over was a very popular method to try and mask thinning hair – it still is today. Macchio was largely absent from the public eye between the early 1990s and 2005, during which time he did very little work in the Hollywood industry.
Buy top-quality hairpiece toupees for men
In 2011, he was a contestant on the popular television show Dancing with the Stars. Fans were divided as to whether or not he was sporting a hairpiece due to the fact that his natural hair appeared to be completely lifeless and on account of how his hair looked the last time he was in the public eye. When the Karate Kid spin-off series Cobra Kai made its premiere in 2018, it again brought Ralph Macchio back into the spotlight after a long absence. He reprised his role as Daniel LaRusso, which resulted in The Karate Kid franchise gaining a new group of younger followers.
The revitalization of his career coincided with significant modifications in his appearance. In the Cobra Kai series, he has a full head of hair: quite the contrast to the thinning hair of his 20s and 30s!
Whilst judging from the online reaction, his hair does not appear to be fake in the way his apparent hairpiece on Dancing with the Stars was, it is still nevertheless the source of heated conjecture among Cobra Kai enthusiasts.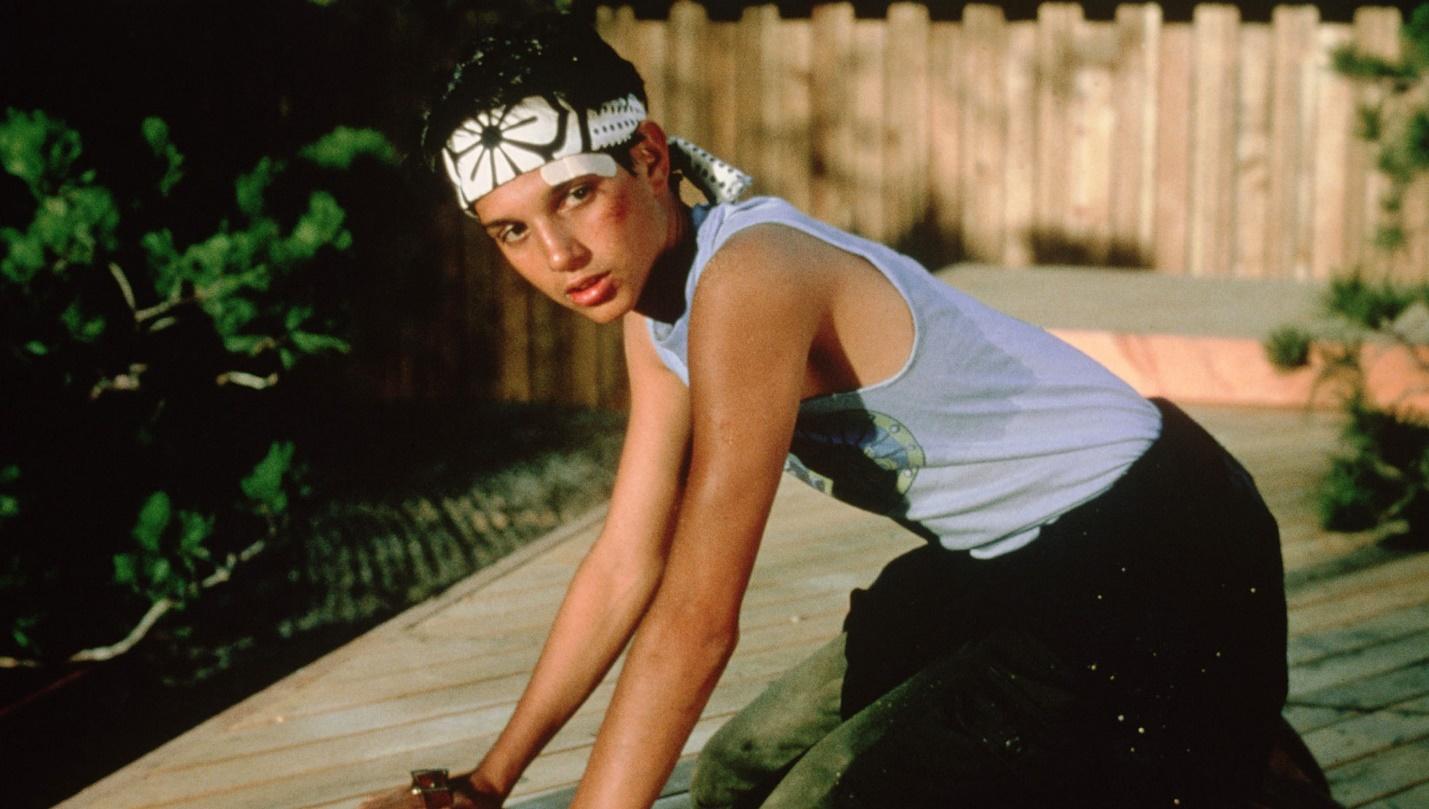 Ralph Macchio in Karate Kid back in his twenties
Does Ralph Macchio Wear a Toupee?
The majority of his followers are in agreement that his hair is not natural, although they disagree over the specific changes that have been made to it. Some people are under the impression that he has had a hair transplant. Considering that Macchio is a man of means, this would not be beyond the realms of possibility for him.
However, a hair transplant should not have been able to give him the density of hair that he has been sporting in his recent appearances in Hollywood.
Whilst it is perfectly possible that the surgery may have helped his hair become slightly thicker; the thickness of his hair appears to be beyond the capabilities of a hair transplant, even by the most advanced methods that someone with a celebrity's status and fortune could afford. Furthermore, when someone has a hair transplant, they sometimes end up with scarring on their head or chin as a result of the procedure.
The majority of fans think that it is, therefore, most likely a hairpiece toupee on his head because there is no proof of such marks. The fact that Ralph Macchio's supposed hairpiece is the same color as the hair around his temples is the most circumstantial evidence that he is indeed sporting a hairpiece. Even though this contributes to his overall youthful appearance, it is typically a sign that there is some degree of hair loss when the hairline is too high.
While his most recent hairpieces have been fairly noticeable to some viewers, others are led to believe that he has been wearing a hairpiece for thinning hair for a considerable amount of time due to his high hairline.
What Has Ralph Macchio Said About His Hair
Macchio has not addressed the question of whether or not he is using a hairpiece, despite the widespread conjecture that has been circulating in this regard. Because both of his parents have an appearance that belies their ages, he maintains that his age-defying looks are the result of strong genetics.
Likewise, Ralph Macchio has never confirmed that he has had hair transplant surgery. Consequently, fans and hair industry professionals alike are left to make educated guesses as a result of this.
Shop the best hair replacement systems for men with big discounts
How to Get Full Hair Like Ralph Macchio
The reality is that you do not need to look too far to get a full head of hair especially if you are prepared to go down the toupee or hair replacement system route.
Allow us to introduce one such product from our range of men's stock hair systems: Neo. Its base design combines French lace and thin polyurethane skin. Thanks to the French lace top of this hair replacement system, it is incredibly light and airy, which means that you won't have any problems wearing it in hot weather or when exercising.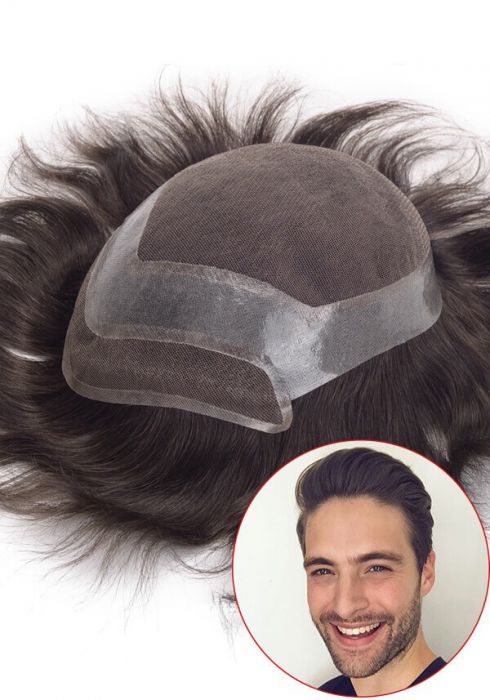 The French lace and thin skin base design of Neo
You will have every styling choice imaginable because of the natural-looking front hairline and the freestyle nature of the hair, both of which are made possible by the fact that the front of the toupee is also made of French lace, which is an extremely important detail in terms of realism. Then, there is the thin skin perimeter that runs around the base that gives you a clear and smooth surface to apply tape or glue which will make it much easier to attach the hairpiece.
Finally, the A front contour of the hair system will create the appearance of a slightly receding hairline which can make it more age-appropriate wearers for older men like Ralph Macchio.
Wrapping Up on Whether Ralph Macchio Wears a Toupee
With one of our stock or bespoke hair toupees for men, you will not only feel better about yourself but also look better. Whatever Ralph Macchio may have or not have done then we are sure that he feels the same way about his hair.
At Lordhair, we only make high-quality hair toupees and we are sure that you will greatly appreciate the transformative appearance they can offer. Neo is just one of many men's toupees so be sure to check out our full range of men's stock toupees.
Also, read our recent blog posts to get a deeper understanding of hair loss and hair thinning:
Discover newly launched product pages for unique hair loss conditions:

  Email: support@lordhair.com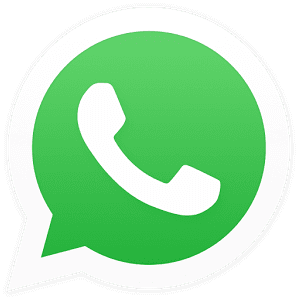 WhatsApp: ‪+8618678615507
Find us on social media