10 Cool Hairstyles Perfect for Square-Faced Men
Men with square faces are known for their masculine looks. Thanks to the prominent jawline, straight sides, and broad forehead, these gents usually have the features that deliver a sharp personality. However, the wrong haircut can put a damper to their looks. That's precisely why we came up with the idea of creating this hairstyling guide for men with a square face shape!
In this blog, Lordhair will share 10 hairstyles that best complement a square face. Read on to discover some of our favorite haircuts for men with the amazing jawline and sharp features!
#1 The buzz cut
The buzz cut is a classically masculine and low maintenance hairstyle for square face males. Top of the buzz cut style is clipped in a consistent short length, making for butch cut or geometric shapes including crew cut and flattop.
In this haircut for men, the back and sides are tapered short, semi-short, or medium. Young men can also opt for hybrids of buzz cut hairstyles such as a butch cut and Ivy League to stay in line with the latest trends. The sharpness will remain intact with these hairstyles!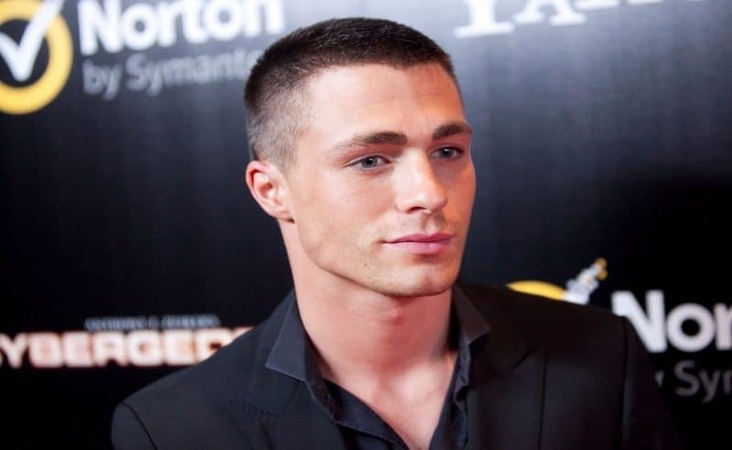 #2 Undercut
As another popular hairstyle for square face men, the undercut hairstyle first peaked in the 1910s and saw a renaissance in the 1980s before becoming fashionable again in 2020. Hair on the top is kept long and parted on either the side or center while the sides and back are buzzed very short.
An undercut can be paired with practically anything on top. Men with a square shape face can go for undercut hybrids like Faux Hawk to add extra inches to the height too!
#3 Pompadour
Pompadour is one of the trendiest hairstyles that go well with a sharp jawline and broad forehead. As a retro greaser haircut, it features medium hair length on the back and sides with longer hair on top. While classic pompadour highlights the square face as well as the thick hair texture, the modern pompadour makes men, especially those with square face, look hot.
Modern pompadour is a unique combination of large hair volume at the front (that gradually recedes towards the back of the head) with a tapered fade at the sides. Gents can keep sides thin, low, mid, or high fade depending on their own style quotient.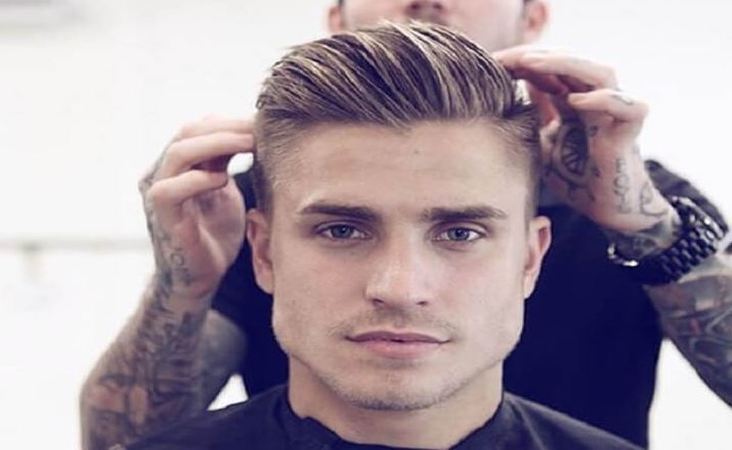 Are you losing hair? Browse hair wigs for men to get your game back
#4 the top knot
The top knot hairstyle gained immense fame back in 2019 and is already knocking on the doors of 2021 to retain its throne of best haircut for square-faced men. Also called top knot bun, it is a hybrid between the trendy undercut and man bun.
The men's top knot features shaved or faded sides with long hair strands pulled to the top or crown tied with a band for creating a knot. This haircut for a square face man requires at least six to ten months of hair growth.
Styling tip: Flaunt a top knot hairstyle with a grizzly beard!
#5 Short messy wavy cut
Men with a square face structure who have wavy hair and want to experiment should definitely go with this haircut. The short messy wavy cut is sought-after not only for its popularity but also for its versatility. It offers men a unique texture along with volume, movement, and natural flow.
Hair waves look cool when paired with the right haircut. One can wear loosely messy wavy cuts with slightly shorter sides on a daily basis. This hairstyle is also perfect for men who don't want to spend a lot of time maintaining their hair styles!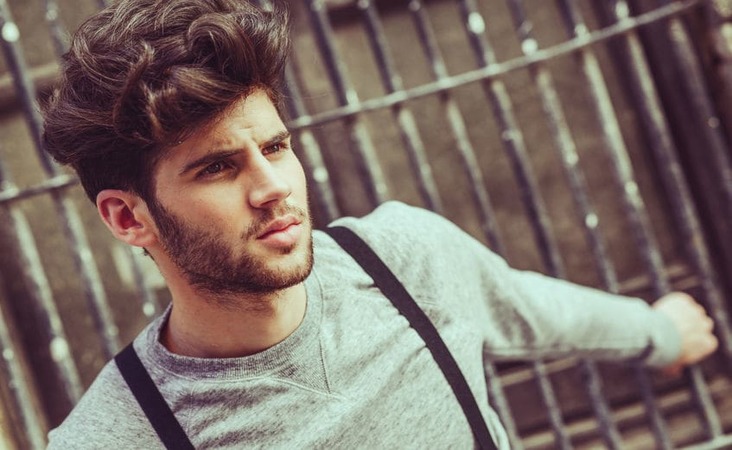 #6 Faux Hawk
As another modern-day hairstyle that complements the appearance of men with a chiseled jawline, Faux Hawk is a youthful and eye-catching haircut that draws attention without appearing over-the-top. It allows millions of stylish gents to play up the punk on the weekend and keep things professional during the weekdays.
The sides in the faux hawk hairstyle are clipped shorter while the length on top of the head is kept longer. Males with wavy or straight hair find this haircut a wise choice. Keep some beard to boost the rugged look of this popular hairstyle!
Want to style hair but hair loss holds you back? Check out this hair system transformation!
#7 Slicked back undercut
Slicked back undercut first began as the trademark look of hipster barbers but soon became a popular hairstyle in its own right. In this haircut, the sides of the hair are shaved off while the top is kept longer and brushed back.
Being neat and dapper, the slicked back undercut is one of the favorite haircuts of stylish males the world over. Flaunting this haircut works well for most hair types including thick, thin, straight, and curly. For getting a clean-cut finish, we suggest brushed-back hair with a low fade undercut.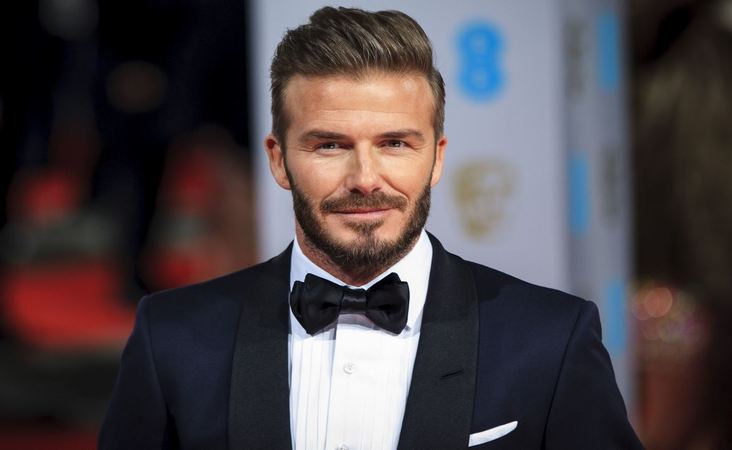 #8 The walnut wave
This is one of the niftiest hairstyles for men with a square face, especially for those with thick and wavy hair. This haircut gives a subtle look to men with sharp features. In order to get this haircut right, you will need short or medium length hair strands.
In a walnut wave haircut, the hair is parted roughly with the edges cut slightly short. The hair locks on the top of the scalp are kept long to create waves that come down over the forehead. Got straight hair above a square face? Use hair products to create bouncy waves!
#9 Layered haircut
The layered haircut has gained immense popularity among men in 2020. It adds multiple layers to conventional styles of the square-faced men to deliver more structure and definition. No matter what type of hair you have (curly, wavy, or straight), this haircut can work for you.
To wear a layered hairstyle, ask your barber to give a usual cut and complement the hair on top of the head with several layers. Pair this haircut with a handlebar mustache and a well-trimmed beard to get a dapper look!
10 trendy winter hairstyles for men that can send the temperatures soaring.
#10 Side part with taper haircut
A side part with a tapered haircut is cool any day of the year. It follows the natural growth of your hair strands from the cowlick and finishes somewhere near the temple. Medium length strands on top are loosely swept back and divided by a side parting.
A fade blurs the edges of hair all the way down the sides and back of the head. The fade part of this haircut can be low, medium, high, or bald. We highly recommend this haircut in 2021 if you want to get an alpha look.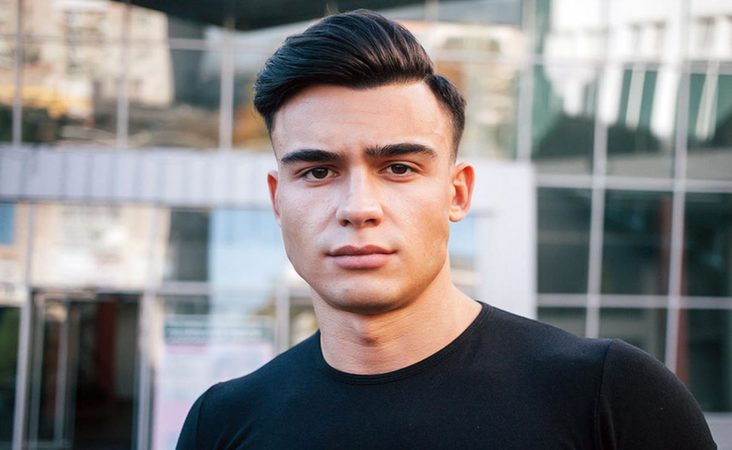 Above are the 10 best hairstyles for square face men! Choose one of these haircuts to boost your style quotient and complement your dominant features perfectly.
Men who wear toupees can also go with these hairstyles. Just make sure that you get the right hair length and get it styled by a professional.
Lordhair brings a growing range of hair systems that complement a vast range of face shapes and ship them to 100+ countries including the USA, Australia, France, Canada, UK, South Africa, Philippines, Mexico, Ireland, and India.
Got any queries to ask? Send them at support@lordhair.com and have them answered by our hair system experts!

  Email: support@lordhair.com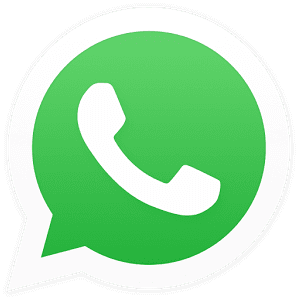 WhatsApp: +16263623127
Find us on social media