Hair experts say that approximately 90% of men experience some form of hair loss during their lifetime, often leading to low self-confidence, anxiety, and stress.
The cases of male hair loss grew significantly during the pandemic, pushing the demand for hair recovery medications and hair systems in the process. However, not everyone who went on popular medications like minoxidil and finasteride was happy.
A recently published study in JAMA Dermatology documented the effectiveness of oral and topical medications like minoxidil, dutasteride, and finasteride on hair loss. In this blog, we document the major findings of the 2022 study.

Dutasteride Emerged as the Winner
The study found that consuming 0.5 milligrams of oral dutasteride a day has the highest probability of reducing hair loss in men. Dutasteride – formerly used for treating enlarged prostate glands – is now popularly recommended for treating male pattern baldness.
However, it is considered to be 'off label' as it is not yet approved by FDA as a hair loss treatment. Though dutasteride has emerged as the winner amongst the three popular options, the medication has its share of side effects including erectile dysfunction and swelling.
Effectiveness of Minoxidil and Finasteride
Finasteride: The Meta-analysis of 23 studies ranks fin as the second most effective hair loss treatment. Belonging to the chemical family of dutasteride, this oral medication was also formerly being used for treating enlarged prostate glands but now has received approval from FDA for treatment of hair loss.
Just like dutasteride, this medication has its share of side effects as well. Pain in testicles, depression and difficulty in breathing are the most common side effects of finasteride.

Want risk-free recovery from hair loss? Try hair systems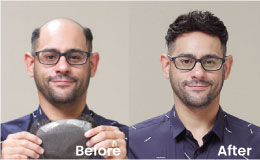 Minoxidil: Strangely, oral minoxidil gets third place for the most successful hair loss treatment. The research found that consuming 5 milligrams of oral minoxidil can increase the terminal hair count at the end of 2 months. For those who don't know, terminal hair is the longer, thicker, and darker hair that grows on the head and helps deliver volume to the hair.
Although the risk of serious side effects is low when it comes to minoxidil, unwanted facial hair growth, swelling, and headaches are some side effects of minoxidil.
Best Topical Medication for Hair Loss: Study Says
Minoxidil topical: Also available in the liquid form, this version of minoxidil is applied directly to the scalp and delivers positive results within a few months. Side effects of minoxidil include burning feeling on the scalp, dryness, scaling, and flaking. No wonder, more and more men are choosing hairpiece toupees for quick recovery.
While all the above-mentioned medications are being used to combat hair loss among men, the only approved medication for women is minoxidil at 5%. That said, oral medications are not recommended for women during childbearing years.
Recovery From Hair Loss

All the above hair recovery treatments are recommended to men in the initial stages of hair thinning and damage. In cases of aggressive hair loss, recovery through medications like minoxidil and finasteride is usually slow and often temporary. In case of extreme thinning and damage, recovery is almost impossible through medications.
For men in advanced stages of hair loss, we suggest using non surgical hair replacement systems for recovery. It will provide you with a head full of hair almost instantly and that too at an affordable price. Our range of hair systems for men and wigs for women are designed to be lightweight, comfortable, and natural-looking.
Browse our complete catalog and discover unique hair recovery products.
Feel like reading more? Check out our recent blogs:

Female hair loss in the 30s: Everything you need to know
Glueless lace human hair wigs worth buying in 2022